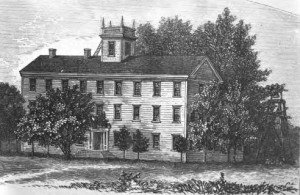 Willamette University began in this Oregon Institute building. This was where Lucyanna attended college and became a teacher.
    When she was three-weeks-old, Lucy Anna's mother died.  Lydia Hines, a faithful friend, who had recently lost an infant daughter, took the infant from her mother's arms. She pledged to child's father, Jason Lee, that she would take care of his only child. Two years later, 1844 the Lees and Hines left Oregon for Hawaii. The Methodist sponsors of the Oregon mission were not satisfied with Lee's leadership and this was to be the first segment of a return to the United States for negotiations. Because passage for all three was not available from Honolulu, Lee returned to the east alone.  Lucy Anna returned to Oregon with Rev. and Mrs. Hines. Two years later, the Hines and Lucy sailed to New York, taking a circular voyage around the globe, intending to return her to the father.  The first news they received upon arrival in that city was that Jason Lee had passed away on March 12, 1845 and his will had given his only child to their loving care.
            Lucy Anna did not return to Oregon until Rev. Hines returned, overland this time, to Salem in 1853, when she was 11 years old.  She graduated from Willamette University with the class of 1863 and became a teacher there, being one of a staff of five in 1865.  When Chloe Willson retired from the position of Governess, or Dean of Women, at the end of that school year, Lucy Anna succeeded her.  She became the wife of Francis H. Grubbs, a classmate and fellow instructor. Their only child was a daughter, Ethel.
            Her students later described Mrs. Grubbs as being tall, with a slender, and stately appearance, her hair braided and wound around her head. A woman of superior knowledge, she was reserved and dignified, and a most devout Christian.  A gifted teacher in many disciplines, girls later remembered how
t
hey used to sit around a fire on winter days, eating their lunch while she read aloud her favorite poem, Evangeline. Exacting in her instruction and her expectations of her students, they also recalled she could be amused, even slightly sarcastic at times: calling a student's attention back to the lesson when he attempted to distract her attention from his lack of preparation.
            As Ethel, the third generation of the Lee family entered the 1870s, Salem was no longer a pioneer mission settlement.  Several hundred homes on tree-lined streets housed the population of over a thousand citizens.  There were numerous commercial enterprises, a railway line to Portland, steamboats on the Willamette, eight churches, five schools, three drug stores – and thirteen saloons.
            Professor Grubbs taught at Willamette for six years then in 1869 "was called to organize an academy at Baker City," that being the reason for their departure from Salem. He was associated several other schools of the Northwest until poor health forced him out of his profession. He took part in various enterprises, finally going into a printing business in Portland.  Lucy Anna died in 1881 at the age of 39. Her childhood friend and stepsister, Julia Bryant Terry, was with an "invalid" Lucy Anna the day she died.  The widower father has been recalled as giving much time, care and travel to his daughter Ethel.  She must have been in her thirties when he died in Portland in 1911. Since Ethel did not marry, the Jason Lee family did not survive into another generation.
Both Lydia Hines (A Life of Adventure) and Chloe Willson (Women of Property) are profiled in this series.