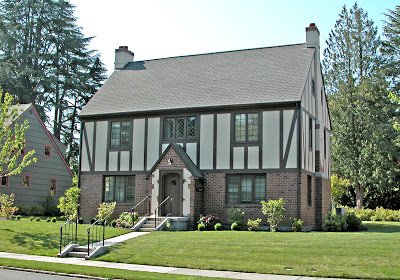 This house has been moved several times since it was built in 1925 by Hollis and Marjorie Kay Huntington. Mrs. Huntington was the daughter of Thomas Kay and the Huntington house was originally constructed on the lot immediately behind her parents' home on Court Street.
Mr. Huntington owned "The Man's Shop" downtown and had earlier gained fame as an athlete at the University of Oregon, 1916-1919, when he was a member of the football team. He is one of only three men to play every minute in three different Rose Bowl games.
The location of this house was among the first to be considered for demolition when the North Mall was begun in 1937 with the new Oregon State Library. Unlike her parents' home, which was the first to fall, the Huntington house survived by being purchased and moved to 790 Winter Street, north of Union Street.
As the state expanded the Mall to construct the North Mall Office Building, the house was moved again, this time to join six other historic homes in the North Mall Heritage Park.