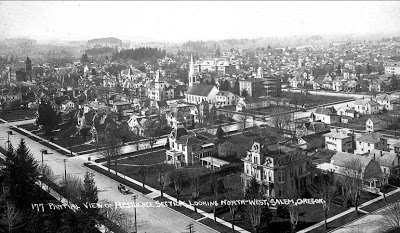 This 1910 photograph is included to illustrate the changes in the historic Piety Hill residential neighborhood since it was then seen from the State House dome, a popular place for Salem aerial photography. This view of Court Street gives a good view of more than two blocks of homes:
At Summer Street in the foreground at right, the Cooke-Pattons shared a city block (between Winter and Summer Streets) with the Thomas Kay family.
At Winter Street were the Krause family, then the Bishops (Fannie Kay Bishop) and the Max Burens. Two other houses are obscured by trees.
At Cottage Street there is an empty lot and then, just visible, the McNary house. The Eugene Breyman house, just beyond at the corner is not seen. However, the old City Hall rises in the left margin of the picture. Notice the barren hills of what would be West Salem.
Looking up Winter Street, are the homes of Joseph Albert, George Pearce, Thomas Rigdon.
The numerous church spires illustrate why the neighborhood got its name.
The Unitarian Church (center), St. Joseph's Catholic Church's Sacred Heart Academy and St. Paul's Episcopal Church have all moved to new locations.
The Court Street houses would be demolished by 1963.
The one structure still remaining is Garfield School, the white building in the upper right margin.