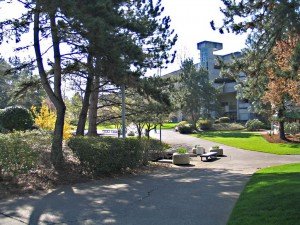 This view of Pringle Plaza was taken at the southeast corner of Ferry and Liberty streets. Once an area of canneries, Salem urban redevelopment has transformed it into a beautifully landscaped site for a parking garage, shops, restaurants and a theater.
Like other cities, many of our earlier industries have disappeared. In Salem, the capital of Oregon, our first state government offices have also been demolished. The main element of a local residential transformation has been the development of the North Capitol Mall , reaching from Court Street, in front of the capitol building, to D Street, over a half mile to the north. Homes of many city's most prominent pioneer citizens fell to the bulldozer as the character of the neighborhood changed from homes to office buildings along this corridor two blocks wide.
However, a few structures were put on rollers or trucks and moved to new locations. These relocations were practical exercises in finding new uses for historic structures that were still valuable. These are the stories of Salem's Moving History.
NOTE: In many cases, we do not know the exact year a structure was moved so we offer the date it was built. If a residential move was occasioned by construction within the North Capital Mall, as the majority of these are, we give the approximate date of the move and name the state building that replaced the original structure on that site. We welcome additional information by Comments of viewers.
The two charts below show the original locations of these relocated structures (names in red). Click on images to enlarge.
Below, 1937-1961 Piety Hill transformation with demolition or removal of residences, replaced with 4 state government office buildings as numbered.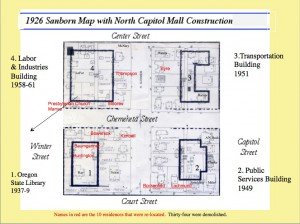 Our second chart shows the 1980s-2003 expansion of North Capital Mall, north of Union Street, and state constructions:
Oregon State Archives ~ green
North Mall Office Building ~ blue rectangle
North Mall Heritage Park ~ black circle