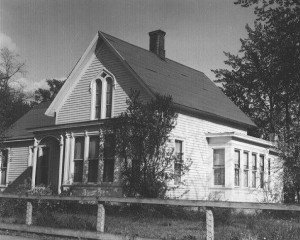 This photo of the Wade house was taken when it was located at 862 Liberty Street NE, near Boon's Treasury where Broadway becomes High Street. It was moved to 1305 John Street by owners Mr. and Mrs Richard Neuman shortly after this photograph was taken.
The residence was built in the Liberty Street location in 1870 by William L. Wade, owner of a dry goods store at 888 N. Liberty Street where Salem first developed. The first mill was built on the creek there and the first homes and businesses began in the immediate vicinity, including the Boone's Treasury building. Mr. Wade (1831-1908) came to Oregon in 1867 and opened a dry goods store in Boon's Treasury where he sold "dry goods, clothing, groceries, boots and shoes, country produce, hardware and queensware". The house was later occupied by his son, Murray, who was a well-known newspaper cartoonist in California and Oregon and published the Oregon Magazine for 45 years.
The house was rescued from the wrecker's ball in 1971 and moved to John Street, a few houses away from another Carpenter Gothic cottage, the David McCully house, which is also on the National Register. The hillside lot they are both on could not accommodate the entire house and an added bedroom off the back parlor and a stem off the kitchen were left behind. The ceiling in the wing was lowered to accommodate a master bedroom and bath on the second floor. The balustrade railing was added to the second story porch in recent years. The William Lincoln Wade house was placed on the National Register of Historic Places in 1978.

The photograph below was taken in 2008.