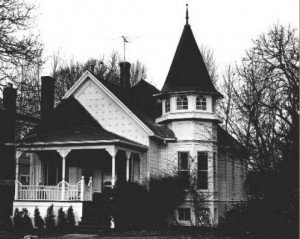 Dr. W. Carlton Smith may not have been the original owner of this 1894 house originally located at 1153 Oak Street (above). Dr. Smith was born in Marion County in 1874, graduated from the University of Oregon and University Medical College in Kansas, returning to Salem about 1903. Dr. Smith served as Major in World War II in France. He served as Salem's first city physician and county physician. He was professor of anatomy at Willamette University for ten years. Dr. Smith was elected to the Oregon Legislature, he died in 1929 while serving in the Legislature and was succeeded by his wife.
Evelyn Miner became owner of this home about 1949, it being willed to her by the previous owner. The next residents were Stewart and Esther Miner, her son and daughter in law. Esther was a nurse when the Salem Hospital was located at the opposite end of Oak Street from present location of hospital. Stewart worked for a company that built carnival rides, owned by an Eyerley, brother of the famous Western painter, Ray Eyerley.
The house is now a Local Landmark located on Cannon Street, across from the also relocated Leslie Methodist Church Parsonage.