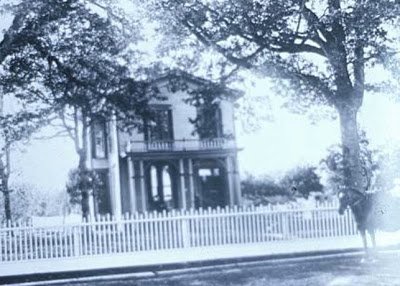 Among the several historic photographs of the Parrish House as it looked at 745 Capitol Street, the one above is the most charming. The original homestead may have built as early as 1856, but this picture shows the alterations made about 1910 which transformed the structure. The tall and narrow sash windows, capped by a wooden cornice, suggest an Italian style of architecture. By the time of this picture, the original direction of the gable had been changed, along with other alterations after two fires. A porte-corchere, not seen here, was added in 1915.
Reverend Parrish was a missionary who came to Oregon with Jason Lee in 1840. In 1854 he was appointed an Indian agent. He also was a circuit riding preacher in the Willamette Valley and chaplain at the state prison. He is credited with donating much land, time and money to the cause of education in the early years of Salem's history. He died in 1895 and is buried in Jason Lee Cemetery. Parrish Middle School, built across the street from the original location of the house, was in a cluster of oak trees called "Parrish Grove", on what had been his donation land claim.
Like two other houses in this block along Capitol Street in the 1980s, the expansion of the North Capitol Mall for the Oregon State Archives caused their removal. To its north was the Rockenfeld House, moved from Court Street; to its south was the Hinges-Kimball House, moved from Summer Street ~ both for the 1937-9 construction of the Oregon State Library. The Hinges-Kimballl House went north on Capitol Street. Both the Parrish House and the Rockenfeld House were moved to what became the A. C. Gilbert Discovery Village where they are today.
The two pictures below were taken just before the Parrish House move. The one immediately below was published in the local newspaper. The other was recorded by a neighbor with his video camera. On the way to its new home on Water Street, the movers faced a challenge when the Parrish house became temporarily trapped under the Marion Street Bridge.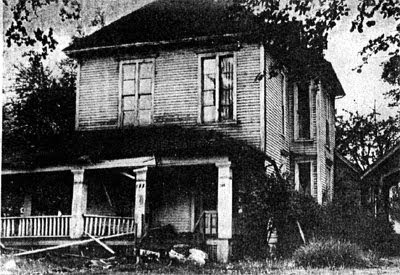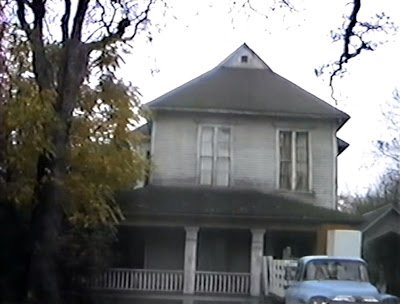 Below is the house as it appeared in a restored condition in 2008. A lattice screen has since been added along the front porch.