A neighbor of the Moores was Dr. Frederick Thompson at 351 Summer Street. By March of 1952, when both houses were moved, it was occupied by Judge Brand who was a Justice at the Nuremburg Trials. This house was was purchased by the Stephens family, but moved at the same time as the Moores House, by the same mover, Augie Koenig, and followed a similar route south through city streets and across Bush Park. (see below)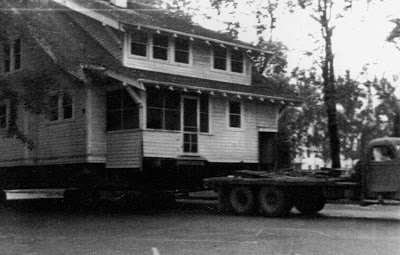 It was placed beside the former home of the Moores. The two are side by side in this Leffelle Street photo taken in the late 1950s. (The south edge of Bush Park is in the foreground with the Moores house at the right.)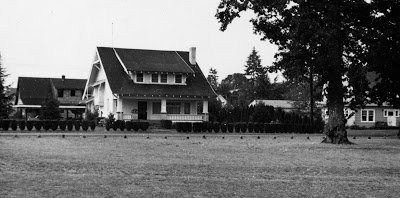 Katherine Miller, daughter of the family that lived in the Moores house after it was moved, married in the garden of the home. She and her husband, Wallace Reed, moved away from Salem, but returned nearly every summer, visiting Nick and Kris and later Nick and Mary Liepins. They enjoyed the view across the back yard to the house next door. In the 1990s, they asked the owners, Dawn and Ed Marges, if they would consider giving the Reeds a "first refusal price" if the Marges ever wanted to sell. This happened in 1990. The Reeds retired from their careers at the University of Virginia and took possession of the Thompson-Brand house in 1991. They continue to live there in 2011 and have been active in the SCAN neighborhood projects for which they have been honored by the City of Salem. The two properties have become a compound with shared garden, equipment and other activities.
The generously sized house, over 4000 square feet, is seen below as it looks today.
Our thanks to Kathy and Wally Reed for the stories and pictures of this "moving history".