At 895 Chemeketa Street, on the northwest intersection with Summer Street, Albert and Cora Moores had a home. Mr. Moores, son of a Salem pioneer family, was Vice president of the Mutual Savings and Loan Assoc. Inc. and Cora was the daughter of Obed Dickinson, the first pastor of the 1852 Congregational Church and later a successful nurseryman.
By 1940, this house was occupied by a WU fraternity and the Moores had moved to a smaller retirement home next door at 855 Chemeketa Street. This home (pictured above) was purchased from the state by Ridgely and Wanda Miller who had it moved to 920 Leffelle Street in 1952. The truck carrying the structure, minus the front porch, traveled south across Bush Park.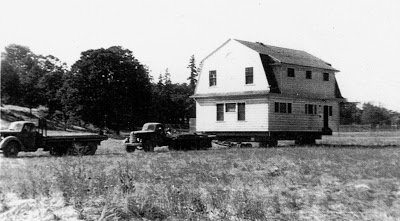 The Millers had twin daughters, Kristine and Katherine, in their teens when the house was moved. In 1962, Katherine married Wallace Reed in the garden on the home. The next year, Kristine married Nicholas Liepins in the living room. Her widower, now married for the second time, still lives there. See The Thompson-Brand House for the continuing record of the Miller family's relation to these houses.
Below is a photograph of the Moores house as it looks in 2011.