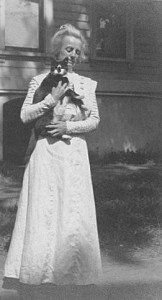 Sally Bush and Fannie Kay were both greatly influenced by their fathers. But after these gentlemen died, each woman made an important decision contrary to her father's vision of her future.
Sally was 18 years old, visiting away from Salem, the winter of 1877-8 when Bush House was being completed and furnished by her father.  When she returned, she became hostess for her widower father until his death 38 years later. She would continue to live there for 33 more years until her own death in 1946.
            Asahel Bush had married Eugenia Zieber on October 12, 1854, a year after he came to Salem.  They had four children:  Estelle, Asahel III, Sally and Eugenia.  Mrs. Bush died of "consumption" when Sally was three, Eugenia only a year old.  Mr. Bush did not marry again. We can imagine the four children, all under the age of nine, growing up under the care of a father busy with his publishing business and politics, left with each other and the servants.
Sally's older sister Estelle married, and so did her brother, A.N. At some time in Eugenia's youth, this colorful and artistic younger sister lost her father's favor, and was sent "back East".  After her father's death in 1913, Sally stepped into her family's luxurious private railway car and traveled across the country to the east coast.  When she returned, her fifty-year-old sister Eugenia, who had been absent from Salem for most of her adult life, in accordance to her father's wishes, was with Sally. She had brought her sister home.
This action was typical of Sally who was kind and generous to everyone, from the servants of the house to the many guests who enjoyed her hospitality. Children who picnicked in the pasture around the house knew they were welcome. The destitute men of the Depression understood they would get a "hand-out" at Miss Sally's kitchen door.  Of greater concern to her banker, Mr. Henry Compton, was her resistance to reducing the expenses of her extravagant life style when the family's 1930s income was diminished. He urged her to use more caution. "Why, Henry, there are tears in your eyes," she observed with concern. She reluctantly followed his advice.
            Sally had respect for nature. On her pasture property south of the house, she allowed the fields to remain natural, flowers were grown in the Conservatory. Nor were animals ignored: she enjoyed the presence the farm animals on the estate, especially a favorite cow and her 27 cats. In her presence, even the death of an insect was forbidden. Miss Sally carried out this philosophy in her diet: she was a vegetarian.
At the mid-point of the twenty years when Sally and Eugenia lived together, their older sister Estelle became a widow and returned to Salem.  Known as "Mother Thayer" she was an elegant lady, active in the local social and cultural life and must have brought additional pleasure to Sally's life until Estelle's death in 1942. Sally's brother A. N. also shared the last years of her life, joining her in photography and producing with her many family albums and home movies. Sally even bought an electric car, but abandoned it after only one drive to the nearby pharmacy – where she drove through the front window.  She only dealt in cash: finding herself without the money to pay for a grocery purchase, she refused credit, going to the bank to withdraw the necessary funds.
            Sally lived only four years after her older sister, dying in 1946.  Her passing came at a time when women were enjoying greater freedom than ever before.  Not only were they taking advantage of new housekeeping miracles, but new jobs were becoming career possibilities. What did Miss Sally think of these changes?  Would this gentle lady who devoted herself to her family and their home have traded places with the young women she saw in Salem?  Perhaps not. She was as much a woman of her time as they were, and no doubt enjoyed as many personal pleasures.
Above, Miss Sally with one of her pets in 1913 when she was about 53 years old. This was the year her father died and she went east to escort her sister Eugenia back home to Salem. This photograph is among many others of the Bush family in the Oregon Historical Photographs Collections of the Salem Public Library.
 For many years, Fannie Kay Bishop was a neighbor of Sally Bush, living a few blocks away, and, like Sally had a close relationship with her father. However, these two daughters of prominent Salem businessmen developed quite different personalities and talents.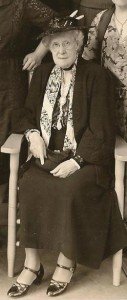 Fannie Kay Bishop
          Fannie was born in Shipley, Yorkshire, England, the eldest child of seven born to Ann ((Slingsby) (1837-1915) and Thomas Lister Kay (1837 -1900), a weaver and mill worker.  The family arrived in America about 1860 when Fannie was three years old, and came to Oregon in 1863. Fannie characterized herself as a "true tom-boy" who spent her childhood climbing trees, stilt-walking, sledding and watching Union soldiers march and drill. Fannie also accompanied her father to the mill, learning the skills of managing woolen mills.  They settled in Brownsville where her father was supervisor of a mill. She began work at the this mill at age fifteen. Passionately interested in wool processing and manufacture, she questioned her father, observed operations and, as she later admitted, eves-dropping on her father's conversations with mill hands. "I spent all my time in what was to me the fascinating pursuit of learning all about the woolen mill", she said later.
           In 1874, she began "keeping company" with Charles P. Bishop (1854-1941), the son of her school's principal. They married in 1876 and had three sons: Clarance (1878-1986), Roy (1881-1974) and Chauncey (1882-1927).
Her father opened his own business, the Thomas Kay Woolen Mill, in Salem in 1889. Fannie was assistant to her father in mill operation and management. However, when he died, his will left the business to his son, Thomas. Her inheritance was financial, but cut her out of the business to which she has contributed her energy and talent. She and her husband continued to live in Salem. C. P. Bishop personally operated Bishop's, a fine men's clothing store, for many years. He became mayor of Salem in 1898, serving four years.
In 1905, Fannie returned to the business she so loved: with her husband and sons, the family purchased the Pendleton Woolen Mills. Together they redirected the mill to specialize in blankets using Native American designs as motif. Their business became an international success while her father's mill suffered from a declining market for their products after World War II and closed in 1962.
Fannie and her husband were also active in local and state political life. Charles Bishop was a State Senator from 1915 to 1917. Fannie ran for the state legislature in 1922. From the voters guide we read: "Mrs. Fannie Bishop has been a genuine factor in the civic affairs of Salem for many years and is well known throughout Marion County in her own right aside from the circumstances that ex-Senator C. P. Bishop is her husband and Representative Thomas B. Kay is her brother. She has her brother's facility for concise expression in public. We doubt whether any family has done more for the development of industry in Oregon than that which Mrs. Bishop is the alert and clear-headed center. She was one of the organizers of the original Salem Women's Club and the Republican Study Club, and attended the 1924 National Republican Convention. " Fannie was not successful in her campaign for public office. However, she continued to be an active leader in Salem's business and social community. She died in 1944.
Did these two ladies, living only a few blocks away from each other, become friends? Or were their personalities, both developed by their fathers, so different that they had little in common? They would have been acquaintances, at least, in the same Salem of that era, but one imagines the unmarried, very private Sally might have enjoyed quite a different life-style and social circle from the mother, businesswoman and public figure Fannie became. We honor both for their contributions to the Salem we know today.