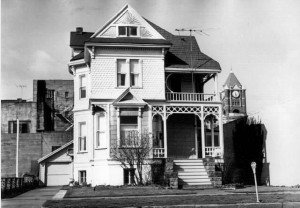 This 1963 photograph shows the Collins Downing residence in its original 1886 location at 245 Church Street NE, between Court and Chemeketa Streets. It was built by George Collins (1834-1913), successful contractor and brick manufacturer, who later served as Warden of the Oregon State Penitentiary and then as Superintendent of Prisons for the State of Oregon.
In 1895 the home was sold to Robert E. Downing, whose listings in Polk's directories through the years changed from insurance agent to capitalist to farmer. His family owned the house for more than 80 years.
For many of these years, it was the only large, well maintained residence remaining in the downtown business district. The clock tower of the old Salem City Hall on High St. can be seen on the right side of the photograph. The fire escapes of the concrete building on the left are on the old Senator Hotel building. The house displays distinctive Eastlake/Queen Anne architectural details such as bay windows; varied siding designs; multi-gabled roof; and finely detailed porch, balcony supports and railings.
Following the 1980s deaths of Hazel Downing Isbell and her husband, Leonard M. Isbell, their home was moved from its original location opposite the Statesman-Journal Building to 1340 Chemeketa Street (as seen below). The exterior was restored; the interior remodeled into professional offices and it was placed on the National Register of Historic Places in 1989.