This is the first photograph we have of the Werner Breyman home, probably built in the 1870s. On this day, it it is host to guests assembled for the visit of President Teddy Roosevelt. Werner's house was located at the southeast corner of State and Cottage Streets, presently the site of the Micah Building of the United Methodist Church (formerly the Elks Temple).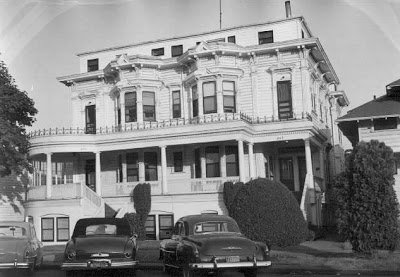 The home was moved around the corner onto Cottage Street and remodeled to the building above prior to 1924.The house was three stories, the third being an addition.
The city directory of 1924 lists the Hydrotherapeudic Institute to be at this location in addition to apartments. In 1953, the 20 Palace Apartments were here.
Werner Breyman and his brother Eugene came to Salem in 1865 and operated a business at 147 Commercial Street NE until 1881 when they sold it and went into the construction business.
Eugene lived on the northeast corner of Court and Church Streets, diagonally across (over the property of the Post Office lawn) from his brother. In 1904 they presented a fountain to the city as a Spanish American War memorial, locating it at Winter Street entrance to the park. Legend recalls that they could both see it from their perspective front porches.
Neither of the houses exist today.