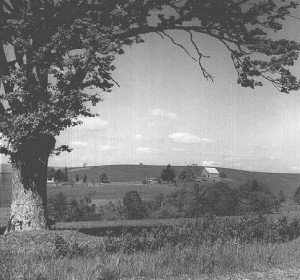 This photograph represents a typical scene in the Marion County countryside where Rachel lived with the Delaney family. Used courtesy Oregon Historical Photograph Collections, Salem Public Library.
   Rachel's surname was given her when she was sold from her former Tennessee owner (named Belden) to Daniel Delaney in 1843. Delaney had sold most of his slaves before making an overland wagon train move to Oregon, but brought this "a strong young negro girl", in part to care for Mrs. Delaney who was in poor health. Having traveled with his family to the Waldo Hills, she continued living on the farm with the family for more than twenty years: working in the fields and caring for Mrs. Delaney. In 1863, already the mother of two boys born on the farm in Oregon, Noah Newman and Jackson, Rachel married a widower, Nathan Brooks.  These sons are presumed to be the sons of Delaney. The couple moved to Salem where Rachel had two more sons, Samuel and Mansfield.
In January of 1865, Delaney was virtually alone in his Waldo Hills home (now, slightly moved on the property and much altered at 4292 Delaney Road is listed on the National Register of Historic Places) with only young Jackson with him. Two men lured Delaney outside his house, shot him, searched the house looking for the money he was supposed to have hidden there and took the cash they found. The trial of his accused murderers, George Beale and George Baker was a sensation of the time. Jackson had seen the crime, was shot at, and then hid until they were gone. He reported the crime to Delaney's son. Jack's testimony was at first refused by the defense (because he was a negro or because of his youth, opinions differ), but later allowed. Sentenced to death, the murderers were hung in a spectacle (near Trade and Church Streets) attended by a large number of citizens and their families.
Rachel had no part in the Salem trial, but in 1866, a year after his death, she sued his estate for $1000 ~ on behalf of herself and Noah ~ and won. (The amount Delaney had paid to purchase her twenty-three years before.) By 1870, the Brooks household in Salem included Rachel, Nathan, Jack (who joined his own family after Delaney died), Sam and Mansfield. The elder son Noah lived and worked with the Stanley family. In later years "Aunt Rachel Brooks" became a familiar figure in Salem. She is found on the 1877 tax records with 144 homestead acres on the west side of Willamette River. But after her husband's death in 1874, she had bought a house on Miller Street and there she lived until her death. She is buried in City View Cemetery.
  Her death was marked with an obituary in the Capital Journal entitled "Death Comes to Mrs. Brooks: Historical Character Died at the Age of Ninety". It describes her as the pet of the family when she was a slave and "a woman of great industry and energy".  Part of the enduring interest in Rachel may have been because she claimed to know where the location of the lost Delaney fortune. The printed reference to Rachel comes from Sara Steeves, who wrote, "Those who knew her best say of this slave woman, who knew nothing but hard work all her life, that all though her privations and the hardships she endured, she did not complain and was always kind."
    Rachel lived in Salem through the early years of its history.  And she was not alone, many African-Americans lived quietly in the state of Oregon, which forbade slavery, but approved of an exclusion law in its Bill of Rights. Laws against African-Americans living in Oregon were rarely enforced, but were part of the general perception that they were not socially welcome, but needed for their labor. Through Salem's history, these women cared for their own families and were housekeepers in white homes; the men worked as laborers or ran small businesses; a few families found their way to Salem as migrant workers in the local agriculture. The last Oregon law against African-American citizens, the practice of denying accommodations, was overturned in 1953.
More information about Rachel can be found in "Hidden Citizens", published by Marion County Historical Society, 2002, and in "Perseverance", published by Oregon Northwest Black Pioneers in 2011.
The Steeves quotation comes from "Book of Remembrance of Marion County, Oregon, Pioneers, 1840-1860" (Portland: Berncliff Press, 1927)