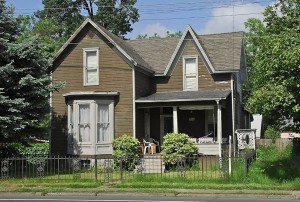 This house sits north of Mill Creek at 425 17th Street, north of the Court-Chemeketa Historic Residential District. The present owner has found evidence that it originally stood on Ferry Street, in the block behind the Methodist Church. According to an early Sanborn map, the house did not originally have the bay window, otherwise it is much the same.
A few years ago, a lady came to the house and said she (or perhaps her relatives) had lived in the house after its relocation here in 1903 when the owners placed it here and sub-divided the several acres around it ~ constructing the street that runs along the north side of the creek and selling lots for other houses.
We hope the owner will continue research so we may learn the names of earlier owners of this house and its history.