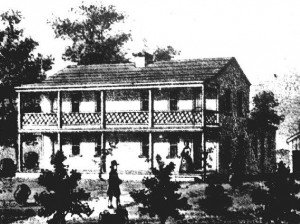 Was Salem's first residence a condominium? This structure, known as the Jason Lee House, was built in 1841 as apartments for four missionary families ~ with a kitchen used in common. Far from being cramped in the small apartment space, these families who had already endured many hardships in their former settlement must have been gratified to have these new relatively comfortable quarters.
Jason Lee's second wife, the former Lucy Thompson, gave birth to a daughter here in 1842. Like his first wife, Anna Maria Pittman, the birth cost the mother her life. Shortly afterward, Jason Lee returned to New York to gain support for his contested leadership of the mission. He died before he could return to Oregon.
Other early missionary residents of the house were the Parrish family, the Raymonds and the Judsons. After the Methodist church closed the mission, private ownership of this house included that of Judge Reuben Boise.
The drawing seen above was published in 1858. Note one door downstairs is missing and there are probably other creative, artistic details. It is our earliest representation of the original appearance.
A more complete history of the house is found in the following post.