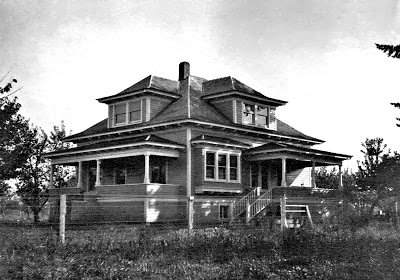 On the eastern edges of the city, neighborhoods of scattered farm homes changed as developments cut up old properties into house lots. One example is the Heffley farm home.
Theodore and Ora Alice Heffley came to Oregon from Indiana in 1906, following other family members. After a short stay in Linn County, they settled on a 100-acre farm east of the Salem City limits on Garden Road (now Market Street), extending south to D Street. Evidently the farm enterprise went well as they built a fine home, seen in the photograph above, before 1911. Other large properties were adjacent, including a Garden Road nursery owned by the Lansing family.
A personal tragedy, affecting both families, occurred in 1913. Shortly after the marriage of an eighteen-year old Heffley daughter, Elva, to a much older Robert Lansing, domestic problems arose. Evie took her own life and the story was widely publicized the local newspapers. Since the families needed to go on with their lives in the same neighborhood, the death was remembered with only a small marker in the Lansing City View burial plot.
After World War II, returning service men with new jobs and young families, were eager to buy homes in new developments. The Heffley house was moved several blocks away to the new location on Ellis Street. A member of the Heffley family recently discovered the fate of Evie, leading to an investigation of where the family home is today. A drive through the neighborhood south of Market Street identified a residence that is the modification of that earlier home. The removal of the spacious porches and the lack of a windowed basement give it a different appearance, but it is recognizable. Early 1900s farm homes along Garden Road are as much a memory as the name of this country road. Annexed into the city in 1966, Market Street it has become a location for commercial enterprises.