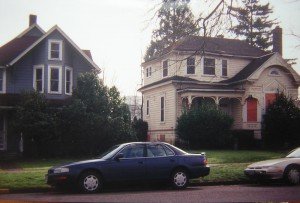 The photograph above of residences at 772 and 774 Winter Street NE, was taken in the 1990s when these two Local Landmarks were about to be demolished or removed ~ fortunately, they were relocated and restored by the present owners, Sarah and Keith Chilcote. The house on the left was known historically as the 1893 German Methodist Parsonage. The one on the right is the 1896 Moon House. The North Capitol Mall Office Building stands there today. Below are earlier pictures of these houses in this location and ones taken recently on D Street.

This ghostly picture of the Parsonage (above) was reproduced from damaged glass plates recovered when the house was moved. It must have been taken in the 1890s when Winter Street was still rural and unpaved. The property was owned by R. P. Boise from the time it was platted until it was sold to the German Methodist Episcopal South Church for use as a parsonage in 1894. The church paid $500 for the property at 772 Winter Street, indicating that there was a dwelling on the property at that time. The photograph was supplied by Keith Chilcote.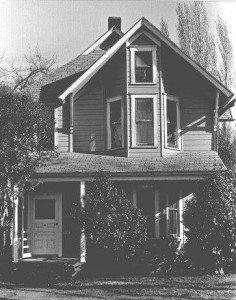 Bob Koval took the 1978 photograph (above) in the same location. Except for the change of front porch detail, the house appears to be as built. Winter Street was much changed in 80 years between the pictures ~ by the late 1970s a residential area almost in the core of the city and, of course, the street was paved.
Below is a 2009 photograph in its restoration at 2981 D Street.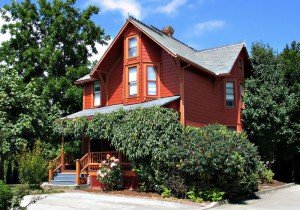 The Moon House
Next door to the Parsonage in the 1990s photograph, was a residence built c.1896 for Amos Long, a teacher in the North Salem School. Oscar Moon bought the property in 1911 and resided there until 1941. After the 1940s the house was a rental. The Moon House photograph below was taken by Bob Koval in 1978. We use his photographs through the courtesy of the Oregon Historical Photograph Collections of the Salem Public Library, Salem, Oregon.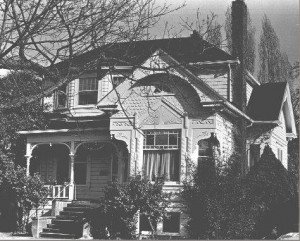 Below is the Moon House in its new location at 2983 D Street with a restoration highlighting the Queen Anne architecture and ornamentation.