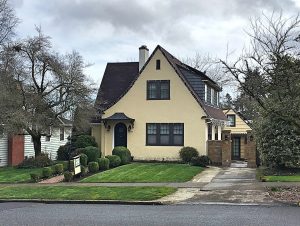 On February 8, 1923, Edwin R. and Marie Viesko purchased property from E.A. and Elsie Rhoten for $450. By 1924, Ed and Marie Viesko were living at this address in Salem's Nob Hill subdivision.
During the 1920s, Ed Viesko worked with his father in construction and started building homes, but selling the houses was challenging because of the Depression. He switched to commercial construction and partnered with Jim Hannaman, a local architect, forming "Viesko and Hannaman". They built several commercial structures. After Hannaman's death, Viesko partnered with Claude Post and established "Viesko and Post". They were responsible for Salem buildings such as the Marion County Courthouse, the Salem Armory, the Statesman Journal Building and Meier and Frank retail store as well as three schools.
This was the home of Edwin and Marie Viesko until their deaths in 1969 and 1970. It was passed down to their daughters and since then to a number of owners.