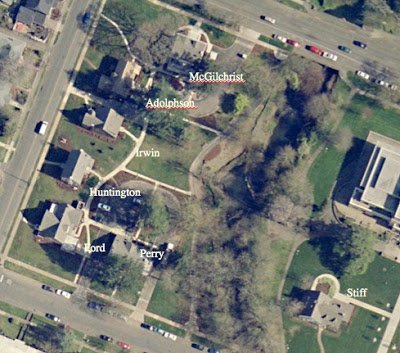 The North Mall Heritage Park is the conclusion to the construction anticipated for state buildings in this area of the city. Along with the Ford and Perry houses of the previous post, we have described five other former residences that have been relocated into this garden setting on both sides of our historic Mill Creek. The Irwin (1935) and Adolphson (1936) houses are in their original locations. They are both designated as Local Landmarks as are the the Stiff, Huntington and McGilchrist houses.
The houses are beautifully maintained and it is a pleasant visit back into the past to wander among them, perhaps even recalling families you knew who lived in one of these residences. By the creek there are benches offering a peaceful vistas ~ to the south the stately buildings housing state offices; to the north the quiet Grant neighborhood.
We hope that as you travel the streets of Salem, you will recognize some of these transplanted houses and will enjoy recalling their histories.