This 1942 Hugh Stryker photograph shows the First Presbyterian Church structure in its original 1928 location on the northeast corner of Winter and Chemeketa Street. The Oregon State Labor and Industries Building is now in that site.
The manse is behind the tree to the right of the church. It is now at the northeast corner of Court and 18th streets in the Court-Chemeketa Historic Residential District, as seen below.
By 1944 the church membership was planning to move the church diagonally across the intersection (to face Winter Street on the southwest corner) because of the new North Capitol Mall construction.
Beginning in 1946, and continuing to the 1957-8 move, several historic residential properties on Winter Street were acquired and demolished. Several are seen in the photograph below, taken in 1937 when the Oregon State Library was built.
From the left are the homes of Frank Derby (formerly owned by Joseph H. Albert, built by O. E. Krausse in 1885); George Pearce, built in 1892 and W. T Rigdon, built in 1890.
In the winter of 1957-8, the church was placed on rollers and moved to the former site of these residences. In the aerial photograph below, the church has advanced into the intersection.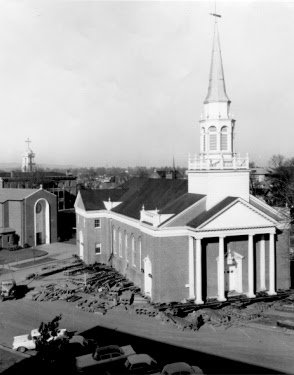 By 1963, the C. P. Bishop home, (formerly owned by George Rose , built by Judge J. J. Murphy before 1886)

and the 1907 Max Buren residence on Court Street (damaged in the 1962 wind storm as seen below) were also acquired and demolished for an educational annex to the church.