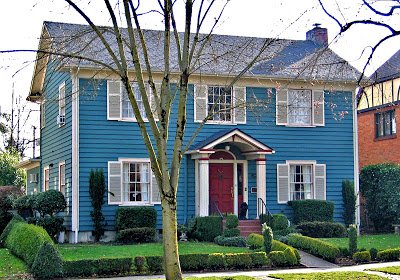 This dignified house at 1160 Summer Street has has been moved progressively north three times over the last 70+ years. "Maybe it's trying to get out of town!" its owner says.
Joel Baumgartner was a young teller at the Ladd and Bush Bank in 1900 and there are many photographs of him, his wife Ada and daughters Lenta and Josephine, in the Bush family photograph collection. He was listed as a Hop Dealer living at this house, 208 Winter Street, in 1926. The date of construction is not known.
In 1937, the North Capitol Mall's first state building, the Oregon State Library, was planned for this location. It stood as the third house north of the Thomas Kay residence (on the northeast corner of Court and State) and that of his daughter and son-in-law, Hollis Huntington. The Kay residence was demolished, perhaps because Mrs. Kay was a widow and was willing to sell it to the state for that purpose. (She moved to 260 Washington Street, the former home of Mr. Ulysses Shipley.)
The Huntington house was purchased from the state in 1937 and moved north to 790 Winter Street. The Baumgartner house was also purchased from the state and was moved to 785 Summer street. As the North Capitol Mall continued to expand, this house stood where the North Capitol Mall Office Building was to be constructed. In the 1980s, it was moved again, this time to its present address.