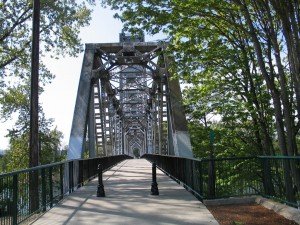 The 1913 railroad bridge across the Willamette River as it appeared at its reopening pedestrians in 2009.
Salem's history began with an 1840 Methodist missionary settlement on Mill Creek. An interpretive plaque on Broadway Street, north of the creek, tells the story. Two years later, the Oregon Institute was built nearby: it became Willamette University. But it was a few blocks to the west, on the shores of the Willamette River, that the village grew. A ferry crossing was at the street that still bears the name. That intersection at Commercial Street was the location of the Territorial and then the 1859 State of Oregon government offices before the town of 1129 residents gained a charter as a city in 1860.

This topic celebrated this city's heritage, outlining the story of the city of Salem from 1860 until 2011 when the series ended. (We are now constructing entries for the years that followed, including 2017.) To read about an event or year, use the white box in the upper left corner of this page to search. This is an index, so you may see several references before you scroll down to the information you want. Like searching in an encyclopedia, you may be distracted by the variety of information! Entries are often up-dated with new links or photographs. At the end of each year's profile, there is an opportunity to comment. We welcome suggestions and corrections.

Historic photographs are used courtesy of the Salem Public Library. Search for additional photos at Oregon Historic Photograph Collections (http://photos.salemhistory.net).  Photos from private of state collections are as noted. Contemporary photographs are those of T.N. Green, Jr.