World Events
The CIA helps restore Shah Mohammad Reza Pahlavi to power in Iran, overthrowing the democratically elected  Mohammad Mossadegh. Vice President Nixon visits Iran causing riots.
On TV the world watches the coronation of Queen Elizabeth II, the Eisenhower inauguration, Lucy giving birth on "I Love Lucy". (Color TV sets go on sale for $1,175.)
The Korean Armistice Agreement establishes the DMZ between communist North and capitalist south.
George C. Marshall is awarded the Nobel Peace Prize (in part) as the originator of the Marshall Plan to rebuild Europe after WW II.
Lung cancer first attributed to cigarette smoking, Jonas Salk announces a  polio vaccine. James Watson and Francis Crick discover the structure of DNA molecule.
Sir Edmund Hillary and Tenzing Norway are first men to reach summit of Mount Everest. Mickey Mantle hits baseball's longest home run (565-feet).
"Mad", "Playboy" (with Marilyn Monroe as centerfold) and 'TV Guide" are popular new magazines. The Academy Award went to "From Here to Eternity"(1954). National Book Award: Invisible Man, Ralph Ellison. Pulitzer Prize: Old Man and the Sea, Ernest Hemingway.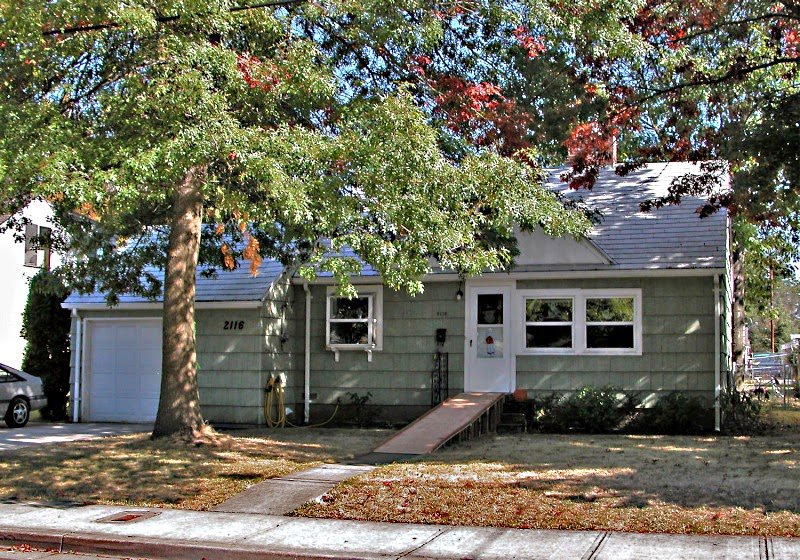 In Salem
Returning servicemen, who had only known the Depression as they were growing up, had their first home-owning experience in these look-alike "track houses". Although standing among others like small green tokens in a Monopoly game played on a vast, empty board, they were highly prized. Purchased with a GI loan, a few hundred dollars in a down payment, and small monthly payments, they represented a future of independence and prosperity. This house at 2116 Park Avenue was in one of the first housing developments in the Lansing neighborhood. Then outside the city limit, around it were open fields of the former farmland. Water was provided by privately owned 70 foot deep well which supplied the immediate area of houses. A young teacher was the first owner of this house, followed by Olga and Hilda Ask, sisters who had retired from farming. In 2010 it was still in possession of the third owners.
When you visit
It is difficult to find one of these homes that has not been substantially altered. In the case of this house, there is additional front room window, one in the kitchen has been modified and there is a wheelchair ramp. On a quiet suburban street, now with sheltering trees, it has an attractive and welcoming appearance and is testimony to the enduring value of these 60 year-old homes. It is in the Lansing neighborhood, north of Market Street.
Although it is now common to see large tracts of homes being built by developers (West Salem, for example), and even modified "row houses" (Grant neighborhood), these were limited concepts in Salem until the post-World War II era. An architect might use a similar design for several houses (Jefferson Pooler on Court Street in 1909-11), but the earliest "mass produced" houses were probably the Sears Catalog Home (1908-1940), which a private builder could order by mail (1724 Chemeketa is a local example). Many of these have retained their original exterior appearance and are designated as Local Landmarks or are qualified for the National Register. Professionals in historic preservation are now applying the same standards to 1940-50s "tract houses" that have retained their integrity of design. They are equally worthy of respect and preservation.
Other Events
This is the last year for the Salem High School that is about to be razed for the construction of Meier & Frank Department Store, now Macy's. It was located on Marion Street, between High and Church streets.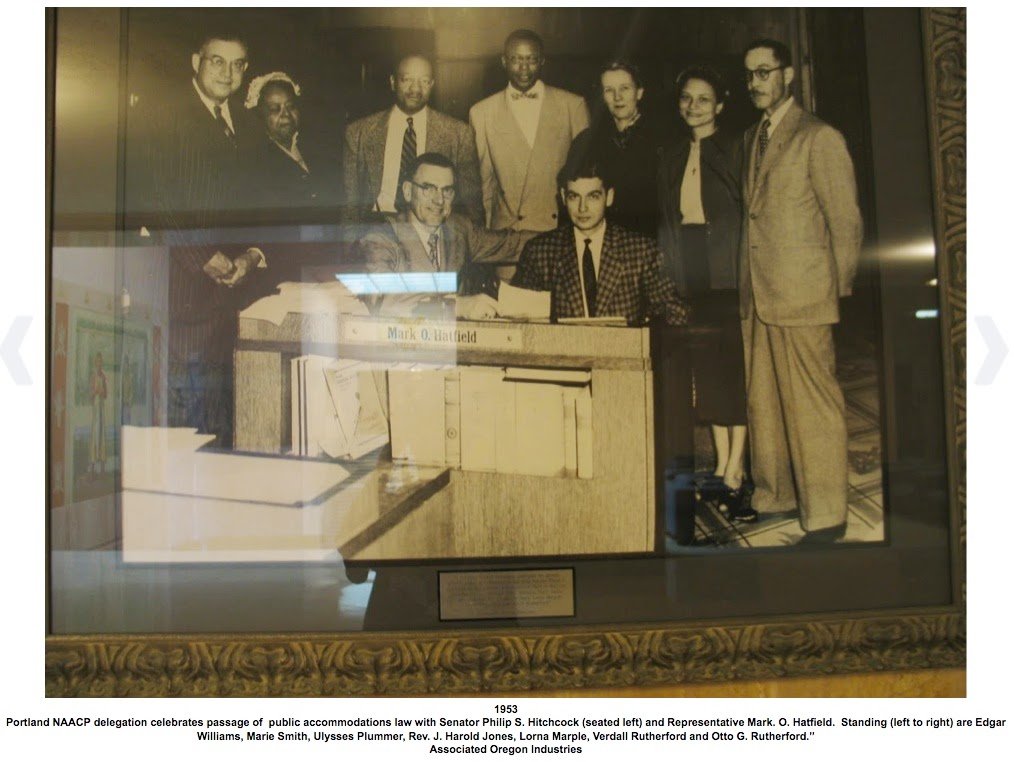 Portland NAACP delegation, Senator Hitchcock and Representative Mark Hatfield.
Oregon Assembly Representative, Mark Hatfield, is photographed (above) in a celebration for the Public Accommodations Act, signed this year. He had never forgotten that as a student at Willamette University, his task was to drive Paul Robeson to Portland after a singing engagement at the university. There was no place in Salem for the nationally recognized singer, actor and political activist to sleep that night. The photograph now hangs in the Capitol.
Detroit Dam is completed by the U. S. Army Corps of Engineers on the Santiam River between Linn and Marion County in the Cascade Mountains. It was authorized for flood control. power generation, navigation and irrigation. Other uses include fishery, water quality and recreation. It created a 400-foot deep Detroit Lake more than 9 miles long with 32 miles of shoreline. Nearly 200 residents of the town of Detroit were moved; Highway #22 and the Santiam River were realigned.
In 1938, Carroll Moores left his lifetime savings of $25,000 as an annuity for a friend and to create a memorial to Oregon pioneers. By this year, the invested sum had reached $34,000. Two art professionals making the selection decided Salem already had enough traditional statuary and suggested Renoir's Venus Victorieuse currently on sale in New York. The citizen uproar that followed was taken up by rival opinions in the newspapers. The Capital Journal newspaper called her "fat and naked". Women's clubs thought it was undignified. Art teachers tried to get in a few words; so did ex-Governor Sprague. But the uproar grew. Mr. Putnam, publisher of the Capital Journal newspaper, commented that it was "just another art lover sneer at Salem for rejecting an unsuitable memorial to Oregon's early pioneers." An answering editorial in the rival Salem Oregon Statesman newspaper concludes, "If we want to capitalize on this publicity, perhaps we should set up a base, bearing the label "Venus Unvictorieuse". The Capital Journal newspaper also presents a letter from the Council of National Sculpture Society emphasizing the unsuitability factors." The controversy would not be settled until 1959.
Gray House

The Gray House is constructed at 3251 Bluff Avenue in the Morningside neighborhood. This International style residence was to be a retirement home for builder Paul Gray and his wife. However, Mrs. Gray died two years later and the house was sold to Viola and George Corrigan. Viola, widowed and remarried twice, lived in the house 43 years, walking 2-3 miles a day around the neighborhood. The present owners bought the house from her in 1998.