World Events
 The Kellogg-Briand Pact, renouncing war, goes into effect, signed by most leading countries. It did not prevent WW II, but many of its provisions were included in the United Nations organization in 1945. Frank B. Kellogg is awarded the Nobel Peace Prize for this pact.
The Kingdom of Italy and the Holy See sign the Lateran Treaty establishing Vatican City as an independent state within Rome.
Herbert Hoover is sworn as 31st President as the stock market collapse wipes out more than $30 billion from the New York Stock Exchange (10 times greater than the annual budget of the federal government).
The Grand Teton National Park is established by the U.S. Congress. It joins Yellowstone, Sequoia and Yosemite. The longest bridge in the world opens: San Francisco Bay Toll-Bridge.
In "Saint Valentine's Day Massacre" seven are murdered. "Speakeasies" flourish as not-so-secret, illegal bars.
In New York, the Museum of Modern Art opens. Noel Coward and George Gershwin produce plays for Broadway. The Academy Award recognizes World War sacrifices with "All Quiet on the Western Front". The Pulitzer Prize: Laughing Boy by Oliver La Farge.
In Salem
The Roaring Twenties are about to end, but before the stock market crash this October two grand residences are built.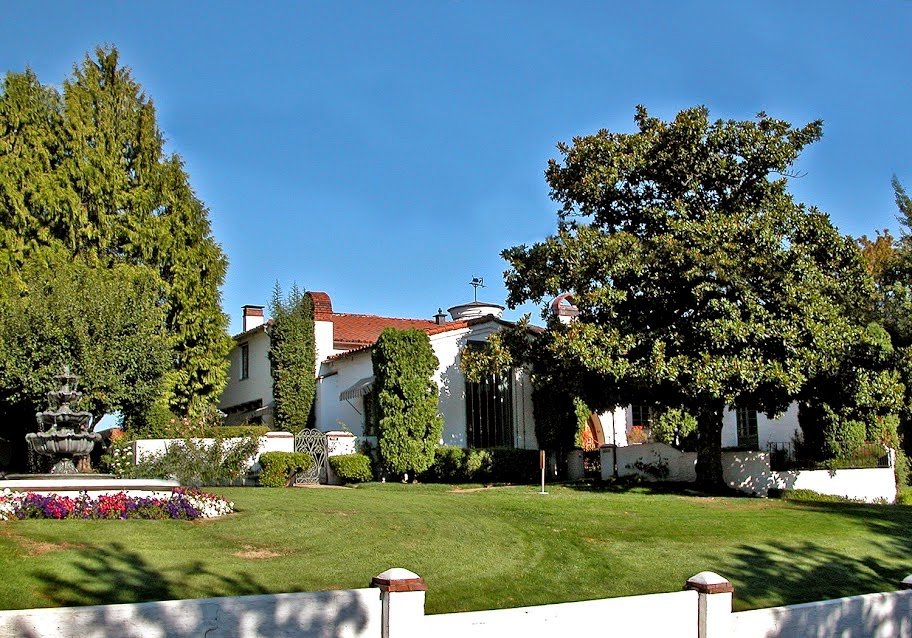 The Jarman House : Gaiety Hill Neighborhood
One of these replaced an older residence, the 1907 Hughes house at corner of High and Oak Streets.
A new residence is built on the site of their home this year by Daniel Jarman, a retired J. C. Penney manager. He hired Los Angeles architect, G. C. MacAlister, to design a Spanish Colonial residence. The landscape plan of the gardens was designed and carried out by Elizabeth Lord and Edith Schryver, Oregon's first women landscape architects. (For many years, they lived two blocks to the south at 545 Mission Street in a house Elizabeth built in 1932. The property had belonged to her father, a former governor.)
Louis and Margaret Lachmund purchased the house in 1938. A year before, their own house on Court Street had been acquired by the state for North Capitol Mall construction. (This house was first purchased by Willamette University and moved to the campus to serve as the president's residence, eventually it was moved to the 2400 block of State Street.) Louis Lachmund died in the 1940s, but Margaret lived remained on High Street until her death in 1972. A photograph taken probably in the 1960s shows how little it has changed in the more than 80 years since it was built.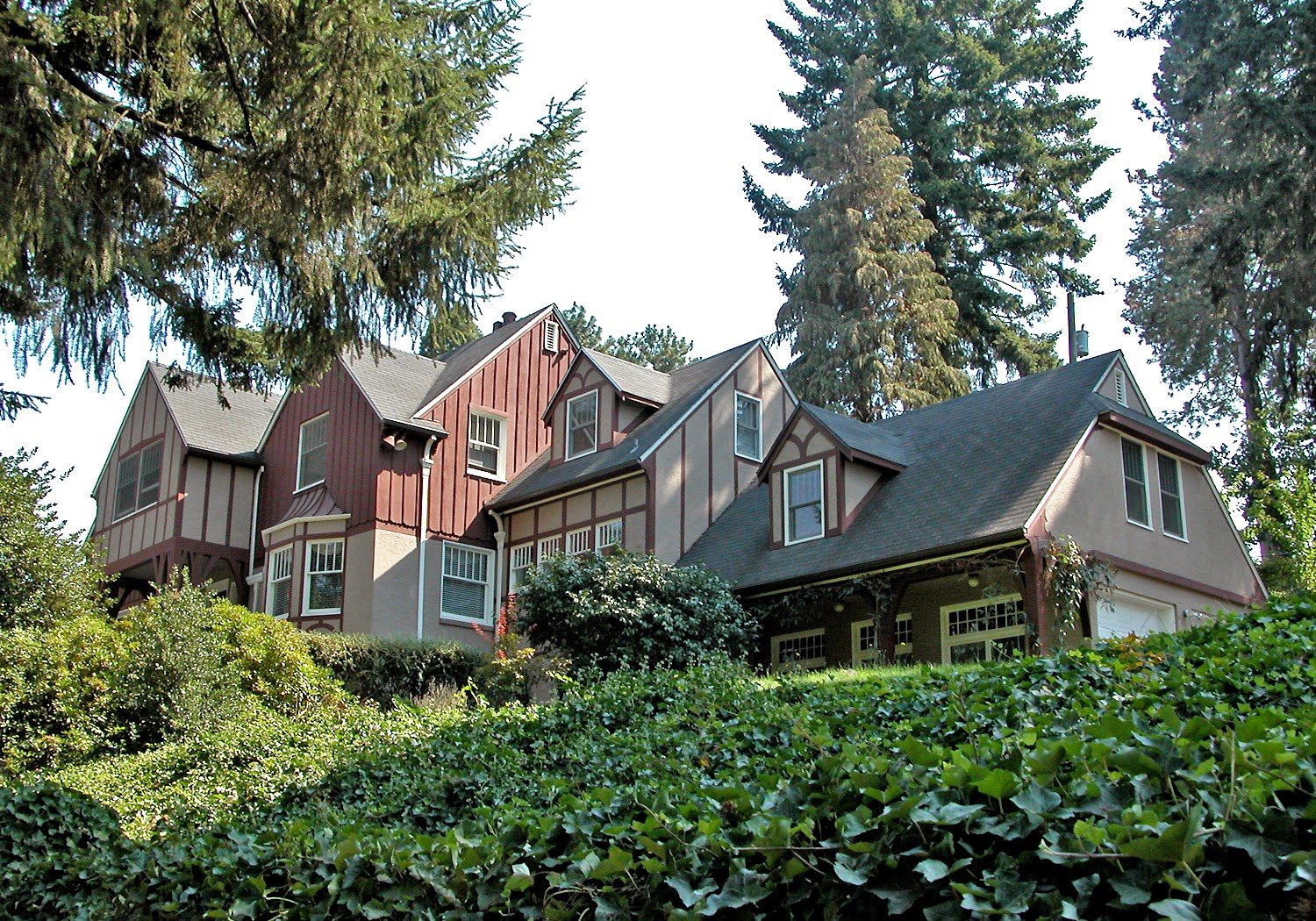 The Lamport House : Nob Hill Neighborhood
Another elaborate home built in this last year of the booming 1920s, was the Lamport House on Lower Ben Lomond Drive in the SCAN neighborhood. This expanded English Cottage style residence was designed by O. J. Fitch of Portland with Tudor revival details typical of the inventive residential architecture of the 1920s. The property included a garden, tennis court and swimming pool. Frederick and Eleanor Rogers Lamport were leaders in Salem's political, social and cultural life between the World Wars. The house retains many of the original features although the property has diminished in size. It is in the SCAN neighborhood and was listed on the National Register of Historic Places in 1991.
When you visit
These are private residences in the SCAN neighborhood, easily seen from the streets where they are located. Both are listed on the National Register of Historic Places.
Other Events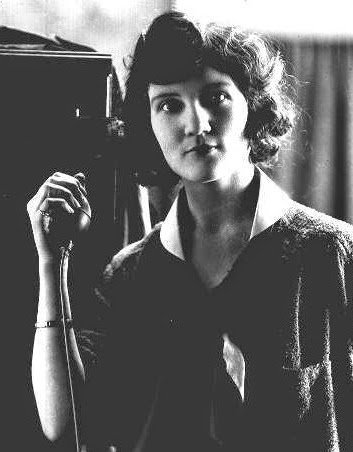 Self Portrait of Kathrrine Gunnell
Kathryn Gunnell photographed "Miss Salem" this year. A personal style was reflected in her photography, collected at the Marion County Historical Society (now Willamette Heritage Center). Her studio this year was Gunnell and Robb, located at 520 State Street. Subjects were exceptionally varied: they included graduating classes including those at Chemawa, Rose Parades in Portland, Elsinore Theater artists, black performers, Franchon and Marco traveling vaudeville troups (for which she was official photographer), baby pictures, sets of twins, "Miss Salem" of 1929, local buildings of note and occasional exhibits. As a student of that time remembered her, "Her style was striking. She had flaming red hair which she had done in high style. We kids thought she was wonderful.

 

She had this really smooth way of flattering everyone to get a smile."
Charles Sprague comes to Salem to be editor of the Oregon Statesman newspaper. Mr. Sprague became owner and publisher, establishing a reputation as one of the Nation's great editors. He served as Governor of Oregon from 1939 to 1943. He had become one of Salem's most respected citizens when he died in 1969. An

 

English Tudor house was built for Charles and Blanche Sprague in 1920 to replace a house that was removed. The Sprague family lived here for 25 years. In 1956 it was sold to Chi Omega sorority of WU. It is now owned by the state and  use for a social services agency.