World Events
William II, autocratic Emperor of Germany, dismisses Chancellor Bismarck, continuing difficult relations with France.
King William of the Netherlands died without a male heir, the throne going to the princess who becomes Queen Wilhelmina.
At Wounded Knee in South Dakota, an attempt by 7th Cavalry to disarm Lakota Sioux results in the deaths of 153 Native Americans and 25 soldiers.
The Land Rush of the year before had produced so many settlers that the Oklahoma Territory was established in May of this year. Idaho and Wyoming are admitted as states.
American industry produces an entirely steel frame building in Chicago. The use of Hollerith Company (later IBM) punch cards for the census of this year introduces computing hardware.
Mass rallies and one-day strikes in cities in North America and Europe demand an eight-hour workday.
Notable new books of this year: Hedda Gabbler, by Hendrik Ibsen and Picture of Dorian Gray by Oscar Wilde.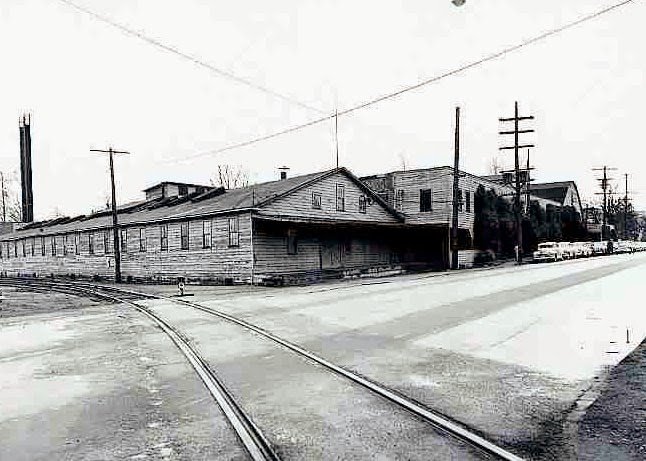 In Salem
The Salem Canning Company is founded. Robert Wallace secured land on a corner of the Willamette University campus (seen above), opposite the Thomas K. Woolen Mill providing rail car loading on two sides and frontage on 12th Street. In the cannery building tomatoes, peas, corn, beans, cherries, black raspberries, plums, pears, and apples were processed. Mr. Wallace died unexpectedly the following year and the company was sold, later operating under the Allen name. (In 1920 Mr. Allen designed a new home, and had his crew build it, at 901 Capitol Street. This beautiful property on the intersection with D Street is now a Local Landmark. For many years it has been used as a business office.) The plant became the Oregon Packing Company and was later a cooperative known as the Mutual Canning Company. It was secured by the California Fruit Canners Association and that ended local ownership. In 1935 it became known as Calpak Plant #126. The plant closed in 1953.
When you visit
The photograph above was taken near the Willamette Heritage Center gate on 12th Street, looking north toward State Street. The railroad tracks, going east into Willamette University, are no longer there since a major renovation for the creation of new campus buildings in the 1980s. The site of the original cannery is now the location of a university parking lot.
Other events
Salem's population reaches 2,617.
A structure built just four years before by the enterprising Mr. Wallace, our first bridge over the Willamette River, collapses due to flooding on February 3. The timber wagon bridge cost $50,000 and first opened to traffic on December 7, 1886 when the river crested at 37 feet and one inch. A pier, improperly placed in relation to the current, washed our first. Then the spans crashed. A drawing in West Shore magazine captured the event and shows Billy Chambers and L. Goolsby barely escaping.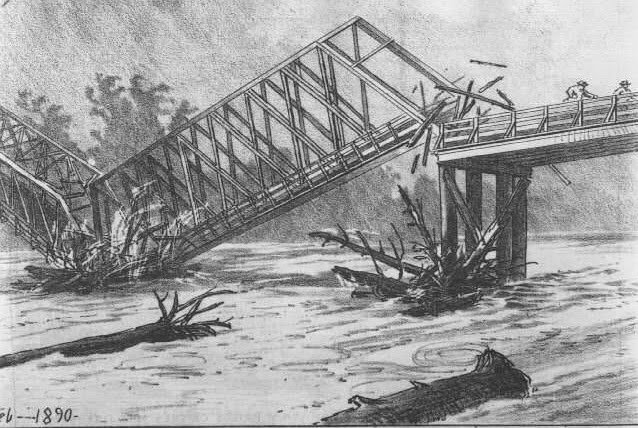 The collapse of our first Willamette River bridge
Another successful businessman, brick maker George Collins, builds an elaborate Queen Anne style residence at 245 Church Street. His bricks were used in many of our historic Salem downtown structures. Almost thirty years after the house was built, it was sold to Robert Downing and the property stayed in that family until the death of Hazel Downing Isbell in 1986. In the later years, it had become divided into apartments, but when it was moved to 1340 Chemeketa Street in 1989, it was restored to its original interior design. It now serves as professional offices. This NEN neighborhood property is listed on the National Register of Historic Places.
This year, Salem continues to experience a boom in residential building:
Southeast of downtown, two new Vernacular style homes are built: William Siegmund, a blacksmith, lived at 1396 Lee Street for many years and Jefferson Myers, a local attorney and political figure, lived at 1896 Lee Street. Both houses are Local Landmarks in the SESNA neighborhood.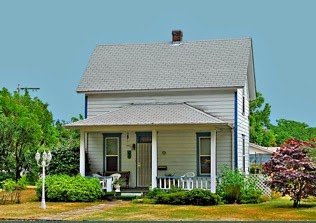 Dairy Farmhouse
There remains today a farmhouse of a large dairy that once extended east from the Oregon State Hospital property to what is now Lancaster Drive in the NESCA neighborhood. Now reduced to a single city lot, the property retains many of the original trees and other features. Three adjoining small houses along Park Avenue to the south were for dairy workers. We often drive pass this house, on the southeast corner of Park Avenue and D Street, without thinking of its long history and how recently this area was all farmland. Unfortunately, we do not know the name of the original dairy owner.
On Cottage Street, north of Salem, a house is built as a rental. In 1913 Charles and Lillian McKinley purchased the property. The present owners have restored and thoughtfully maintained this Local Landmark in the Grant neighborhood.
Near his brother Joshua's property in Spring Valley, Andrew Jackson Purvine builds a new residence to accommodate his second family. Although altered, it retains many of the qualities of the original home.
The originally Quaker community in Highland welcomes the German Baptists on Hazel Avenue. Still retaining its classic exterior, it is a Local Landmark as the Immanuel Baptist Church.
Ben Maxwell recalls:
In May, it is reported that Margaret Hutchins, "squaw wife" of celebrated old Santiam Chief Joe Hutchins, dies of fever in a tent among little trees between the Southern Pacific depot and the woolen mill [on the present 12th Street]. The item noted she was member of the Molalla tribe.
Within 5 miles of Salem, good fruit and farmland could be bought for $30 to $50 an acre.
On July 4, Salem staged the greatest celebration in the Willamette Valley. Rev. C. C. Stratton [son-in-law of pioneer Alvan Waller] delivered the oration and W. J. D'Arcy read the Declaration of Independence. The national anthem was sung by 150 trained voices and 7 brass bands offered additional music. Previous to this ceremony, there was a 13-gun salute. Residents on Wilson [Willson?] Avenue were advised to leave windows open to prevent their being shattered by the concussion.
(See Ben Maxwell's Salem, Oregon, edited by Scott McArthur, 2006)