Why SHINE?
SHINE is an acronym for Salem Heritage Network (SHN), originally a series of informal neighborhood meetings in support of Salem, Oregon, cultural properties and heritage tourism. The original partners in the summer of 2008 included Lois Cole, Nadine Heusser, Bonnie Hull, Mary McRobinson, Angie Morris, Hazel Patton, Kathy Reed, Beck Sterup, Stephanie Allen and myself. The goal of these meetings was incorporated into the "Salem 2020" civic project in 2009. SHINE continues to promote Salem's recognition as an important Oregon cultural and economic resource. The most recent publication sponsored by SHINE is the Salem Cultural Heritage Guide, a brochure composed and financed by a partnership of local institutions.
Our logo above, designed by Cheryl Clark, is a representation of Salem's historic skyline.
Explore the following Topics:
See Here
Gaiety Hill/Bush Pasture Park Historic District

Several years ago, four historic houses at the intersection of Mission and Liberty streets were demolished due to the neglect of the owner. This prominent location has been an empty eye-sore since then. A bungalow style medical office, in keeping with the architecture of this Gaiety Hill/Bush's Pasture Park Historic District, is projected for this property. The architect's rendering is seen above.  Ground breaking was on February 18, 2017.
Walking in Grant Neighborhood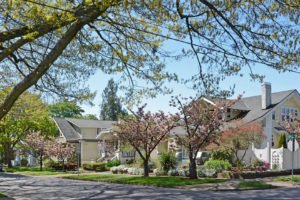 This photo was taken in July 2016 when the Grant Historic Neighborhood Walk was completed. It is now online and ready for you to join us for the tour! Forty residences are pictured, their ages and earliest occupants listed. If you wish to make corrections, or add information, pleases contact us. We will also be pleased to learn about other historic homes.
Peter Courtney Minto Bridge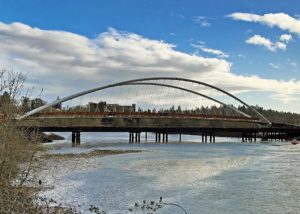 In December of 2016, at the Willamette Slough site of the future Peter Courtney Bridge, you can see that the support for the arches been eliminated. The new bridge walkway, above the temporary platform is in place. After the Opening Day event in the summer of 2017, the structure will be included in the SHINE Riverfront Walking Tour.
Urban Redevelopment in Wallace Park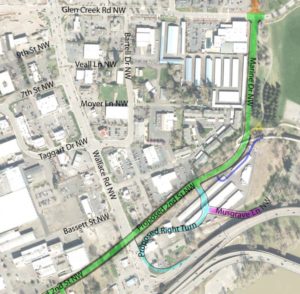 The image above illustrates the City of Salem's West Salem Business District Transportation Feasibility Study. This project would create an underpass at the intersection of 2nd Street (by the new Good Will facility) and Wallace Road. This underpass would accommodate a new subsurface, two lane highway, replacing the present pedestrian path to the Union Street Bridge Trestle and continuing along the west edge of the park beyond Glen Creek. To construct Marine Drive, it will be necessary to remove a portion of the historic trestle. A new walkway from the bridge to the park is shown above with the purple line joining the trestle to the new road, seen in green. Since posting this information, the city has amended the construction plan, approving a crossing of Wallace Road at 2nd Street, but postponing the projected Marine Drive route (seen in green above) until a future date.