Why SHINE?
SHINE is an acronym for Salem Heritage Network (SHN), originally a series of informal neighborhood meetings in support of Salem, Oregon, cultural properties and heritage tourism. The original partners in the summer of 2008 included Lois Cole, Nadine Heusser, Bonnie Hull, Mary McRobinson, Angie Morris, Hazel Patton, Kathy Reed, Beck Sterup, Stephanie Allen and myself. The goal of these meetings was incorporated into the "Salem 2020" civic project in 2009. SHINE continues to promote Salem's recognition as an important Oregon cultural and economic resource. The most recent publication sponsored by SHINE is the Salem Cultural Heritage Guide, a brochure composed and financed by a partnership of local institutions.
Our logo above, designed by Cheryl Clark, is a representation of Salem's historic skyline.
Explore the following Topics:
See Here
Gaiety Hill/Bush Pasture Historic District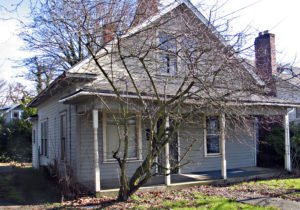 Do you remember this historic old 1860s house? It was the first residence built in the Jones Addition, south of the present Mission Street.  It was demolished several years ago, along with three other historic houses, and this lot at the intersection of Mission and Liberty streets is now empty. Several bungalow style offices, in keeping with the architecture of this Gaiety Hill/Bush's Pasture Park Historic District, are projected for this property. When the architect has completed the plans, a Historic Landmarks Commission Design Review will be conducted and a zone variance considered by the city.
Walking in Grant Neighborhood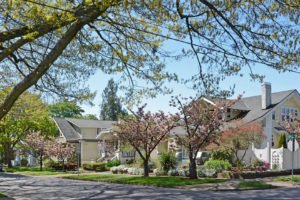 The Grant Historic Neighborhood Walk  has been completed and is now online and ready for you to join us! Forty residences are pictured, their ages and earliest occupants listed. If you wish to make corrections, or add information, pleases contact us. We will also be pleased to learn about other historic homes.
Peter Courtney Minto Bridge
In June of 2016, at the Willamette Slough site of the future Peter Courtney Bridge, you can see the first of two supporting arches in place. The bridge should be completed early next year with a ceremonial Opening Day celebration. At that time, the structure will be included in the SHINE Riverfront Walking Tour.