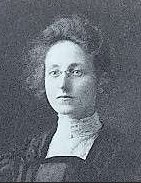 On November 24, 1894, Myra Albert married Frederick Wiggins in the First Presbyterian Church in Salem.  Following the wedding, friends and family attended a reception at John and Mary Albert's Victorian home on Winter and Oak Streets. After the reception, she grouped the wedding party of twelve people and set up her camera for a flash powder photograph.  She placed the powder in the pan, lit the paper fuse, and ran to take her place by her husband.  In the finished image, Fred's eyes were closed so she made tiny pin-pricks in the negative to "open them up". Although Myra posed with her head bowed as a demure bride, only a woman of her talent would attempt to immortalize herself in that moment.
             Myra's mother and father had also married in Salem.  By 1869 when Myra was born, "The City of Maples" had passed from the frontier era of twenty years before, having a water system, gas for illumination, and plank sidewalks. Citizens could boast of the Reed Opera House, a theater, a state library and a "supreme court room".  For intercontinental transportation, the California Stage Company promoted a five-day trip to San Francisco with a connection to the eleven-day rail crossing to New York by the Union Pacific Railway.  Her father was a wealthy man, with the leisure to investigate the new art of photography: Myra, a clever and energetic young woman, must have been fascinated by the possibilities of this new art, but painting was her first enthusiasm.  She loved to record the beauties of her native Willamette Valley and began private art lessons at about eighteen. She bought her first camera in 1889 because her brother wanted a photograph of a girl friend and he convinced their father a camera would be for both of his children. Soon Myra turned the camera to the beauties of the Oregon Coast, and to life as she saw it around her in Salem: her friends at social events, in sentimental poses, even the flood of 1890.
           Myra's photographs began to win competitions in magazines. Encouraged by her success, she left Salem in 1891 to study at the Art Students League in New York.  She remained there for three years, perfecting her artistic style in painting and photography, returning to Salem in the summers. She and Fred Wiggins belonged to the same church and tennis club and enjoyed the new craze of bicycling.  After their marriage, he continued to clerk at Holverson & Company Dry Goods, sales being an occupation in which he excelled.  A daughter Mildred, their only child, was born in 1896.
            At the turn of the century, photographs in competition followed gallery styles, presented in heavy frames and with subject matter of then popular paintings.  Her daughter was often posed in Dutch costume interiors matching classic European subjects – one even being "pirated" by a cereal company as an advertisement.  Myra's love of natural beauty and the theme of Native American women were also outstanding products of her art. World travel added to her supply of subjects to photograph.  She accomplished a notable career, still remaining a devoted daughter, wife and mother.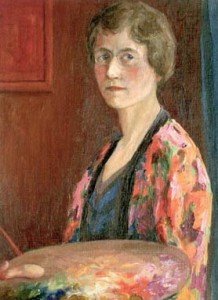 In 1907, the family moved to Toppinish, Washington when Fred became a partner in the Washington Nursery Company.  Myra helped her husband financially by opening a studio to teach art and continued to produce an income of her own by painting.  Her career did not end until her death in 1955 at the age of 86.  Her husband died in an accident four months later.  Her art, and his dedication to her talents, live on in over 50 years of outstandingly beautiful photographs, paintings and poems.
Biographical information from Witch of Kodakery, The Photography of Myra Albert Wiggins 1869-1956, Carole Glauber, Washington State University press, Pullman, WA, 1997.