Most of us have had an acquaintance (or member of the family) like Margaret Jewitt Smith. She was, to put it in more a modern-day term, "ahead of her time". Even today, when a woman in America has more choices in her future than Margaret could have imagined, there are those who seek unconventional paths. She saw herself as more than the wife and mother her society demanded of her future: she wanted to express herself as a writer of poetry, to have a career as a teacher, to see the world. She might have even had aspirations to vote! She said "No" to the limits of domestic life, always under the control of men, offered women of her time.
       Born in Saugus, Massachusetts about 1812, Margaret was able to prevail against family wishes and attend Wesleyan Academy in Wilbraham. This was the institution where Jason Lee graduated in 1830 (when she was 18 years old) and one of the first to offer higher education to women. The evangelical enthusiasm to missionary work in Methodist church, inspired her go to Oregon as a teacher. She secured a "position" with the 1837 group and accompanied the Leslie family and William Willson on the nine months voyage. By the later, semi-fictional retelling of her story, she found herself as a servant to the ailing Mrs. Leslie during the trip, and was urged to marry Mr. Willson ~ her presumed suitor ~ after they arrived at the mission. She refused, even after he testified that they had been intimate during a winter at the mission settlement. When he married Chloe Clark, Margaret was relieved to have that matter settled. But her ambition to remain single, to have her writing published and to serve as a teacher were all challenged to such a degree that she left the community. Of course, she must marry someone. So her choice was Dr. William J. Bailey, not of the mission, and they settled in French Prairie. But that was far from the end of her story.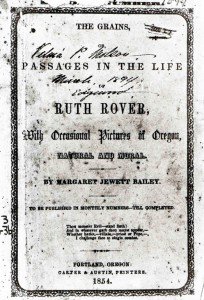 Margaret discovered Dr. Bailey was not an ideal husband: he had a violent temper and was alcoholic. However, by 1848 her writing career was advancing as her poetry (signed by MJB) was appearing in the Oregon Spectator. She was even hopeful of editing a periodical for women. Realizing her personal situation with an abusive husband could not continue, she divorced Dr. Bailey in 1854. That same year her book, with the lengthy title of Grains, or, Passages in the Life of Ruth Rover, with Occasional Pictures of Oregon, Natural and Moral was published. In Chapter One the narrator as Ruth Rover reveals, "I am avoided and shunned, and slighted, and regarded with suspicions in every place till my life is more burdensome than death would be. I have, therefore, … been impelled by a sense of justice due to myself and a wish that my future life should not be overshadowed by the gloom of the present."
This thinly disguised narration of her life at the mission changed the names of the missionaries in the novel, but revealed them in copies of actual documents inserted in the text along with her poems. Of course, this was too much! A divorced women casting suspicion on the motives and behavior of the ministers!  Amid public criticism, her career as a published Oregon writer came to an end.
      Margaret's personal story continued to be unfortunate: a year after her divorce, she married Francis Waddle in Polk County. In 1888, this marriage also ended in divorce. In Washington Territory she married for the third time. Perhaps this union brought her more comfort, but certainly not prosperity: she was reputed to be "in poverty" when she died in Seattle on May 17, 1882.
Much of this information is found in the Oregon Encyclopedia under the title "Margaret Jewett Smith Bailey (1812-1882)".
William Bailey went on to participate in Oregon's provisional government, living on his property in the French Prairie of the Willamette Valley with his second wife. He is buried in the St. Paul Cemetery.
Photograph: Oregon Historical Society, Research Library, ORHi37311