Artist's aerial view of Salem, 1876
        Do all Marion County roads lead to Salem? It seems so. The north-south River Road, US 216, I-5 and 99E all funnel through the Willamette Valley into the city. US 22, traveling east toward the Cascade Mountains, crosses our L-shaped county. Salem sits almost in apex of the triangle. It straddles the western border of the county at the Willamette River and is only a few miles north of the Santiam River and its tributaries, flowing along the southern border of the county.
The geographic features of the Salem settlement that attracted Oregon Trail settlers were its location in the richly agricultural Willamette Valley and its access to transportation on the Willamette River. But there was also its early political influence. Already the territorial Capital, Salem was incorporated in 1860; a year after Oregon statehood was achieved. Three men of national political importance have lived in Salem: President Herbert Hoover; Oregon Governor and US Senator Mark Hatfield; and US Candidate for Vice President and Senator Charles McNary.
        To live in Salem is an ongoing experience in American history. Here we find legendary Indian cultures, the pioneering spirit of the new nation, industrial enterprise of the late 20th century, our political and social evolution of the last half-century, as well as current economic concerns. Heritage features of the city, perhaps our most valuable community asset, are all within a mile of the Salem Downtown Historic District.
The present Oregon State Capitol, of Art Deco style architecture, was constructed after a fire in 1935 destroyed the sixty-year old Classic Statehouse. The Capitol is located on one of the most important historical sites in the city, platted by William Willson when the city was laid out in 1844. The most prominent of the early pioneer families lived in the residential areas that surrounded this center of political activity. State buildings have replaced these homes, but Willson Park, adjoining the Capitol is still a pleasant open space and is host to numerous memorials to Oregon heroes.
Willamette University, directly south of the Capitol, dates back to the founding of city by Jason Lee. The site of the original Oregon Institute is memorialized here. The 1867 Waller Hall, the first dormitory and classroom, and the 1986 Hatfield Library are prominent features of this outstanding private university.
       Willamette Heritage Center, just to the east of Willamette University, is a leader in interpretation of Oregon's early history as well as Salem's pioneer period. It houses several historic structures including the former Thomas Kay Woolen Mills (1889-1859), designated an American Treasure by the National Park Service. Also at the site are relocated landmarks that relate to the settlement of the Oregon territory: the Jason Lee House, the Willamette Parsonage (both 1841) and the Boon House. These are physical connections to Lee's original Willamette Mission that played an integral role in Oregon's beginnings.
Salem's past is also reflected at Bush House Museum, Elsinore Theatre, Historic Deepwood Estate, the Grand Theater, Hallie Ford Museum of Art, the historic structures of the A. C. Gilbert Discovery Village (Gilbert House Children's Museum) and the adjacent, award-winning Union Street Bridge.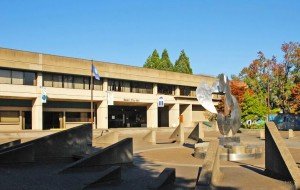 Salem City Hall and Peace Plaza
       Today Salem is a city of 46.4 square miles, a population of 154,637 (2010). The State of Oregon remains the largest public employer and the Capitol is most compelling reason for visits to Salem, both for business with state institutions or as a tourist. Salem Hospital is the largest private enterprise involving many professionals, patients and their families. Both are within easy walking distance of downtown shops, restaurants, parks and heritage tourism attractions.
      Since 1866, Salem has been the location of the Oregon Department of Corrections with four state correctional facilities, including the Oregon State Penitentiary, Oregon's only maximum-security prison. In 1894, the Oregon State Hospital was established here, serving the state's mentally disabled. It was the featured in the 1975 award-winning motion picture, "One Flew Over the Cuckoo's Nest". Although important industrial enterprises, including Boise-Cascade and nationally recognized canning companies, have disappeared with the changing economy of our nation, there have been positive environmental advantages. Urban redevelopment has eliminated the former air pollution, enhanced its historic downtown shopping enterprises, and encouraged new "green" construction. Urban parks are significant civic assets. Riverfront Park, along the east side of the river hosts numerous public events. Pedestrians crossing the Union Street Bridge into West Salem, will find the popular softball complex of Wallace Marine Park.
      As not only residents, but also as local historians, we have discovered each section of Salem has an appealing heritage of its own. In addition to our Downtown Historic District, two residential neighborhoods have also received the National Register designation. Others have homes of over a hundred years old, lovingly relocated as the state occupied their original sites. The raw, post-World War II tract-house developments have now become handsome residential blocks on tree-lined avenues. Urban parks make city-walking a pleasure. However, despite its growth into a large urban community, relative to other Marion County cities, it still retains its friendly, "small town" atmosphere. This quality of life for residents, as well as business opportunities, gives Salem potential economic value, although the city budget for 2012-13 continues to decline. Both reductions in city services and opportunities for increased revenue are annually considered by the city administration. Despite economic concerns, Salem is a beautiful and culturally rewarding Oregon city in which to live and to visit.
Visitors to Salem are introduced to the city by Travel Salem, a city-supported marketing agency that publishes an annual magazine highlighting area attractions. Their website offers an interaction map that describes and locates member tourist attractions in Salem and in the surrounding area. The heritage and tourism sites here mentioned may require reservations and fees so must be contacted independently. To preview our heritage attractions and urban parks online, six walking tour slideshows are illustrated on this website. Five of these walking tours begin at the Grand Hotel downtown; the sixth is adjacent to the Willamette Heritage Center.

   In addition to heritage and recreational sites open year round, seasonal attractions are offered:
June ~ World Beat Festival of the Salem Multicultural Institute, Riverfront Park
July ~ Fourth of July Celebration, Salem Art Association Art Fair, Bush's Pasture Park
July, August ~ Bite and Brew of Salem, Riverfront Park
August ~ Summer in the City, Downtown
Quarterly ~ Salem Chamber Orchestra, Hudson Hall, Willamette University
The Prewitt-Allen Archeological Museum at Corban University contains artifacts from Eastern Mediterranean cultures.
    We invite you to read news items about an earlier Salem in Ben Maxwell's Salem Oregon, edited by Scott McArthur, 2006. It contains brief, but highly entertaining Capitol Journal items from 1888 to 1957.
Each Tuesday, after a city was featured in that Sunday's Statesman Journal, 
KMUZ
broadcasted "Marion County 20". To learn more about
Salem
, listen to the podcast listed on the station's website archives.