World Events
In January, Alabama Governor George Wallace proclaims "…segregation now…tomorrow…forever!" During April and May, in Birmingham, Martin Luther King, Jr., other black leaders and demonstrators, many children, are arrested. In June, President Kennedy promises a Civil Rights Bill. In August, Martin Luther King, Jr. delivers "I Have a Dream" speech in Washington, D.C.
In June, Kennedy gives his "Ich bin ein Berliner" speech in Germany.
Travel and all other transactions with Cuba are made illegal.
In November,  John Kennedy is assassinated in Dallas, Texas. He is buried in Arlington  Cemetery.
Lyndon Johnson becomes president.  His "Gulf of Tonkin" resolution in Congress escalates U. S. involvement in the Vietnam civil war.
Zip codes are introduced in US.  AT&T makes push-button phones available. Viewers see improved instant-replay in TV sports broadcasts.
Country music star Patsy Cline dies in a plane crash. Betty Friedan's

The Feminine Mystique

sparks women's rights movement. Beatles' songs are released in the U.S. creating international  "Beatlemania"
Academy Awards:"Tom Jones" (US), "8 1/2" (Italy). Prize-winning books: Morte d'Urban, J. F. Powers and "The Reivers", William Faulkner.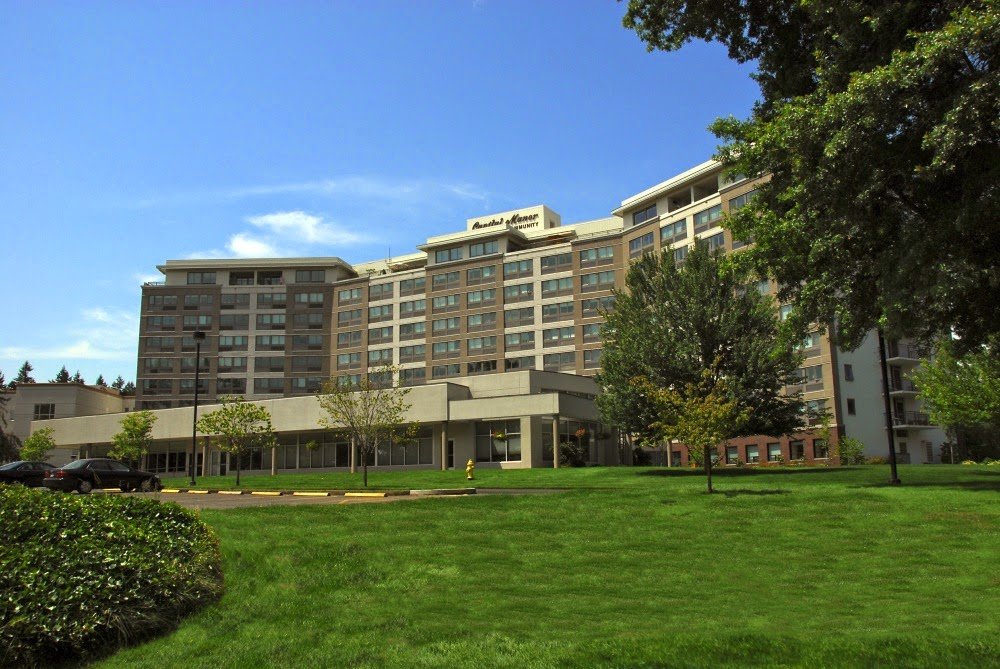 In Salem
The Capital Manor Retirement Center has been completed and the first residents moved in. Built along the highway to Dallas in West Salem, its 10 floors contain 255 apartments with views of the Willamette River. From its first construction, it was the largest and best known of the retirement facilities in this area.
The recent photograph shows landscaping and physical improvements that have softened the appearance of the structure. There are other additions to the retirement center including eighty-three villas added in 1987 and town houses added in 1994. Also incorporated over the years are a health care center, assisted living units, an indoor pool, fitness center, bank branch, computer lab, beauty salon, and auditorium.
When you visit
At Capital Manor or at other local retirement facilities, you may be visiting members of your own family or friends of many years. They have selected to live in a new environment with fewer household responsibilities or are in conditions of health that require assistance. Another factor in the benefit of a retirement facility is the fact that families today are often divided by distant career opportunities for the younger generations: senior citizens rarely live with adult children as was the custom in the past. The retirement home is a new social community and one visits friends or family there just as conveniently as at any former residence.
Other events
After the disastrous Columbus Day storm in the previous year, restorations of properties in Salem continue for many months. Willson Park is a major project and a sign indicating a possible time line for completion of various elements of repair is posted for public information. The work was done by the City of Salem's Regional Park Agency. Soon thereafter, the park was transferred to the State of Oregon that is still responsible for its maintenance.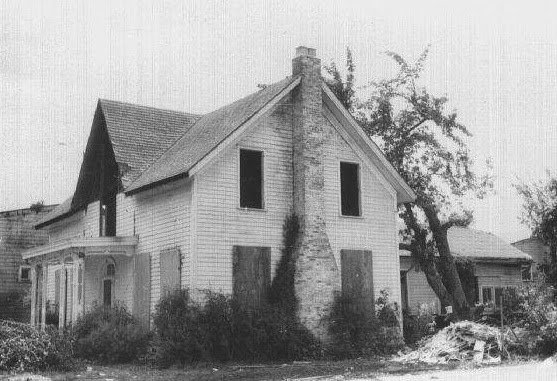 McMahan House on Front Street after storm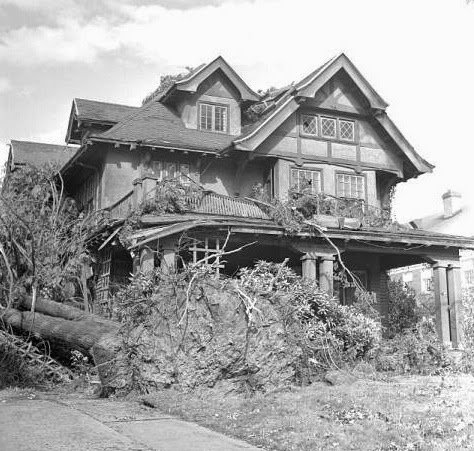 Buren House on Court Street after storm
Because of damage, the McMahan/McCully house on Front Street, then owned by David Duniway, is removed to John Street for a restoration. The house had been erected by David McCully in 1864 and purchased by Judge L. H. McMahon in about 1900. Mr. Duniway was Oregon State Archivist and a leading Salem proponent of historical preservation.
Another residential victim of the windstorm was at 745 Court Street. An uprooted fir tree caused considerable damage to a three-story Tudor style house. The porch roof and the railing of the balcony above it sustained the most damage. A photograph taken at that time, shows the shallow roof system of the uprooted tree. The residence was razed two years later for the expansion of the Presbyterian Church buildings along Court Street. The home had been built in 1907 for a prominent Salem family, the Max Burens.
The Jason Lee house, in its original location at 960 Broadway, is stripped of additions and prepared for a move to a temporary site while awaiting a permanent home. It was later moved to Mission Mill property, now Willamette Heritage Center.
Another historical structure that is moved this year is the John Boon house. It was located originally next door to the Boon Store, now Boon's Treasury, a McMenamins restaurant enterprise. The historic residence was also relocated to Willamette Heritage Center.
Horse racing was still a traditional entertainment at the Oregon State Fair in Salem in 1963. The grandstand looked over the Lone Oak raceway with horse barns across the track.
Woodry's Furniture Store at 474 Commercial Street in downtown Salem suffers a major fire during the night of June 16. The store carried furniture, appliances, floor coverings and all types of household furnishings. It had been in business at that location since 1947.
A fire also destroys the historic barn on the city-owned Bush Park property. It was the only building that pre-dated the 1860 purchase of the farm property from the Pringle family. It was rebuilt to resemble the original structure and is a part of the National Register Bush Park. Salem Art Association uses the building for offices, galleries and a shop.
J. C. Penney moves north to a new location at 305 Liberty Street. The Nelson Building, on the northwest intersection with Chemeketa Street was torn down for this new construction. The Grand Opening of the new facility would not be until 1965. Meanwhile, the former Penney's becomes the Metropolitan, a variety store.
Old City Hall was showing its age, and a bond measure referred to Salem voters on February 23, 1963, to build a new facility. Condemned by the Public Works Department as a fire hazard, the City Hall also had critical space limitations, forcing various City departments and agencies to seek office space elsewhere in town. Because the elevator often stalled between floors, employees joked it had been "installed by Mr. Otis himself." The bond issue failed, but its publicity alerted Salem residents to the realization that the old building was nearing its demise.
In accordance with a state regulation, Salem creates a Citizen Budget Committee. The members are the City Council and nine appointed citizens representing the wards of the city and one member-at-large. Their duty is to examine, analyze and recommend an annual budget for the city. The committee conducts public meetings in Council Chambers for about 6 weeks in April and May. The public is welcome to attend and testify on matters of concern or may watch on CCTV. In 2008, the City Manager, Linda Norris, held a series of four community meetings, in advance of the Budget Committee sessions, in order to inform Salem residents of the current budget priorities and to hear comments from attendees. One of these was conducted in Spanish to accommodate residents who are more comfortable discussing civic matters in that language.