World Events
After serving the remainder of the late FDR's term, Harry Truman is elected in a political upset. He signs the Marshall Plan to aid 16 war-torn nations. U.S. conducts an airlift, saving Berlin from Russian control. The World Health Organization is established by the U.N.
Israel is established.
Mahatma Gandhi is assassinated.  ("Gandhi" film, 1982)
A Columbia River dyke breaks, obliterating Vanport, Oregon in 15 minutes: an unknown number die, thousands homeless.
The first Olympics games since 1936 are held in London and St. Moritz, Switzerland. The Tournament of Roses and Rose Bowl game are televised by Warner Brothers as newsreel in color. ABC begins television services.
Albert, the first monkey astronaut is launched into space, but parachute recovery was unsuccessful.
This year's film, "Hamlet", will prove the Academy Award winner. Prize-winning book: Tales of the South Pacific, by James A. Mitchener.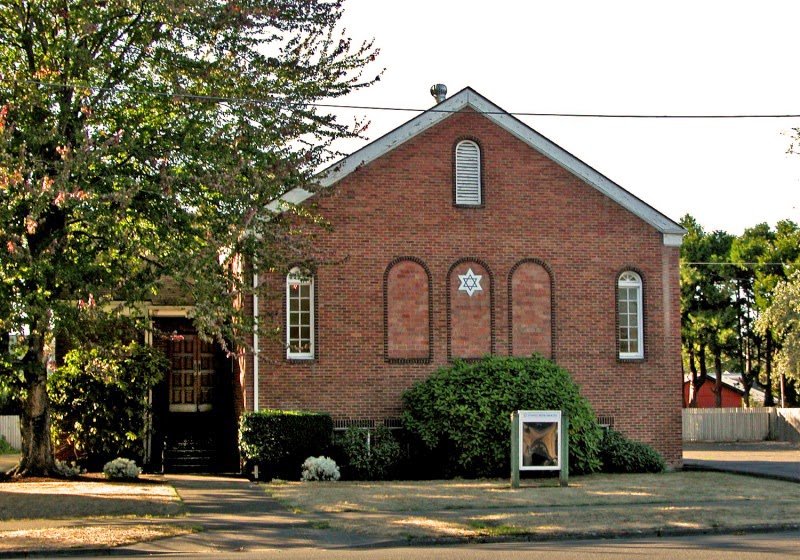 In Salem
In the 1930s, a small Temple Beth Sholom congregation began meeting in private homes. Gatherings moved to rooms in an old downtown building at Chemeketa and Commercial Street. Services were held three flights up, around a wood fireplace with twenty or thirty participants. As the congregation grew, they considered building a home of their own. The first building committee was established in 1934, but was interrupted by World War II. In 1947, a building fund campaign sponsored by 36 donors raised $18,000. The first meeting in the congregation's new synagogue, Temple Beth Sholom, was held on January 20, 1948. It is the only example of mid-century synagogue architecture in the city. A Mogen David (Star of David), identifying the building as a Jewish house of worship, is part of the brickwork facing Broadway Street.
When you visit
After five decades at its 1764 Broadway location, the congregation had grown too large for its home. As preparations were made for renovation, another option appeared. Our Savior's Lutheran Church in South Salem had also outgrown its facilities and was moving. That property was purchased. On September 17, 2006, the members of Temple Beth Sholom, with the participation of the Salem community, marched the Torahs 5.2 miles to their new home. The former temple property has been designated as a Local Landmark. In May (2010), the building was sold to Joslin's American Ballet Academy for a dance/performing arts center. This property has been recently designated as a Local Landmark.
Other events
A January flood in West Salem closes the vehicle bridge at Center Street. The railroad bridge is pressed into passenger service to rescue residents. After the emergency, it was discovered the trestle was heavily damaged and could have washed out with the weight of the trains.
A smiling and confident Harry Truman poses for photographs at the airport during a visit to Salem during his cross-country presidential campaign in June.
There is more airport excitement in August when the first jet plane arrives.
The boyhood home of a former president, Herbert Hoover, at Hazel and Highland Avenues, is vacant and for sale. It has since been completely transformed and is no longer recognized as the same structure.
Douglas McKay, a local businessman who had been mayor, is elected governor. McKay had come to Salem as a young man with a wife and three small children to make a living as a car dealer. His great success in such a competitive occupation was a testament to his drive and personality. His career in politics had one drawback ~ he took him and his wife Mabel out of Salem, where they were both more comfortable and could enjoy their family.
Two old school buildings are demolished: the 1890 Grant School on Market and Cottage Street, demolished in 1954; and the even older 1867 South School between Mission and Kearny on the west side of Commercial Street.
The "Statesman House" is part of a vanishing residential neighborhood at Church and Chemeketa Streets when it is scheduled to be demolished for the future Statesman Journal building.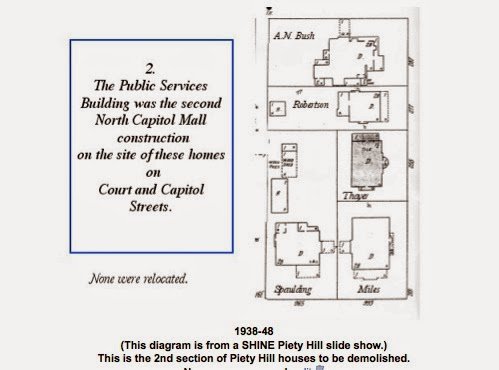 The Piety Hill homes on Court Street and Capitol Street are demolished. Clockwise:  Bush,  Robertson, Thayer, Miles, Spaulding.
Construction of the North Capitol Mall begins again with the demolition of homes on the Court Street block west of Capitol Street for the Highway Building, renamed the Public Service Building. Among the homes razed were those of Charles K. Spaulding and B. Clarkson Miles. These large homes were occupied by close friends whose driveway porte-cocheres almost touched. The electric power for both houses was supplied, for a fee, by the generator of their neighbor, A.N. Bush. A photograph taken a few years before Mrs. Thayer built her house shows the Miles house and neighbors.
The 1926 Estelle Bush Thayer house on Capitol Street, around the corner from the Miles home, is also demolished. Mrs. Thayer had eloped to marry Claudius Thayer and lived away form Salem (and one suspects at a distance from her disapproving father) in Tillamook and then in California. Tragically, she lost first his husband (always in poor health) and then her only child, her young daughter Eugenia. As a widow she returned home and lived here until her death in 1942.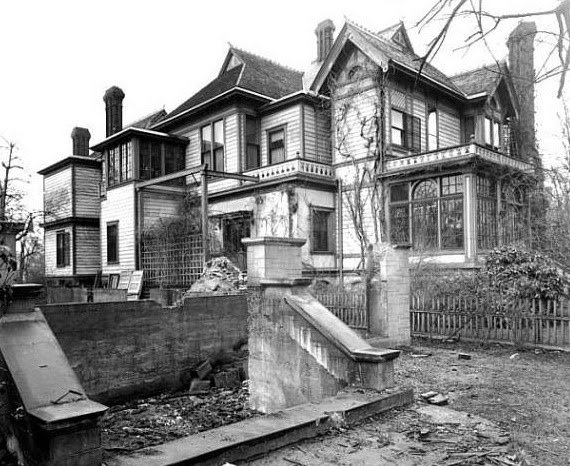 A. N. Bush home, last of the Capitol Street homes, just before demolition in 1948.
A.N. Bush also had to leave his house, two doors north of the Thayer house, and so returned to his former home (now Bush House Museum) where his sister Sally had lived until 1946. However, his household staff, as elderly as himself, objected to the steps in the old "farmhouse". Henry Compton, on behalf of Mr. Bush, had to go to the State of Oregon Land Board to buy the elevator in the Capitol Street house before it was demolished. The elevator was moved to Bush House where it still operates.