World Events
Russians defend against invasion, encircling German divisions at Stalingrad with heavy military and civilian loss of life.  Allies fight in Italy and by September, Italy surrenders. General Eisenhower becomes Supreme Commander in Europe.
In the Pacific: Withstanding tremendous casualties, US Marines take Tarawa, our first victory against the Japanese. Navy Lt. John F. Kennedy's Torpedo Boat PT-109 is rammed by a Japanese destroyer.
U.S. Marine Corps Women's reserve is created. U.S. Women's Airfare Service Pilots (WASPS) formed and go into military service.
The Jefferson Memorial and the Pentagon are dedicated.
Bill Mauldin is a popular wartime cartoonist with "Willie and Joe". Norman Rockwell's "Rosie the Riveter" appears in posters. Zoot suits and jitterbugging are in style. Duke Ellington plays at Carnegie Hall for the first time. "Oklahoma" is a hit on Broadway.
"The Little Prince", best selling French children's book, is published in NYC. Academy Award: "Casablanca". Prize winning book: Dragon's Teeth, Sinclair Lewis.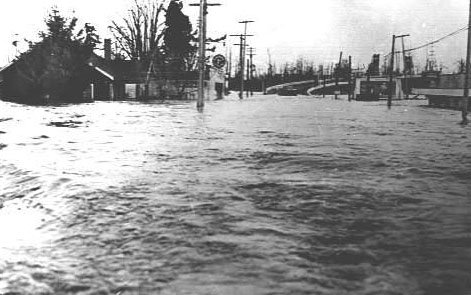 In Salem
A local calamity takes everyone's attention for a few weeks: a Willamette flood washes out the Mellow Moon skating rink, floods structures on Wallace Road and lodges timbers against the Union Street trestle. Four hundred homes are flooded and ten people drown as the river crested at 30.6 feet.
But the war is never far away: gold stars appear on signs in front windows signifying a war death. Restaurants' meat supplies are cut, "oleo" replaces butter and both coffee and sugar are in short supply. Shopping at a grocery is limited by supply in the store and your ration stamps. Victory Gardens are planted. Salem has access to a variety of fruits and vegetables but transporting fresh produce to market and harvesting is a constant source of worry: there are never enough hands, even using schoolchildren or State prisoners. Mexican harvesters are imported this year. A health threat to children appears that summer: polio that crippled or killed. 13 schools fail to open in September for lack of teachers. On the bright side, Hollywood movies are just 10 cents (with a wartime penny tax) and phonograph records by Frank Sinatra are available for 25 cents ~ the same price as a US War Savings stamp.
Salem concerns were those of a nation at war, with a few distinctly local matters. In February, President Roosevelt had issued Executive Order 9066 calling for the internment of all Japanese, "citizens or not," in one of ten resettlement camps inland. That same month in Portland an espionage cell of some 30 Japanese was raided, leading to the Capital Journal's editorial of February 21st justifying the "Purging of Potential Spies." Marion County's 193 residents of Japanese descent were shipped on June 2, 1942, to a camp at Tulelake, California, about 35 miles south of Klamath Falls, Oregon.
When you visit
The photograph above is Edgewater Street in West Salem looking toward the bridge. Another graphic illustration of the flood is found now at the west end of the Union Street Bridge trestle. At the intersection of the pedestrian path across the trestle and the walkway down into Wallace Park, there are two interpretive panels. The one entitled "Against Fire and Flood" shows the height of the waters during that flood: in a photograph taken at that time, the roof of a house is trapped against the pilings just below the tracks. Strolling along the pedestrian path of the bridge and trestle today, the water or park landscape so far below, it is hard to imagine the waters just below the surface where you are walking. There have been nine recorded floods of the river when the height of the water was even higher. Many Salem residents remember the flood of 1996 when the river crested at 35.09 feet. The most severe flood was in the year 1860 when the waters reached at crest of 47 feet.
Other events
I.M. Doughton is elected mayor.
There is no State Fair this year, but the members of the 104 Cavalry are served Christmas dinner at the Fairgrounds.
A V-12, Navy Officer Training Program, is established at Willamette University and housed in Lausanne Hall. Mark Hatfield graduates and joins the navy.
The Salem Brewery Association is doing good business at their office on Commercial Street and from their manufacturing building around the corner on Trade Street. (Now the location of the Conference Center.)
The First Baptist Church on the northwest corner of Liberty and Marion Streets is demolished for a new structure.
The Jason Lee House, much altered, is still located at its original location at 960 Broadway.
A housing project for timber workers is built at Grand Ronde.
Staffs at both Salem and Deaconess hospitals are cut in half as members leave to serve in wartime duties. The Red Cross trains students and volunteers as nurses' aides.
The Salem Public Market was organized as a "tailgate" market at High and Union Streets. The outdoor enterprise became impractical so a building was constructed. The market moved to Rural Street in 1946.
From the Capitol Journal:
Salem women were urged to save waste cooking fat to make bombs and shells needed in the war. A single pound of waste cooking fat would make enough glycerin to manufacture 1 1/3 pounds of gunpowder. Use cooking oil was turned in at collection points by housewives and restaurants.
The Office of Civilian Supply said that "bedrock" wartime economy would have no room for civilian tablecloths, window shades, tombstones, jewelry, amateur cameras or film, curtains or mechanical pencils.
Salem's Safeway stores advertised that they would help with your first shopping under point rationing. "You'll have to think about the price in points as well as the price in money. Remember, point ration shopping will take more time."
This newspaper noted editorially that zoot suits were inseparably linked to hep-cat music and jitterbug slang. "It is the result of hurling stone-age mentalities into the 20th century civilization, which they cannot assimilate."