World Events
Federal law declares all persons born in Puerto Rico are U.S. citizens.
In a radio broadcast, Churchill asks US to "Give us the arms, and we will finish the job".  Congress passes the Lend-Lease Act. The United Services Organization (USO) is created to entertain to troops. Defense Bonds and Stamps go on sale to help provide funds for the military.
The Grand Coulee Dam begins operation; Mount Rushmore Memorial completed. Disney's fourth film, "Dumbo", is released. General Mills introduces CheeriOats (Cheerios).
On December 7, Japanese planes bomb Pearl Harbor, destroying or damaging 12 American ships and killing over 2,500 servicemen. Congress declares war on both Japan and the Axis after Roosevelt's "Day of Infamy" speech to Congress, heard by radio in 80% of American homes.
Orson Welles produces and stars in the much applauded "Citizen Kane", but the Academy Award goes to "How Green Was My Valley". Prize-winning book: Hold Autumn in Your Hand, George Sessions Perry.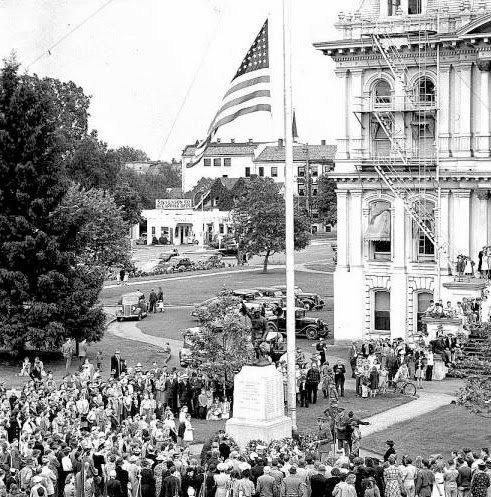 In Salem
In May of 1941, Memorial Day in Salem commemorated the military loses of a first World War while the nation prepared to enter the second. Radios are tuned into President Roosevelt's "Four Freedoms" speech to Congress promoting aid the Allies while hopes dimmed for US staying out of the war. Foreign consulates are closed and there are rumors of submarine attacks at our coastlines. "Preparedness" was the term for this activity, and Salem residents participated by taking part in collecting aluminum for munitions production, honoring past veterans with giant Courthouse billboards, buying Defense Savings Bonds and stamps, or watching the mail for a possible Selective Service notice for a young man in the family. When the Japanese attack came on December 7, Salem families were anxious for the safety of their loved ones at Pearl Harbor. Willamette's football team, at the University of Hawaii, spent the next three weeks patrolling the beaches until returning home by sea. Eight families had sons serving at Pearl Harbor, and two more were at Midway and Wake Island. All survived the initial attack though some were wounded. In other communities, Japanese-Americans were taken into custody and turned over to immigration agents. But Salem's officials reported no such orders had been received here and reported that Japanese in this area have been here many years and are either citizens or wish they could be. A total blackout was ordered and air raid wardens patrolled Salem.
When you visit
The Courthouse where the 1941 Memorial Day commemoration took place is no longer there: it was replaced in 1952. The Doughboy statue is now found at Oregon Department of Veteran Affairs Memorial Garden on Summer Street. It is only one memorial in the park there, having been joined since that time by memorials to those who had been awarded the Medal of Honor as well as all those who served in our nation's military engagements in World War II, Korea, Vietnam, Afghanistan and Iraq.The state has produced "Memorials", a walking tour brochure locating and describing these sites. Ask for it at ODVA or at Travel Salem.
Other events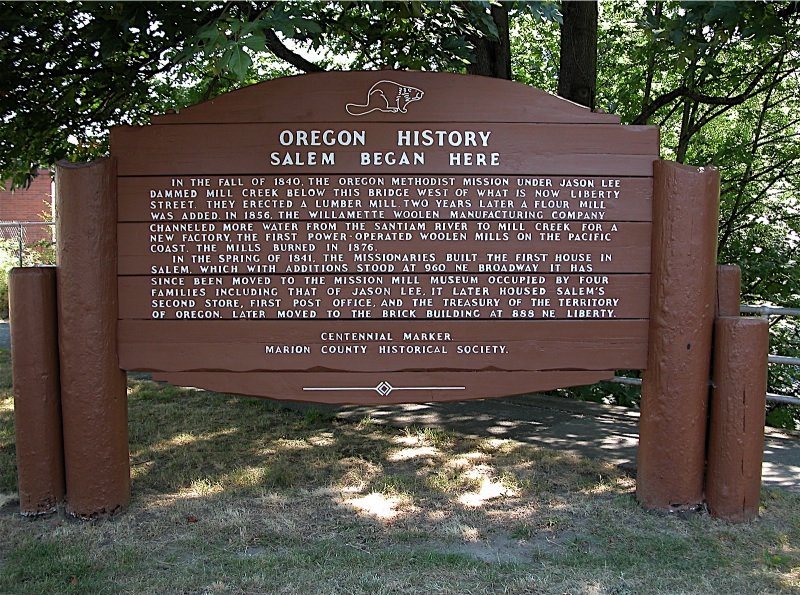 On Broadway, at Mill Creek, Marion County Historical Society mounts a display commemorating the centennial of the Salem settlement at this site.
United Airlines begins flying out of McNary Field, bringing airmail to Salem for the first time.
Max Gehlhar becomes the first customer of Salem Electric Company, powered by the Bonneville Dam.
The Southern Pacific Freight Station on 12th Street is busy with railroad traffic.
A site for Camp Adair is chosen in Polk County. It was named for Henry Rodney Adair, who was a native of Astoria and a member of a prominent Oregon pioneer family. After graduating from West Point, he became a cavalry lieutenant and was killed during the Pancho Villa Expedition on June 21, 1916. The 57,159-acre site was built during 1942–1943 division training and cantonment camp, and had temporary quarters for 2,133 officers and 37,081 enlisted personnel. From 1944–1946-07-23, Camp Adair served as a prisoner -of-war camp, housing German and Italian POWs.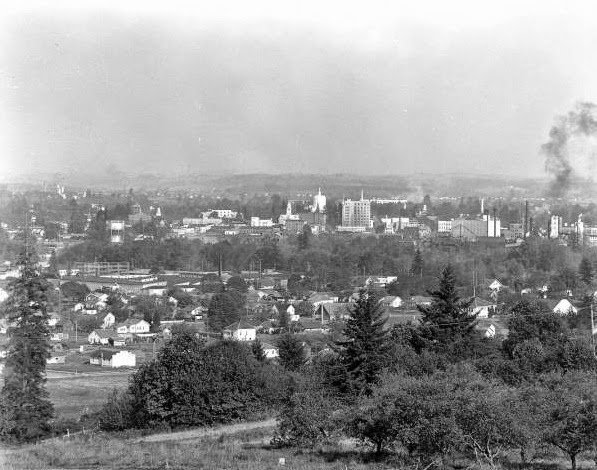 Salem industrial haze as seen from West Salem hillside
Industrial haze plagues the downtown Salem area.
The 1937 Timberline Lodge is still popular with Salem travelers before gas rationing takes effect.
Marion County operates a "Poor Farm" on north Front Street.
The Boon House, now at Mission Mill Museum, is photographed in its original location by the  "Boon's Treasury" building on Liberty Street.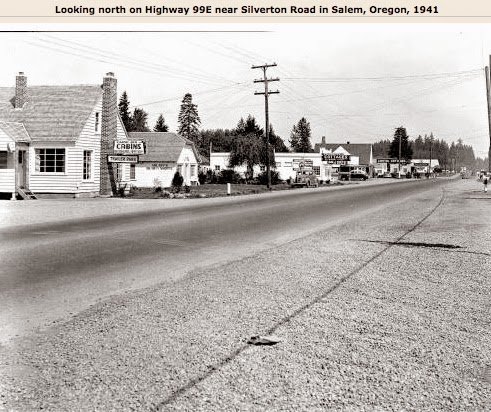 Highway 99E near Silverton Road, now absorbed by I-5, is a two-lane road with scattered "cottages" for motorists and small businesses at the edge of town.
From the Capitol Journal:
Five Salem shops arranged displays stressing the Bundles for Britain theme with British and American flags to emphasis the message.
The Oregon House approved 38 to 19 a two-sent per pack tax on cigarettes sold in Oregon. This tax was designed to raise $2,000,000 a year to help increase the average old age pension from $21 a month to $30.
At Eola Hills orchard, where 500 cherry pickers were usually employed, only 50 were on hand to harvest the crop. Nor was there much hope of additional pickers, according to the manager. Work was much more attractive, and at higher wages, with the build up of defense contracts and the military expenditures.
Salem women were rushing to hosiery counters in shops, fearful that their trim legs might suffer by the order freezing Japanese silk imports. Stores reported a 100% increase in silk stocking purchases over a three-day period.
United Airlines first plane to and at Salem airport attracted a crowd of 100 spectators.
Congressman James W. Mott asserted that Hitler was on his way out and that time was not too far in the future.
Six Oregon men, first to be sent to conscientious objectors' camp in the state, would report to the newly established Civilian Public Service Camp No. 1 at Cascade Locks.
In a matter of minutes following the first bulletin announcing the Japanese attack on Honolulu, Marion County civilian defense and Salem city administration were in session at the Courthouse oiling up their organization to meet the emergency. A blackout was ordered in Salem to test the signal system and determine the ability of citizens to douse their lights quickly. Results were satisfactory except in South Salem, where the signal could not be heard.
(See Ben Maxwell's Salem, Oregon, edited by Scott McArthur, 2006.