World Events
Adolph Hitler is leader of the NAZI party in Germany where harsh "Law and Order" policies require the death penalty for many offenses.
The Chinese regular forces of Manchuria surrender to the invading Japanese army, but continue to fight in guerrilla campaigns.
In July, Hoover orders the US Army to evict the Bonus Army of WW I veterans, assembled in Washington D.C. to demand their benefits. Troops do so the next day.
The tragic news story is the kidnapping and death of the Lindbergh baby.
Americans celebrate Amelia Earhart's solo flight cross the Atlantic. Hattie W. Caraway is the first woman elected to the US Senate.
Roosevelt's election in November brings in the "New Deal" government recovery programs.
"Tarzan of the Apes" stars Olympic swimming gold medal winner,  Johnny Weissmuller. Academy Award: "Grand Hotel". Pulitzer Prize: The Store, Thomas Sigismund Stribling.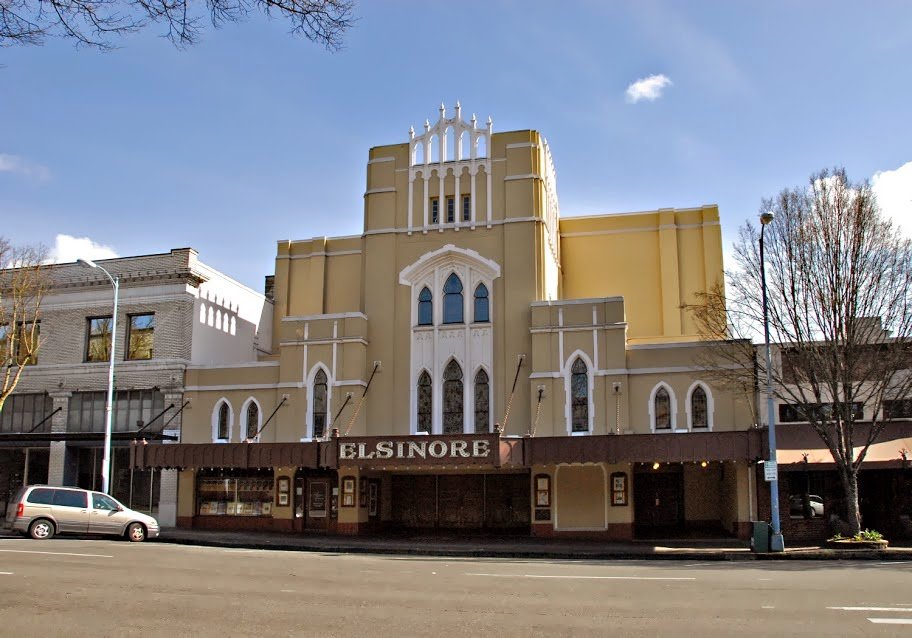 In Salem
The Elsinore Theatre presents a new type of popular diversion: sound for movies: no more captions as the actors speak! The Elsinore is an example of the 1930s "atmospheric" movie palace intended to be part of the entertainment. Built to resemble a Gothic castle in 1926, it was named for the palace in Shakespeare's Hamlet. The exterior was designed by Ellis F. Lawrence, an architect who was founding dean of the University of Oregon's School of Architecture and Allied Arts. One of his associates designed the interior. The upper balcony windows are made of stained glass pieces from a cathedral in Germany bombed in World War I.
When you visit
The Elsinore continued as a movie theater until 1993, when it was converted into a performing arts center and placed on the National Register of Historic Places. An extensive, community financed restoration was completed in 2002. The theater is featured on this website's self-guided walking tour of Salem's Historic Downtown. Tours of the theater can be arranged, but the best experience is to attend one of the performances which are listed on the Elsinore website.
Other events
Douglas McKay becomes mayor. His first job off his father's farm was at the age of 13 to help support himself and his mother. Later he sold candy in Portland theaters, delivered papers, and drove a meat wagon. He quit high school to work at a railroad office. He attended Oregon Agriculture College (now Oregon State University) in Corvallis where he was elected student body president in 1916 and earned a Bachelor of Science degree in 1917. That year he married Mabel Hill. McKay served in the First World War, rising to the rank of First Lieutenant. A severe arm injury suffered in the Argonne combat almost cost him his life. He saw the growing popularity of automobiles and in 1927 he was offered an automobile sales organization in Salem, then at Center and Commercial. He purchased the automobile agency, now Capitol Chevrolet. By 1929, his family was in their home at 395 Jerris Street. It would be the family's only home in Salem. A natural-born politician, McKay was Salem mayor this year.
Prices offered by canners for cherries drop to 2 cents a pound and 53 growers form the Willamette Cherry Growers Co-op.
As a sign of things to come, a first view of television is seen at the State Fair. It will be twenty years before TV becomes developed enough for home viewing.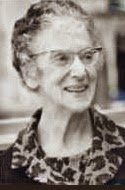 Hannah Dautoff Hanzen is the first woman elected to the Oregon Legislature where she serves four terms. During these eight years, she became known as a spitfire who did her homework and was a match for anyone. She recalled later that she "was never looking for a fight, but…wasn't there to be stepped on, either…The year and issues change, but people don't change very much." In 1942 she cracked another all-male stronghold when she was elected Salem Municipal Judge, serving one term. Her marriage to Harry Hanzen led her to withdraw from her career, much to the disappointment of the police department whose members were ready to campaign for her second term. After retirement, Mrs. Hanzen served as president of the Salem Women's Club, corresponding secretary of the Oregon Federation of Women's Clubs, and Executive Secretary of the Marion County Bar Association. She also was an instructor at Willamette University. Her home at 2220 High Street SE, retains the original appearance (with the addition of a garage) and her beautiful garden is much as she designed it.
Edgar and Ursula Pierce build a home in the Fairmount section of the city for the staggering sum (in those days) of $17,000. This stone English manor house, with its elements of Queen Anne style of architecture, is a unique residence in Salem. The family lived in the house from 1932 to 1935 and from 1940 to 1942, moving out temporarily when it became the rented residence of Governor Martin. Now remembered by both names, it is a National Register property (1997) in the SCAN neighborhood.
A few blocks away, Dr. Charles G. Robertson builds an English Provincial house, designed by Clarence Smith with gardens created by Lord and Schryver. High on a dead end street, it has wide views over the city. Only its hipped roof and front gable are visible beyond the driveway entrance. It is also a National Register property (1982) in the SCAN neighborhood.
Elizabeth Lord builds her home on the Mission Street lot adjacent to the site of her parents' home that had burned some years before. Across the street from the home of her friend, Sally Bush, the Bush hillside was an excellent site for experimental plantings. Many of the beautiful trees we enjoy there today date from the 1930s. The Lord residence that she shared with friend and landscape business partner, Edith Schryver, is in the Gaiety Hill/Bush's Pasture Park Historic District. It is now the property of the Lord and Schrvyer Conservancy.