Abu Dhabi becomes a British Protectorate, protecting the English trade route to India. The construction of the world's longest rail line begins: the Trans-Siberian Railway, connecting Moscow with China.
Grover Cleveland wins a second term: his is the only non-consecutive presidential election.
School children begin reciting the Pledge of Allegiance in observance of the 400th anniversary of Columbus Day.
Ellis Island begins processing immigrants arriving in New York.
Diesel patents an internal combustion engine. Edison receives a patent for a two-way telegraph. General Electric Company and Carnegie Steel Company are established.
The Homestead Lockout and Strike in Pittsburg is the most serious industrial struggle in U.S. labor and a major setback for unions and efforts to organize steelworkers.
John Muir organizes the Sierra Club in San Francisco.
Tchaikovsky's "Nutcracker" ballet is premiered in St. Petersburg, Russia. "Charley's Aunt", a comic farce, begins a run in London that will shatter all theater records. Rudyard Kipling's Barrack-Room Ballads, published in Scotland, contains many of his most famous poems including "Gunga Din" and "Mandalay".
In Salem
This year a Salem bank took on a historical appearance: the 1880 Capitol National Bank was renovated in a Richardsonian Romanesque style to copy Philadelphia's First National Bank of the Republic. But our bank has local character: on the arch over one of the second story windows, there is the facsimile of the beaver dollar, a $10 gold piece minted in 1849 when Oregon was a territory. Another western element is the Utah red and Tenino gray sandstone used through much of the facade. Two columns of polished granite supported a half-arch doorway with a stair tower bay. The design was by C. S. McNally in association with W.C. Knighton and the builders were Erixson and Luker. The bank occupied the building until the 1920s.
When you visit
The building you see today is authentic to its 1892 remodel on the upper floors. However, James Payne, a local architect, renovated the ground floor of the former bank building in 1950. Remodeling the new street front required holding up the stone top stories, a weight of over 100 tons, with steel beams in order to introduce a large glass window and double doors for more light. In 1967 Nancy Gormsen, the granddaughter of Robert S. Wallace, the bank founder, opened a business here. In recent years the building has housed a variety of enterprises.
This unique Salem building is often pictured in publicity for our downtown and is the structure most commented on by those who take the SHINE historic downtown walking tour.
Other events
The Fourth of July is celebrated with a downtown parade.
Construction of the copper dome for the State House is begun.
While serving as a pallbearer at the funeral of Obed Dickinson, the former Congregational minister, Thomas McFadden Patton suffers a heart attack and dies hours later. For many years the Superintendent of that church's Sunday school, his sudden death is a great shock to all the members as well as to his family. A stained glass window in the present church sanctuary is dedicated to Mr. Patton's memory. His elaborate Victorian home was a Court Street landmark until 1937. The state library stands on that site today.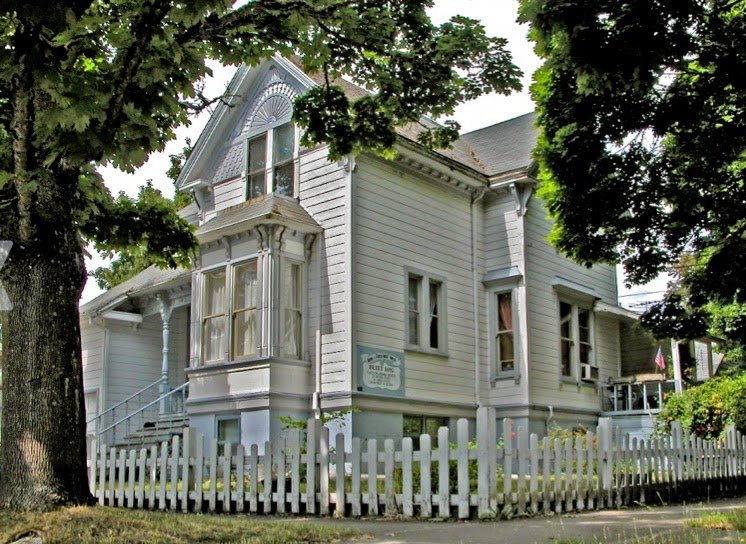 Home of James and Flora Watts
A few blocks east was the Watts Addition, subdivided in 1871 and then enlarged in 1891. James Watt, after a dozen years of marriage, acquired from his family a property where he built a Queen Anne/Eastlake style home for his wife Flora and their family. This is now 1490 Chemeketa Street. Three other Watt residences are neighbors. After her husband's death, Flora lived in smaller, family-owned houses nearby, selling the larger house in 1925. All four of the Watts houses are contributing historic properties in the NEN neighborhood's Court-Chemeketa National Register Historic District. (See these in the SHINE walking tour.)
Beyond the city limits that followed Mill Creek until 1903, an unknown builder constructed a charming small farmhouse on what is now 21st. Street. The house has had many owners and tenants since 1892, but the best known is Margaret Edwards, widow of William H. Edwards bought the property in 1917 and lived there for ten years. A Local Landmark in today's NEN neighborhood, it is designated as the Edwards House.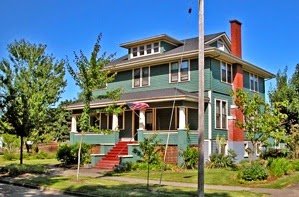 Home of Christopher and Elizabeth Paulus
In North Salem, also outside the city limits until 1903, Christopher Paulus builds a home in quite a different style at 1556 Church Street. Paulus owned the J. K. Gill building on State Street and ran a saloon until he established a building contracting business. This was the home in which he and his wife Elizabeth raised six sons, Robert, Fred, George, Otto, William, and Theodore. This house suffered neglect for many years, but has been restored by the current owners. It is a Local Landmark is in Grant Neighborhood.
Ben Maxwell recalled these local transportation news items of 1892:
Tom Burroughs' delivery horse shied at an electric [street] car as it came around the corner of State Street then tried to climb a roof. Dell Dinsmoor executed a leap for the rear car steps. The driver received some bruises, the horse got hurt on its side, the shafts of the wagon were torn out and spectators were afforded a little excitement.
A petition to the council signed by Salem residents on 14th Street between Chemeketa and State asked action to prevent cattle from trespassing upon their lawns. The petition was referred to the committees on health and police.
Constant complaint has reached the newspaper about the condition of the county road leading up the hill to the Odd Fellows cemetery [later Pioneer Cemetery]. Teams bogged down at every funeral and farmers could not haul any sizeable load over it to Salem markets.
(See Ben Maxwell's Salem, Oregon, edited by Scott McArthur, 2006)