World Events
Democrat  Grover Cleveland wins the popular vote for re-election as President, but loses Electoral College vote to Republican Benjamin Harrison.
Eastman registers the Kodak, using rolled film. Frank McGurrin, court stenographer in Salt Lake City, is first to use touch typing.
The Great Blizzard sweeps across nation: in the eastern states, more than 400 die, in Mid West at least 350 victims, many children on the way home from school.
The National Geographic Society is established in Washington, D.C. The Washington Monument in that city opens to the public.
Jack the Ripper is notorious for brutal murders of women in London.
In a famous incident, Dutch painter Vincent van Gogh, after a quarrel with a friend in Arles, France, slices off a part of his ear.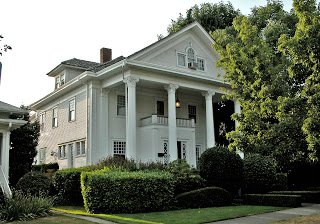 The former D'Arcy home on Church Street
In Salem
Peter D'Arcy, a prominent local attorney and historian, known as the "silver-tongued orator of Oregon", builds a new home (above) on his Church Street property. In 1909, Mr. D'Arcy constructed the commercial building at 467 Court Street that has long been occupied by Whitlock's Vacuum Cleaner Clinic. He was one of the original charter members of the Salem Chamber of Commerce and served as its president in 1914. D'Arcy presided over the Oregon Pioneer Association in 1910, and, for twenty years, the Champoeg Memorial Association, which was responsible for erecting a log building in 1918 to memorialize the creation of the Oregon provisional government. D'Arcy was a life member of the Oregon Historical Society and sat on the board of directors for many years. He died in 1933 and his wife, Teresa A. D'Arcy, passed away less than three years later.
When you visit
Although this house and the Endicott house next door are still there, many of the older homes on this block of 600 block Church Street are gone. On Church Street, further north where Mill Creek crosses, there are still residences built in the 1920s. Offices now occupy the handsome D'Arcy and Endicott houses.
Other events
J. J. Murphy is elected mayor. His Court Street home in described in the 1887 profile.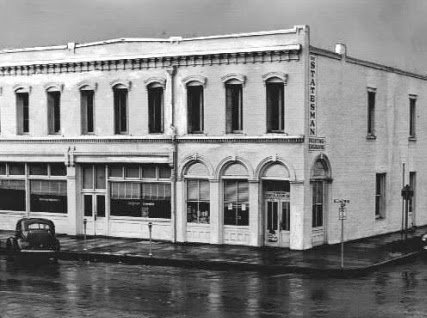 Oregon Statesman in the Nesmith Building
In 1888, the Oregon Statesman was housed in the historic Nesmith building at the southwest corner of Commercial and Ferry Streets. The state's second oldest newspaper, it began in March 28, 1851, in Oregon City in opposition to the Whig newspaper. It moved to Salem in June, 1853, when the Territorial capital was relocated to city. Founder Asahel Bush II was active and influential in Democratic causes. Bush sold the Statesman in March of 1863, and went on to a career in banking and other businesses. The Statesman had a succession of owners and editors until Charles A. Sprague came to Salem in 1929. Sprague became owner, editor, and publisher, establishing a reputation as one of the Nation's great editors. The building was demolished in the 1960s after serving many purposes in the early city.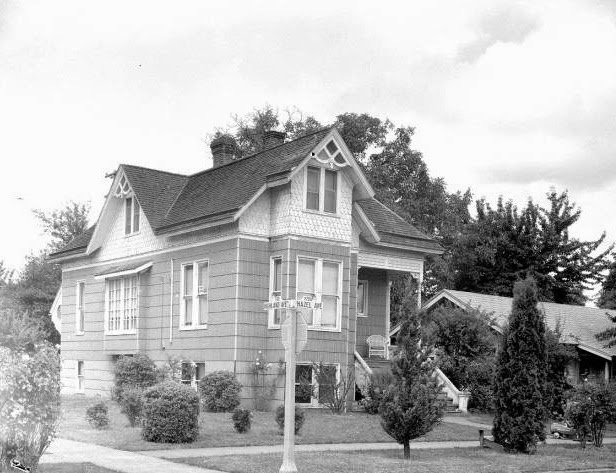 A young orphan, Herbert Hoover, moves with the family of his uncle, Henry Minthorn, from Newberg to Salem when Dr. Minthorn becomes president of the Oregon Land Company. They live on Hazel Street in the new Highland neighborhood, founded by a Quaker community led by his uncle. This photograph was taken by Ben Maxwell in 1948 and the house was still in good condition. Later, when it was unoccupied for a number of years, it deteriorated. The house was rescued by new owners who completed transformed its appearance as it stands in the same location at the intersection of Hazel and Highland Streets.
The Polk County Observer of July 7 records the death of Hannah Gorman, "Pioneer negress of 1844". The reporter told that in 1878 Mrs. Gorman had found a 6-week-old white baby abandoned near the river and had cared for the little one until he was strong enough to be sent to Glen Oaks Orphanage. The article continues, "…when the story of the foundling is told him he will bless Mrs. German and the good ladies of Salem who cared for him when he was a helpless little waif throw[n] upon their charities."
Ben Maxwell, recalls from the 1888 Capitol Journal:
 The measles epidemic is signaled with blue flags hanging from doors as 600 cases are reported.
 A camp of Indians located in North Salem: men, women and children. They begged from door to door and were the "most impudent, disagreeable set of animals that ever passed through this part of the country."
 Dr. Darrin has taken rooms at the Chemeketa Hotel and testimonials were published. He cured Myan Otis (Portland) of deafness in five minutes, he straightened Miss Lucy Morgan's (Monmouth) crossed eye in one minute and cured Wesley Graves, formerly of the Chemeketa House in Salem), of sciatic rheumatism and the opium habit.
 Two Salvation Army ladies are disturbed by Dave Shepard who wanted to hold their hands. He was arrested and placed under bond of $50.
 (See Ben Maxell's Salem, Oregon edited by Scott McArthur, 2006)