World Events
Henry Stanley, a correspondent for the New York Herald , locates the missing Scottish explore and missionary near Lake Tanganyika in Africa, greeting him with, "Dr. Livingstone, I presume?"
The German Empire is established by a number of small, independent states. The king of Prussia is declared Emperor as Wilhelm I of Germany in a ceremony held in the Hall of Mirrors at Versailles.
President Grant signs the 3rd Civil Rights Act to give authority to action against the KKK.
An urban fire, attributed to "Mrs. O'Leary's cow" destroys a large section, 4 by 3/4 mile, though the urban heart of Chicago.
Barnum brings his "Greatest Show on Earth" to Brooklyn.
Charles Darwin publishes The Descent of Man and George Eliot, Middlemarch.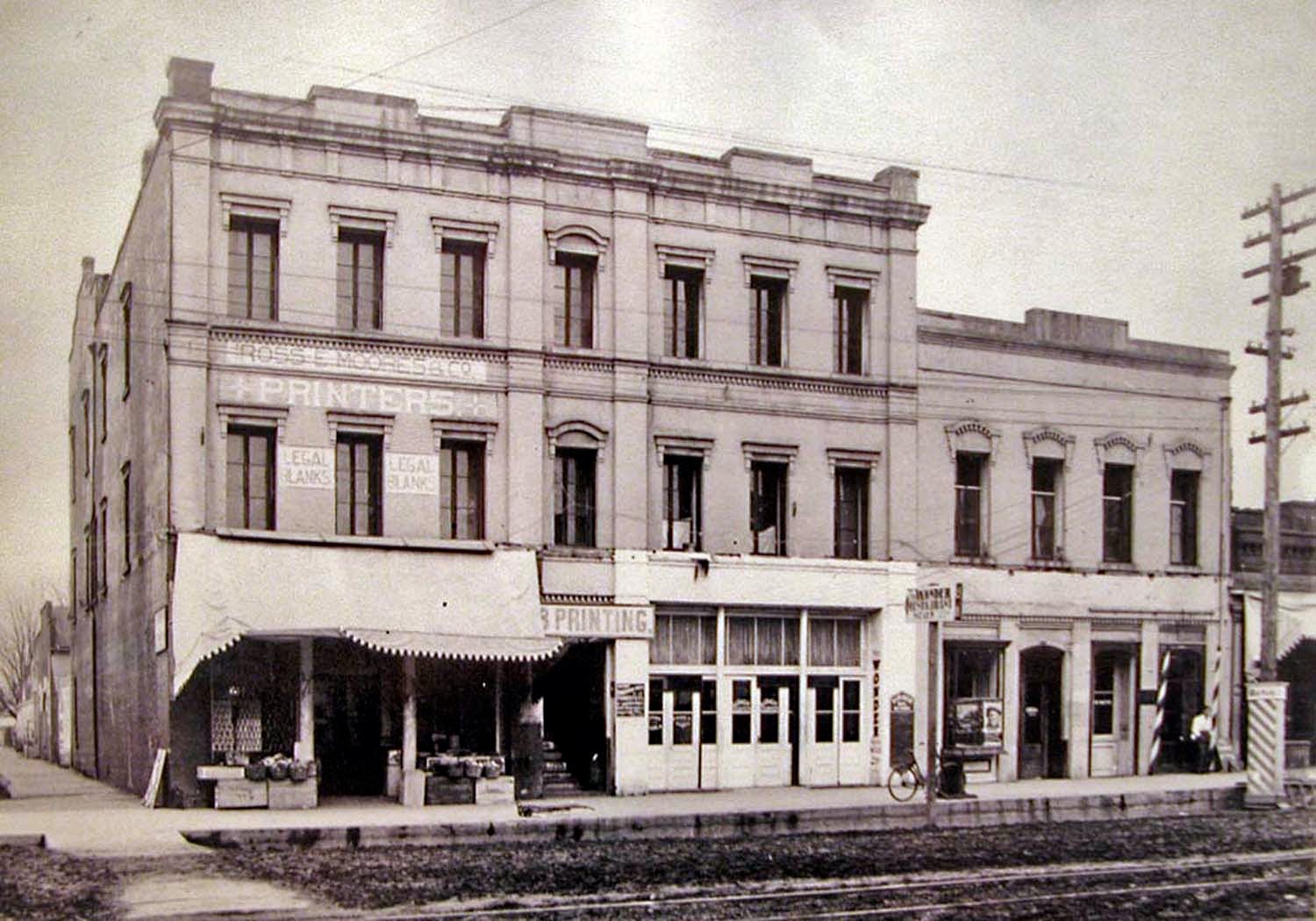 In Salem
Salem residents can identify with urban fires, such a the one in Chicago this year. In 1855 a fire had destroyed the first Salem capitol building.  The Holman Building at the northwest corner of Commercial and Ferry Streets was built by Joseph Holman that same year as hotel, but became the state's Legislative Hall. Local residents appreciated the new gaslights and power for downtown businesses and residences provided by the Coal Gas Company. According to tradition, the first street gas lamp was lit by Joseph's son, George Holman, in front of this building. (Replicates of these gas lamps decorate our parks today.) It served the new state legislature for almost 20 years until the second Capitol was completed in 1876. It is also believed that George Holman brought the first maple trees to Salem to beautify city streets.
When you visit: Holman Building site
The Holman Building is seen here in the early 1900s. (it is also featured in an earlier year's entry.) the building was demolished in the late 1940s, despite efforts by Oregon State Archivist David Duniway to preserve it. The Marion Car Rental and Park replaced it in 1950, becoming one of the first elevated rooftop automobile parking structures in Salem. Inside the Salem Conference Center, 200 Commercial St. SE, on the landing of the stairway at this Ferry and Commercial Street corner, an interpretive panel has been installed that highlights the historic importance of this building and others at that location.
Other Events
Penitentiary Gates on State Street are erected. One of the few remaining original structures, they were placed on the National Register of Historic places in 1971.
The Salem Water Company pump station makes a considerable improvement in travel convenience: it takes water to third floor of the new Chemeketa House. A hotel existed at this location until the construction of the present Conference Center.
Susan B. Anthony, then 41, spent several weeks in Oregon this year, and several days in the Salem area drumming up support for women's suffrage, which was still almost 50 years away. She camped out at the Oregon State Fair with local women's rights leader Abigail S. Duniway. The two women traveled throughout the Willamette Valley by stagecoach and even horseback to campaign for a woman's right to vote. According to a Sept. 17, 1871, The Oregon Statesman report on Anthony's speech at the Reed Opera House: "People may have expected that a champion of the new movement would be something of a scold, but the tones in which she did her scolding – – for she scold all of mankind at a terrible rate – – were decorous and womanly, so much so that the effect of her lectures was greatly enhanced by the admirable manner and apparent good taste of their delivery." "…We believe that when the first effect of her appearance wears away, the women of Oregon will realize that while she told many truths and told them well, she treated their own husbands and fathers unfairly."
SC Adams publishes a 23-foot scroll entitled "Chronological Chart of Ancient, Modern and Biblical History." Revised editions of this complete history of the world (from Adam and Eve to President Ulysses Grant) went through several successful printings and this production was a forerunner of illustrated educational materials for American middle class families. Mr. Adams traveled the country for 6 years, promoting its sale, very much in the style of modern authors with their book tours, and was very successful. The later entries for him in the City Directory described his occupation as "Capitalist". The State Library exhibited a copy in 2007-08.
The home of Sebastian Adams at 547 Court Street was still standing in 1954. Other fashionable Victorian homes along Court Street included those of Eugene Breyman at Church Street, Mrs. J.J. Murphy (later home of George Rose and C. P. Bishop families) next door and Joseph Holman residence at the Cottage Street intersection. They were demolished between 1950 and 1970.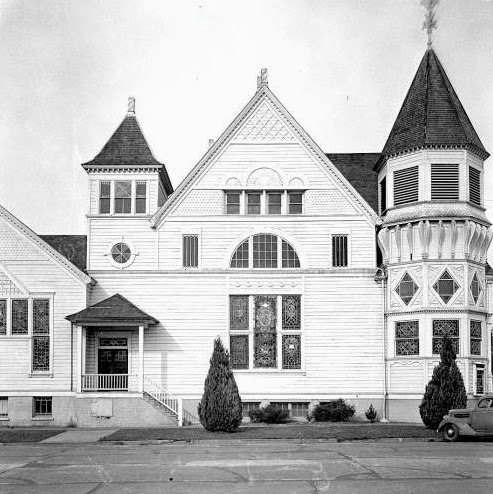 This photograph of the Baptist Church was taken in 1891
Membership of the First Baptist Church in 1871 was reported to be around 100, with 123 Sunday school attendees. During this year an imposing belfry (seen above), which amplified the bell calling people to services, weddings, and funerals, was added to the structure. A fence protected the property from cows that roamed Salem's streets.
A house is built by and for Gustave Norgren, a carpenter. The 1872 Salem City Directory lists his residence at the corner of Sangamon (now Saginaw) and Owen, and an etched nail imprint on the brick fireplace is dated 1871. In 1869 Norgren purchased this lot from Anna B. and J.W. Gamble. Mr. Norgren died shortly after 1875 and his widow moved from the area. Mr. Cannon, a farmer from Turner, sold the property in 1905; following this the property changed hands many times until the present. It is a designated Local Landmark in the SCAN neighborhood.