World Events
Former general, Ulysses S. Grant is elected as 18th President.
Suez Canal opens providing a sea-level passage between the Mediterranean and Red Sea.
In Australia, prospectors find the world's largest gold nugget, the "Welcome Stranger".
A golden spike at Promontory, Utah connects the rails to complete our first Transcontinental Railway.
"Black Friday", September 14, signals the beginning of the Fisk-Gould financial panic.
The American Museum of Natural History is founded in New York.
New American Books: Bret Harte's Outcasts of Poker Flat and Mark Twain's Innocents Abroad.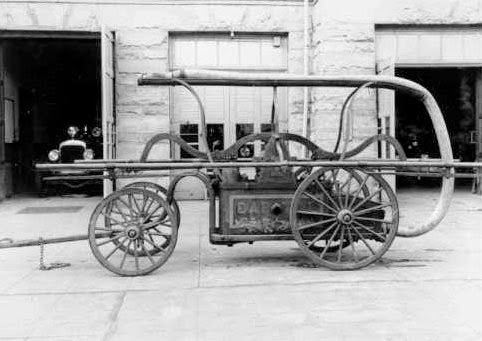 In Salem
As the world is coming closer to Salem with trans-continental rail service, the city is also moving along with its own transportation innovations. Excitement on State Street is due to organization of the volunteer Tiger Engine Company #2 at the site of the present Catlin-Lynn building. The company's log acknowledges the contribution of uniforms from local merchants and delivery of this Hunneman fire engine. Salem's volunteer firefighters had sporting competitions and tournaments among the 3 companies, but were a close-knit brotherhood. When a fellow firefighter was seriously injured at a fire, his comrades pooled their money to ease the burden of the family. When a fellow firefighter died, even due to illness, the fire hall would be draped in mourning, and firefighters would wear the badge of mourning for 30 days.
When you visit
This photograph was taken in front of the old City Hall (now demolished) after 1882 when the engine was retired. It was kept for display and can be seen by appointment at Salem Fire Station #5, 1520 Glen Creek Road NW in West Salem. (Or you can just look through the windows of this Fire Station Museum.)
Other events
L.S. Scott was elected Mayor and served two years. During his tenure, the City Board of Aldermen authorized the first piped water system to supply the businesses and residents of what is now downtown.
The Patton Block, soon to become the leading mercantile establishment in Salem, is erected on State Street. Thomas McFadden Patton, the builder, was a local political leader and in 1884 was appointed United States consul at Hiogo, Japan. When he returned to Salem, he concentrated on his various businesses enterprises. His obituary of 1892 concludes, "Being a shrewd businessman and cautious in his investments, success attended him and he leaves considerable property."
This photograph of the Diamond Square in Lee Mission Cemetery is used courtesy of Elisabeth Walton Potter.
Lee Mission Cemetery is incorporated by the state of Oregon. Originally part of the Parrish land grant, its first burial had been that of Lucy Thompson Lee (1809-1842), Jason Lee's second wife who died soon after the Salem settlement. His first wife, Anna Maria Pittman Lee (1803-1838) and Rev. Lee himself (1803-1845), were reburied here in the Diamond Square. It became the burial place of many other mission members and early Salem residents. This year, Elizabeth Parrish, wife of Josiah Parrish, was buried here.  It was listed on the National Register in 1978.
Pioneer Methodist missionary, David Leslie died. Salem's newspaper reported that his funeral service "was crowded to its utmost capacity, and the procession to the cemetery, is said to have been the largest ever seen in this city. "

   

Rev. Leslie had arrived in Oregon in 1837, among the first reinforcement group at Mission Bottom, the Methodist mission. He received a large tract of land (south of the present Mission Street) and built a home on the site now occupied by Bush House Museum. He been a community leader through the difficult years of mission controversies, the settlement of Salem and its acceptance as the state capital. In his personal life, he had lost his first wife and six of his seven daughters, several through tragic circumstances at early ages. He was survived by his second wife, Adelia Judson Leslie(herself a widow twice before marrying David Leslie) and by one unmarried daughter, Helen.
The United Presbytery of Oregon establishes a Presbyterian church in Salem, meeting on the second floor of the Gill Building on State Street. Rev. Wilson, Rev. Irvin, Dr. Gray and nineteen additional members formed the congregation.
Reed Opera House is built this year and opened in 1870. Above the retail stores, the auditorium on the second level had a seating capacity of 1,500. The Oregon State Supreme Court and the State Library were located on the top floor. The Opera House provided a stage for traveling drama companies, gubernatorial inaugurations, political meetings, community celebrations, dances and lecturers.
Flags at the State Capital hung at half-mast and the businesses on Commercial Street were closed to honor John Webster Perit Huntingon. He had died suddenly, without revealing the location of a recent gold shipment. Huntington served as State Representative, Oregon's fifth Superintendent of Indian Affairs, a shareholder in several silver mines, and was part owner and editor of the Oregon Statesman newspaper. His home at 738 N. Front Street was destroyed in the Columbus Day windstorm of 1962.
William Lincoln Wade builds a residence on Liberty Street in the same block as his dry goods store, a few doors south of the Boon Store. It has been moved to John Street and was listed on the National Register of Historic Places in 1978.