A struggle for power in Japan between the Tokugawa shogunate and the 15-year old emperor, Meiji, lasts two months. The Emperor is victorious, but foreign ministers force the agreement that harbors will be open with international treaties.
An earthquake strikes Peru, killing over 25.000 with tsunami waves affecting Hawaii and New Zealand.

The 14th Amendment is passed guaranteeing citizenship to all persons born or naturalized in the United States.

President Johnson is impeached by the House of Representatives, but twice acquitted by the Senate. At end of the year, he grants unconditional pardon to all former Confederates.

The first parade to have floats takes place at the Mardi Gras in New Orleans. Around the nation, the game of badminton is introduced.

Louisa May Alcott writes Little Women.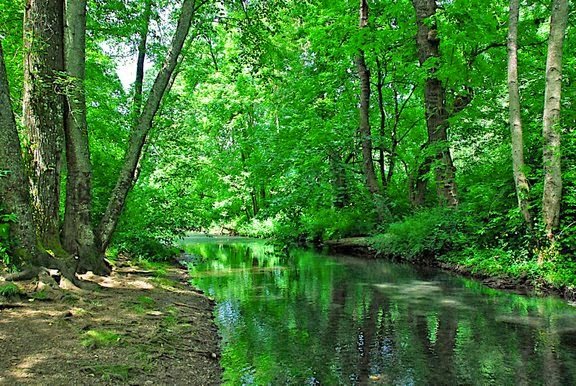 In Salem
The disastrous earthquake along the Pacific this year affected world populations in their most basic need, clean water. The property seen above along Pringle Creek is typical of the beautiful natural streams that have flowed through Salem since its founding. Although you would not want to drink this water, it is certainly cleaner now than it was in 1868 when there was no city water or sewer system and all human and industrial waste was emptied into local streams and into the Willamette River. The best source of household water then was a shallow well on your own property. For those without wells, an enterprising Chinese citizen, Lee Tong, collected water in discarded oil tins and sold it to his customers. The health of residents was affected by all local sources of water: typhoid was a common cause of death. The few doctors in Salem were most often self-educated, and remedies for illness came from general stores selling drugs of uncertain origin.
When you visit: Pringle Creek
The Willamette River has not recovered from the years of human and industrial waster. However, Riverfront Park offers panoramic views of that important historic waterway. Scenes like the one photographed above can be enjoyed along Pringle Creek in Bush's Pasture Park. Entering on Mission Street at the parking lot near University Street, walk into the wooded park over trail nearest the creek, on your left. Several byways, useful in summer, take you to the creek itself. The trail extends to Leffelle Street at the south end of Bush's Pasture Park in the SCAN neighborhood. Both of these self-guided walking tours are available for viewing on SHINE.

Other Events
Salem has a lively theatrical community at this time: the dramatic society offers "Kill or Love" and "The Toodles" at Griswold's Theater at the southwest corner of State and Commercial Streets. Admission ranges from 25 to 75 cents.
In January, African-Americans from Salem and Albany gathered to celebrate the fifth anniversary of the Emancipation Proclamation. In a rare display of racial harmony, the celebration was attended by whites of both political parties. The Salem Daily Record reported that six of the blacks at the celebration had been freed by the Emancipation Proclamation.
The Hall's ferry began operating this year, but did not acquire the name until 1882 when B. F. Hall, its operator, purchased the enterprise in 1882. Hall's Ferry Road, crossing South River Road in south Salem now marks the approximate location of this early transportation across the Willamette River.
John G. West, father of Oswald West, later a governor of Oregon, built a home on Oak Street. It was moved to D Street in the late 1990s.
Knight Memorial Church
Rev. Plutarch S. Knight becomes pastor of the First Congregational Church where he gains fame as the "Marrying Preacher", performing at least 1,332 marriages. He was a founder and leader in both civic and business institutions of the new city as attested by his 1914 obituary: "P. S. Knight … came to Salem in December of 1857. He attended Willamette University from 1857 to 1860. He was married to Eleanor Smith April 21st, 1861 in the old Methodist church building in Salem that now serves as a laundry. [They celebrated a 50th anniversary of their marriage.] He was reporter and editor of the Statesman from 1862 to 1864, being engaged in this work when the daily issue was commenced. He was also state librarian for 1862 to 1864 and was city recorder in 1863, when the fees of the office amounted to not more than $100 a year. He also read law, and was admitted to the bar in 1864. He was ordained a Congregational minister at Oregon City in 1866, and was pastor of the Congregational church of Salem from 1867 to 1883 sixteen years. He was superintendent of schools for Marion County from 1870 to 1872. He had charge of the Oregon School for Deaf Mutes from 1871 to 1892. His salary part of the time was nominal, part of the time nil. The degree of Doctor of Philosophy was conferred upon him by Willamette University in 1890, on account of actual work, illustrated by a course of lectures.
"He platted Knight's addition to Salem in 1888; bought Capital Park addition in 1889; Central addition and part of Capital Home addition in 1890; Simpson addition in 1891. Substantial improvements have been made in all of these and more than 500 lots in all sold. Mr. Knight has built about thirty houses in the two years past, which have been sold mostly on the "installment plan" to working people. Mr. Knight was the moving spirit and the largest original stockholder in the Capital City electric railway, started in 1890, which has grown into such an extensive and valuable property. As a minister, a writer, a public speaker, a public spirited and useful citizen, as a business man–Mr. Knight has kept the esteem, respect and confidence of the people among whom he has led such a busy, active and useful life." A monument marks his grave in Pioneer Cemetery and the Knight Memorial Church, named in his honor in 1926 was the second Congregational Church in Salem. It now houses a Korean religious community.