World Events
The Civil War ends with General Lee's Surrender April 9 and, within a week, President Lincoln is assassinated by John Wilkes Booth who died in a barn fire April 26. Four of his conspirators were hanged in July. ("Lincoln" film, 2012)

Andrew Johnson, a Southern Democrat, becomes president, clashing politically with the Radical Republicans in Congress.

The 13th Amendment to the US Constitution prohibits slavery.

The steamboat Sultana explodes and sinks in the Mississippi  Rover, drowning 1,800, mostly Union survivors of the infamous Confederate prison at Andersonville, Georgia.
The Christian Mission, later renamed the Salvation Army, is founded in London by William Booth who instituted the military structure that it retains today.
A fire near Silverton, Oregon destroyed more than one million acres of timber.
New American Books: Mark Twain publishes The Celebrated Jumping Frog of Calaveras County and Walt Whitman writes Drum Taps, in tribute to fallen soldiers of the Civil War. Young readers are enjoying Lewis Carroll's Alice's Adventures in Wonderland and Mary Mapes Dodge's Hans Brinker, or the Silver Skates.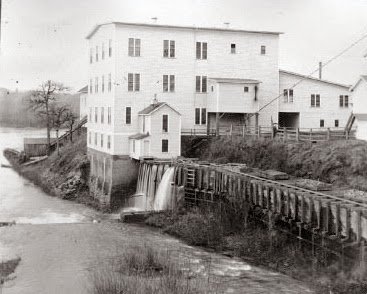 In Salem
With the end of war, the assassination of a president and the end of slavery, our nation begins to consider its future course in governance and prosperity. Salem's future continues to rely on water power. An imposing Willamette Flouring Mill is constructed on the north bank of Pringle Creek where it  cascades into the Willamette River just south of Trade Street. The mill was financed by owners of the Willamette Woolen Mill that had been built a decade earlier in North Salem. This mill was sold in 1870 to the Kinney Brothers of San Francisco and, at the time, was described as the largest mill of its kind in Oregon and Salem's leading industry; it could turn out 400 barrels of flour a day. The mill was destroyed by fire in 1899 or 1904 ~ there is conflicting information.
When You Visit
The site continues to be important for local industry and was most recently occupied by Boise Cascade. That business relocated and the property has been sold to local investors. It is now being redeveloped, with the first steps being the demolition of the existing buildings along Front and Commercial streets. One of the most interesting aspects of the project is the "daylighting" of Pringle Creek. It will pass under the Commercial Street Bridge, as it does now, but will be open on the west side. With completion of the enterprise, pedestrians will be able to walk along the waterway for the length of its passage from Leffelle Street (south of Bush's Pasture Park) through Salem's downtown to the creek's entrance into the Willamette River. A self-guided walking tour slide show of Pringle Creek and its companion, Shelton Creek, is found on this website.
Other Events
John H. Moores is mayor of Salem in 1865.

Near Marion Square Park, David McCully, a pioneer Salem merchant who had been successful in the California Gold Rush, builds a home at 891 Front Street. The house was damaged in the 1962 windstorm. It was moved and renovated at 1365 John Street. It is in the SCAN neighborhood and is listed on the National Register of Historic Places (1978).

How often we pass this scene at southeast corner of Trade and Church streets (on the south side of the creek on the Robert Lindsey Tower property) without a thought, except how beautiful it is. Few realize a double hanging took place here in 1856.
Daniel Delaney was murdered in January and his murderers, George Beale and George Baker, were convicted by Judge Reuben Boise. A witness to the murder was a young black boy, Jack, son of Rachel Belden Brooks. His testimony was at first refused on the grounds that negroes could not understand the law in a criminal trail of a white man, but was later allowed. The well-attended double public hanging took place in May at this location.  It attracted families, bringing picnic baskets for lunch, from as far as 20 miles away. After this public execution, there were no murders in Marion County for twenty years.

The Watkins-Dearborn Building is erected at the northeast corner of State and Commercial Streets. Part of the original facade can be seen at 110 Commercial Street. R. H. Dearborn, a harness-maker, purchased this property on 1875 and occupied it until 1910. Afterward it housed the Holland Bakery. In 1931 it became the location of the Real Estate and General Insurance offices of Edward Rothstein and Samuel Adolph, prominent Salem businessmen. Mr. Rothstein was also chairman of the city's first water commission. Mr. Adolph was son of one of Salem's first brewers and is remembered today for the beautiful home he built in 1878 at 2493 State Street. This NEN neighborhood property was listed on the National Register in 1978.
Lucyanna Grubbs, Jason Lee's daughter and a graduate of Willamette University, follows Mrs. Chloe Willson as "Governess of the Ladies Department" of that institution.