World Events
French capture Mexico City and proclaim Maximillian as Emperor.
International Red Cross founded with ratification by 16 nations after a Geneva Conference.
Most memorable battle of Civil War fought at Gettysburg: Lincoln delivers his Gettysburg Address. He proclaims last Thursday of November as Day of Thanksgiving.
Medal of Honor is established for those who "distinguish themselves conspicuously by gallantry and integrity" in combat.
Four-wheel roller skating introduced in New York City.
James Whistler's paintings exhibited at "Salon des Refuses" in Paris along with Claude Manet and Paul Cezanne.
New American Book: Edward Everett Hale publishes his novel, Man Without a Country. Henry Wadsworth Longfellow writes Tales of a Wayside Inn.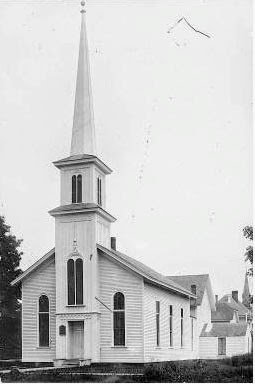 In Salem
Noble goals are expressed in our nation this year: The Red Cross, Lincoln's Gettysburg Address and the Medal of Honor. In Salem these ideals of service are expressed in the founding of the First Congregational Church  at the corner of Liberty and Center Streets with Obed Dickinson as minister. Charlotte and Obed Dickinson had been newlyweds in November of 1852 when they embarked on the long voyage around the Horn to Obed's assignment as a Congregational minister in frontier Oregon. Landing in Portland the following April, they had personal baggage and simple furnishings for their home: a stove, table, chairs, and bedding. It took them eighteen days to transport their belongings and themselves by boat and cart to Salem, a village of 500 people, ten dry goods stores, four physicians, a flouring mill, various mechanics – and five other ministers, all Methodist. His church was an abandoned schoolhouse at Commercial and Marion Streets described as "dirty as a pig sty, its floor covered with mud." Boarding was too expensive, so Obed purchased a half acre of land, deep in the brush between Front Street and the river, for a small 16 by 26 feet home.
His conflict with the membership, especially the founding Gilbert family, arose when he allowed African-Americans to attend services and one couple to marry there (see below). His wife Charlotte taught four of these women to read and write. Obed resigned his pulpit four years later, becoming a successful seed merchant. This church building was replaced in 1905. The third construction is at the corner of Marion and Cottage Streets, location of the boyhood home of A. C. Gilbert, demolished in 1941. When You Visit: Dickinson family sites
Nordstroms is currently on the site of this church. Dickinson's seed store was at Chemeketa and Commercial Streets, now the Union Gospel Mission Office. The family's first home, a rough cabin built by Dickenson himself in this year, was near Ferry on Front Street. After Dickinson became a successful merchant, their 1880s home bordered the then-fashionable Marion Square Park. It was demolished for Marion Street Bridge ramp construction. The graves of Obed and Charlotte are in Pioneer Cemetery. Their daughter, Cora Dickinson Moores (1857-1938), was buried near her parents. Another daughter, Edna Dickinson Raymond, was living in Santa Monica, California when her sister died.
The Cora and Albert Moores' home was on Chemeketa Street in Piety Hill, the four block residential section north of the State House. When this area was acquired by the state for North Capitol Mall, their house was one that survived demolition. It was moved to Leffelle Street where it is today.
Other Events
H. M. Thatcher was mayor during 1863-4.
The Union House on the northeast corner of Ferry and Commercial Street, site of Salem's first store, burned in May of this year. The hotel was so named because it was a combination of the store and the blacksmith shop next door. The Union House contained the Gem Saloon with bar and billiard table.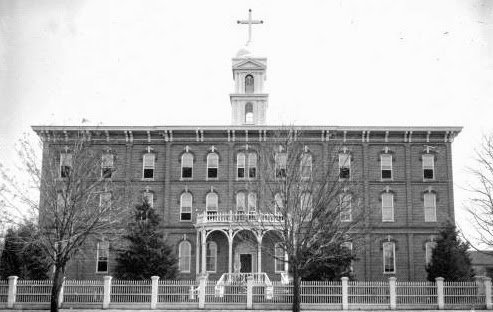 Sacred Heart Academy
Sacred Heart Academy was established on the east side of Cottage between Center and Chemeketa Streets by the Sisters of the Holy Names, opening with 80 girls as students. Legend gives Asahel Bush credit for encouraging the founding of this school for the primary eduction of his daughters. Mass was celebrated there until St. John's Church (now St. Joseph's) was dedicated. This 1886 photograph shows the original three story, brick building. A handsome, high-ceiling classroom with louvered shutters on the windows was photographed in 1908. The school moved to Lancaster Drive in the 1960s, but has since closed.
Hamilton Campbell, a Salem pioneer in engineering, construction and photography, was murdered in Mexico while working in for a mining company. He had created the die for the Oregon Beaver coin. He and his wife, Harriet Biddle Campbell, had arrived in Oregon in 1840 as members of the Lausanne missionary reinforcement. His widow Harriet was living in Portland in 1900, still "sprightly" at 83.
Richard and America Waldo Bogle were married at the First Congregational Church on January 1. Richard was Jamaican, living in Salem where he met America Waldo. Rev. Dickinson officiated the wedding and hosted the wedding reception. A black wedding taking place in a white church and a party attended by both blacks and whites was apparently too much for some people to handle. The event provoked negative comments from Asahel Bush, first in his private letters and then in the Oregon Statesman where he called it a "disgrace"; eventually, the incident made the newspapers as far away as the Portland Oregonian and the San Francisco Bulletin. The couple moved to Walla Walla in the Washington Territory. There, Richard tried his hand at mining, but he didn't strike it rich and later returned to his old trade of barbering. The Bogles made their money ranching, and Richard was sufficiently wealthy that he was one of the founders of the Walla Walla Savings and Loan Association, providing some of the seed capital for the organization and backing it with his good name. Richard and America had eight children together, at least two of whom went on to become barbers in Portland.