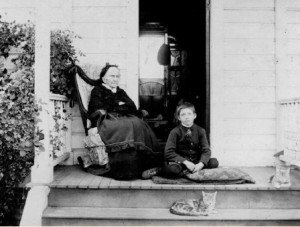 On November 25, 1846, 14 year-old
Octavius Pringle wrote
, "Camped on the Willamette, the handsomest valley I have ever beheld. All are charmed and we think we will be repaid for all our suffering."
Having left Missouri April 15th, the Brown and Pringle families had borne months of an almost fatal overland journey by ox teams, especially difficult were the last 300 miles as they traversed the Applegate Cut-off enduring axel-deep muddy roads, fording icy creeks, searching for a coyote carcass to forestall starvation and the death of an 18 year-old girl.
Octavius was the son of Pherne Tabitha Brown, daughter  of Clark Brown, an Episcopal minister who died at Mount Vernon, Virginia in 1824. Three years later, Pherne married Virgil K. Pringle in St. Charles, Missouri. In 1843, her brother came to Oregon and was so impressed that he went home and persuaded the rest of the family, including the Pringle family of six children (aged 7 to 18), to return with him. 
In the three generation party
, along with the widowed Tabitha Brown and the Pringle family were Captain John Brown, her brother-in-law, her son Orus and family ~ 22 relatives in all.
The party arrived in Salem on Christmas Day, having been nine months on the journey. Pherne resided here for the the remainder of her life. From her obituary:  "a woman of strong individuality, she impressed her life and character upon all with whom she came in contact." We also learn that she found "no organization of the Episcopal Church and then allied herself with the Methodist Episcopal Church in which she remained she remained an earnest and constant member."
Another biographical source tells us that she was an accomplished artist, her sketchbook on display at the museum at Old College Hall at Pacific University. This was the school founded by her mother, the outstanding educator often called the "Mother of Oregon". Her school began with twelve girls, "not only giving literary instructions, but teaching needlework and housework." We can be assured that Pherne excelled in these skills as well!
The Pringle family took land to the south of the creek that bears their name, just south of Trade Street. They also had property several miles south, where the original Pringle School stood.The obituary continues: "Her partner in life, Virgil K. Pringle, after having passed sixty years of happy wedded life preceded her four years 'to that bourne from which no traveler returns.' There were born to them eight children four of whom still survive. Mrs. John Hughes [the mother of Lulu Hughes who became Mrs. A. N. Bush] and Mrs. C. D. Young, of Salem; Clark Pringle and Octavius Pringle, of Prineville, Oregon, who shall they continue to live her life and die her death, will merit too as she has done the good will of all with whom they came in contact. The funeral will take place today at 2 o'clock p.m., from the family residence in South Salem on High street."
Photograph above used by the courtesy of Oregon State Library. The caption reads:
Portrait of Grandma (Pherne) Pringle and her grandson, Clifton Young, son of Ella M. Pringle and Judge Clifton D. Young in Salem, Or. His complete name was Elbert Clifton Young, he was born in 1879 and died of tuberculosis in 1904. "Pherne Pringle, daughter of Tabitha Brown, who helped found Pacific Univeristy of Forest Grove, Oregon and wife of Virgil K. Pringle." 
This house (seen below in a contemporary photograph) later became the residence of Governor and Mrs. Hatfield.