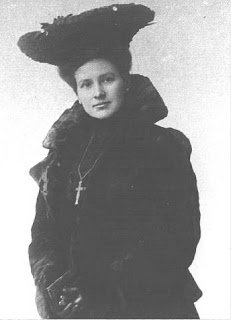 When President Theodore Roosevelt came to Salem on May 21, 1903, he was especially impressed by the soprano, Hallie Parrish Hinges, with her strong, mellow voice. The President was seated beside Oregon Governor George Chamberlain and dozens of silk-hatted dignitaries on the west steps of the Capitol.  Thousands of people crowded Willson Park.  Before Roosevelt gave his speech, the leader of the Cherry City Band signaled Hallie. She rose to sing the National Anthem, standing tall in her floor-length silk skirt trimmed in sealskin, a brown sealskin jacket and brown, chenille hat with velvet orange nasturtiums around the crown.
            The 45-star American Flag rustled in the breeze as her "sweet and powerful" voice began radiating over the throng, and she turned on the volume in the final stanza "…o'er the land of the free and the home of the brave!"  She heard by some as far as 11 blocks away on the High Street hill.
            President Roosevelt said to Governor Chamberlain, "She has one of the most beautiful voices I have ever heard.  Have her sing again."  Hallie responded by singing a favorite of the time, "The Flag Without a Stain", and soon the president wiped his eyes, asked for her name and said, "Truly, she is the Oregon Nightingale."
            Hallie was 35 years old, granddaughter of Methodist minister Josiah L. Parrish and daughter of Norman O. Parrish. She was a vocal attraction since her first appearance at the First Methodist Church where, at the age of 5, she sang "There is a Happy Land, Far, Far Away".
Her Lifeline
She studied music under Prof. Z. M. Parvin, dean of music at Willamette University and graduated from the Willamette Conservatory when she was 18. She studied an additional year in New York. Here in Salem, she had been called on to sing for President Benjamin Harrison in 1891, for William Jennings Bryan in 1900 and for President Howard Taft in 1911.
            The name "Oregon Nightingale" stuck to Hallie, a favorite songbird of the Northwest at churches.  She would charge nothing for singing at weddings or funerals, for shut-ins or the opening of the Legislature.  She was State Fair soloist for 30 years, singer in Reed Opera House and Grand Theater events.  She sang in the first radio concert ever broadcast in Oregon from the Portland Oregonian Tower and at the opening of the Multnomah Athletic Club.  Her granddaughter recalled that Hallie even had a racehorse named for her.
            In 1894 she was married to Dr. Charles H. Hinges and mother of Karl Hinges and Mrs. George W. Nelson. She died in Salem January 25, 1950 at the age of 82 and is buried in Jason Lee Cemetery. Unfortunately, there are no recordings that would allow us to hear her voice today, but another testimony to the quality of her voice was what a member of the church said after Hallie sang at a state Methodist Conference: "What can the choirs of angels in Heaven be like when one woman's voice can be so beautiful on earth."