Alice is photographed before a portrait at 11 years old.
The intersection of 12th and Mission streets is one of the busiest in Salem. But tucked away in the southwest corner, almost out of sight behind a small park and quiet landscaped lawns, is a beautiful 1894 Queen Anne residence that plays host everyone in Salem.  The person most responsible for its preservation is Alice Brown Powell who lived there from 1925 to 1968.
Her Lifeline
Alice Bretherton was born in Lawrence, Kansas in 1882 although she grew up in Portland, Oregon. In 1908 she married Clifford Brown whose family was prominent in Salem. His grandparents were Werner and Isabel Watt Breyman. His mother, Elva Breyman, married William Brown.
Clifford was a dealer in hops with a business on Front Street. They did not move into this Mission Street house until 1925 when they were the parents of two sons, Chandler and Werner. Two years later, tragedy struck the family.  42-year-old Clifford drowned in Alaskan waters while on an eight-member hunting and fishing expedition. Four days of searching the remote Gardner Canal did not recover his body. Alice returned to Salem as a widow.
In 1927, Salem was a small city of less than 30,000 residents. Many families had lived here for several generations and were well acquainted with one another.  She would have heard the story of Luke Port, builder of the house, who lived there with his wife Lizzie only 16 months. She would have known the second owners, Judge George Bingham and his wife Willie who lived in the house for 23 years until their deaths in 1924. Their daughter Alice, who had married Mr. Keith Powell in 1915, sold her childhood home to the Clifford and Alice Brown. [Two Alice's make the story confusing!]
In 1929, Alice Brown commissioned the new firm of Lord-Schryver, the first female owned landscape architecture firm in the Northwest, to design the gardens of her four-acre estate. They continued to advise Alice for almost forty years. In 1935, Alice Brown formally registered the farm as "Deepwood" after a favorite children's book of her sons, The Hollow Tree and Deepwood Book by Albert Bigelow Paine.
The Deepwood Scroll Garden earned the nickname "Lower Wedding Garden" following her 1945 marriage to Keith Powell, Alice Bingham Powell's widower. The couple lived at Deepwood until they moved into a smaller home in 1968. Alice died in 1971, shortly after a successful a community campaign saved the property from demolition and it became a City of Salem owned park and museum. In 1973 it was listed on the National Register of Historic Places.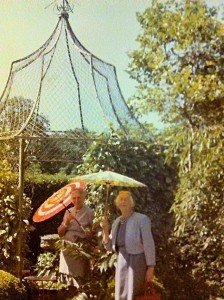 Alice Brown Powell's emotional and financial investment, continuing over more than 40 years, preserved and enhanced the historic estate and unique Queen Anne residence that we enjoy today. The name she gave it, Deepwood, perfectly expresses the sense of natural beauty, located in the urban center of the city, that makes a visit to her Deepwood a pleasure over hundred years after it was built.
This photograph was taken with a friend (at the right) in the gazebo, for many years a popular places for weddings.