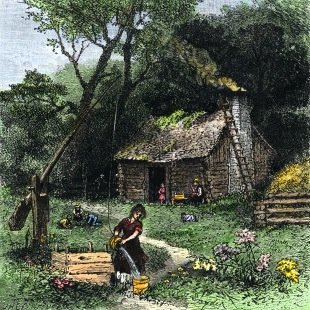 Two of the first five women who came to the mission in 1837 brought three small children.
We know little of Rachel Beardsley Beers. She married on November 17, 1830 and came to Oregon with her husband Anson and their three young children. A description of the couple was made by Dr. and Mrs. White on the 1837 voyage to Oregon: "He was a man of low stature, rather dark complexion, rigid puritanical manners, and well versed in scripture, ever stoutly insisting on all coming to his landmark, his righteous soul chafing sorely at the least departure of his friends from his golden rule. Being rather bilious, it increased the authority of his manners, which failed to render him a favorite with either crew or passengers. Mrs. Beers was of medium height, round favored, philosophical turn of mind, docile, quiet in temperament and perfectly obedient to her husband, as the reader might suppose she had better be, after the above description of him."
Anson was a blacksmith, an important skill in the frontier community. He also took on both a political and military role in the new village of Salem. Rachel lived in the mission settlement while he was often away on various ventures. In Oregon, one of her children died and four more were born. Their seven births were between 1834 and 1848 ~ perhaps one every two years until her death.
 When the mission enterprise in Oregon was dissolved in 1844, the mission property was sold to Beers. A note in Rev. George Gray's diary says, "Today we made a bargain with Mr. Beers to sell him the farm which he occupies with the stock, tools, etc… This puts a heavy concern off our hands. We will soon be able to dismiss Mr. Beers from the services of the mission."
If Rachel's death was recorded, that document is now lost: he remarried in 1852 and died the next year. There is a tombstone near his in Lee Memorial Cemetery, simply marked "Beers" that may be hers.
     However, Rachel may be remembered in another way. In 1845, a year after Rev. Gray's note quoted above, and four years after the missionaries had moved to Salem, John Minto wrote about visiting the original mission settlement, Beer's property, remarking that floods had carried away everything but "six or eight peach trees; a rose bush, some gooseberry and currant bushes and a bed of rhubarb." The rose bush was probably Rachel's. In 1837, she found a wilted rose clipping among her belongings when she unpacked in Oregon. Cyrus Shepherd planted it for her and it thrived. Later it was noted by several writers as the brightest spot of color in the mission settlement. Did another generation of that rose grow in what became her son Oliver's garden? His handsome 4000 square feet house, built in 1870, was located at 10602 Wheatland Road N in Gervais. (demolished in 2015) In the successful nomination for this property on the National Register of Historic Places, there is speculation that her home was here: Evidence supports two conclusions: one, a building previously existed here…and mission occupation is inferred. The Willamette mission hospital building is the most likely candidate…The hospital, described in 1841 a a 'well-built frame edifice' was Alanson Beers' dwelling place in the 1840s and 1850s…Possibly the executor of Alanson Beers' estate, Josiah Parrish, inhabited the hospital until 1862, at which time Oliver Beers began a three-year lease and eventual purchase of the claim." Perhaps Rachel's rose can still be found
there.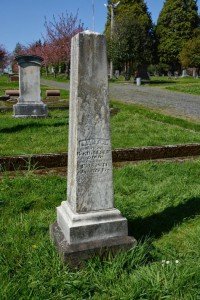 Memorial to Mary Leslie
Mary A. Kinney Leslie (the same age as Anna Maria Pittman Lee) was married to David Leslie, a minister who took over many of the duties of Jason Lee while he was traveling back and forth to the east. She brought three daughters with her to Oregon. We know that while Mary Leslie was ill (perhaps pregnant), the family shared mission housing with Elvira and Henry Perkins. The structure burned, destroying all their possessions. Mary had two more daughters before her death at the mission in her 31st year in 1841.
When the missionaries' Methodist church sponsorship was dissolved, the community moved to the new settlement at Salem and the church lands there distributed among the families. David Leslie was awarded the claim lying between the present Mission and Gilchrist streets, the east edge of what is now Bush Pasture Park and the Willamette Slough. Here he built the fourth house in Salem (a frame house of two floors) and planted an orchard with numerous varieties of apples and pears. (Bush House now stands at this site.) Mary Leslie's remains were transferred to the section of family land that has since become Pioneer Cemetery and may be considered the first burial in that historic cemetery.

Sadly, four of Mary's five daughters died at early ages: Without his wife to assist in raising the children, Leslie decided to take them to a mission in Hawaii (Sandwich Islands) where there was a school for them. As they waited to leave Astoria, one of the daughters (Satira age 15) left the ship and married Cornelius Rogers. Leslie accepted the marriage and then left two other daughters, Helen and Aurelia, in the new couples' care. Leslie then continued on to Hawaii where he left the two remaining daughters Mary and Sarah at a boarding school. Sarah died a year later in Hawaii, while Cornelius, Satira and Aurelia (perhaps 2 years old) also died that year, February 1843, in Oregon when their canoe went over Willamette Falls. Mary grew up to marry George H Jones, but at age 25 died at the birth of their second daughter in 1857. Helen, who survived the canoe accident ~ or was not present ~ did not marry, but lived with her step-mother Adelia (Leslie's second wife) in Salem. Both died in the same year, 1890.

This Google image depicts a romantic vision of pioneer life in America.