The Hubbard community you see from 99E is a bustling commercial corridor. The historic city, now a quiet neighborhood of less than a square mile in size with about 3,000 residents, began with a log cabin located about a mile west of the highway. In the 1870s it flourished along the rail line, several blocks away from the present highway.
In 1848, the Hubbard family completed a long trip overland and settled in Oregon City. That spring, Charles Hubbard visited an acquaintance, Maryann Hunt, and her husband Thomas. Pioneer notes made by historian Clark Moor Will state that Thomas Hunt wanted to seek his fortune in California during the Gold Rush. He encouraged Charles Hubbard to rent and maintain his squatter's claim. The agreement made, Thomas Hunt left, never to be heard from again. Maryann Hunt eventually remarried, selling her cabin and improvements to Charles Hubbard. In addition, Hubbard bought 400 acres of nearby land from a Frenchman for "three yoke of oxen and chains valued at $25 each." The Hunt cabin was located in the woods near Mill Creek, where Wolfer's Mineral Springs eventually developed.
     Many Oregon towns, Hubbard included, owe their existence to the route of the railroad. Charles Hubbard Jr. apparently had visions of growth for this newly settled hamlet. When plans for development of the Oregon-California Railroad were being made, he offered the right of way and every other block to railroad officials. The offer was accepted, the town site of "Hubbard" platted, track laid. In 1871, the first train stopped in Hubbard. On that day, the little town became a part of the larger world, serving as a grain shipping point and providing transportation for residents.
By 1878, annual grain shipments were 40,00 bushels, "fine stock from imported specimens" were being raised. The population was 150 with 47 students in the school. In 1882, the Hubbard Brass Band was formed and a bandstand was constructed on the commons in front of the railroad depot. In the 1880s a significant new group of residents came to Hubbard: families who had been part of the Aurora Colony. One of these developed Wolfer's Mineral Springs, a health resort popular for many years.  In 1891 the city was incorporated, and the next year a City Hall was built by a local stock company to provide a building in which the militia could drill. Joining the Methodists in meeting the spiritual needs of city residents, the Congregational Church, now The Hubbard Community Church, was built in 1893 while the Catholic Church was built in 1900. (The Hubbard Cemetery, designated by the state as historical, is located about 1/4 mile on the west side of Hubbard off J Street.) Horses and buggies delivered mail along rural postal routes. A traveling photographer sold postcard photos of Hubbard, identifying the town as "On the road of a thousand wonders."
       The decade following World War I was a time of rapid change and national prosperity. Washing machines and electric ranges, advertised in newspapers and magazines, were envied in Hubbard households where electricity was not yet a reality. Telephones were becoming available, making communication instantaneous. A genuine sense of community was felt during the Depression of the 1930s. At no other time were church organizations, lodges, and service clubs so well attended. As hard times gave way to a more prosperous economy, the United States was propelled into war when Pearl Harbor, Hawaii, was attacked by Japan. Once more young men put on military uniforms. A "roll call," which listed all the men who were in the military, was erected near the old fire hall, on 3rd between F and G Streets. A hero emerged from Hubbard. Marion Carl participated in the battles of Guadalcanal and Midway as a Marine fighter pilot, receiving numerous decorations for bravery and accomplishment. Hubbard citizens followed his career with interest and pride.
      The twenty years between 1950 and 1970 were characterized by slow, steady change in and around Hubbard. Methods of harvesting changed as horse drawn wagons were replaced by tractors. Droopy in their old age, numerous wood buildings that had been constructed early in the century were removed during the mid-1960s. Odd Fellows Hall and Dr. Schoor's hospital building were dismantled. The Hubbard School was replaced at a new location.
       Following the years of United States involvement in Vietnam, 1965-1975, the citizens of Hubbard like their counterparts in other American towns, wanted to put that war behind them as quickly as possible. No memorial was built in Hubbard for fallen soldiers, no "roll call" of patriotic participants.  Growing population could not be ignored during the early 1970's, as vacant lots became residential building sites. Previous pastureland was annexed by the city and converted into housing developments. Many people who found the cities of Portland and Salem too densely populated, discovered Hubbard.
The information printed above has been excerpted from "The Story of Hubbard, Oregon" written by Leslie Carol Ulven for the 1991 centennial celebration of the City of Hubbard.  A copy can be found on the city website.
Mentioned in the book quoted above is the growing population of Hispanic residents in Hubbard, as in all of Marion County, during the last half-century. Barbara Curtin's Statesman Journal article of November 25, 2012 chronicles the efforts of Miguel and Lidia Salinas to record the story of these pioneros, including the 81 year-old Natividad Gonzalez of this city. His father, a migrant worker from Texas, first arrived in Oregon in the 1940s. To quote the article, "Without the pioneros' labor, the Salinases think, Marion County would not have become the top agricultural producer in Oregon. Without them, the couple says, today's Hispanic newcomers would enter schools unaccustomed to teaching English as a second language. The migrants and their descendants have not thought to record this story. The larger society has not noted it. So Miguel and Lidia are collecting scores of oral histories, copying hundreds of photos and sharing them on a new website at their own expense."
       To find Hubbard's heritage today, turn west off the highway at D Street, then north to 3720 2nd Street. Few of the historic commercial or professional structures of the historic city are in use today, but we find one here: the City Hall is in a building that once held the Armory, but now partitioned into municipal offices.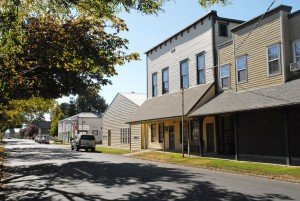 Hubbard's volunteer historians, previously contacted to introduce us to city's historic structures, were not available to meet with us. But the friendly and accommodating staff answered our questions. They offered to copy the tour map page of the 1991 book quoted above.  Using that, we found a quiet neighborhood of well maintained, older residences surrounding the handsome city park and we located Hubbard's two historic churches.  Perhaps local historians will publish a printed walking tour, available at the City Hall, with descriptions of these structures and stories of the families who lived in these fine homes, many over a hundred years old. But even without a guide, a short detour from the highway into this historic city can be a rewarding afternoon's activity. We recommend walking in the rectangle between B and G Streets, from 3rd to 7th Streets. Look for plaques mounted beside front doors. Our online historic walking tour reproduces our walk that day. Click one of the 16 red icons to identify structures you could see at that time, one if the 6 blue ones to locate "gone, but not forgotten".
Hubbard Fire Department's Hop Festival, the third Saturday in July, is a special time to see its community celebration. The festival recognized its 25th anniversary in 1998 with a Silver Celebration. It is a daylong event that includes a parade, a carnival in the park with games for children, a beer garden for grown-ups and a street dance. Money raised at the festival helps pay for materials and equipment used at the fire stations.
A recent addition to Hubbard's heritage is the Marion E. Carl Veterans Memorial located within the Wolfer-Will Greenway at the corner of 7th and D Streets. (The Wolfer Mineral Springs resort is no longer in evidence.)
Visitors can choose either of two Hubbard restaurants for lunch. The Hubbard Inn, located off the highway on the almost deserted 3rd Street (formerly the business center of town) is a spacious, dimly lit bar dating back to 1889 with bench-type seating and a pool table in the back. When we had lunch there, we were among the few customers, but at night it said to be is lively with residents who come in to trade local stories. The Burger Hut on the highway is a small, 1930s-decorated restaurant (Betty Boop featured) specializing in hamburgers and milkshakes. Depending on your mood, and the time of day you visit Hubbard, either one is a fine place to pause and enjoy the friendly service that comes with your choice of refreshments.
          
Each Tuesday, after a city was featured in that Sunday's Statesman Journal, KMUZ broadcasted "Marion County 20". To learn more about Hubbard, listen to the podcast listed on KMUZ archives.