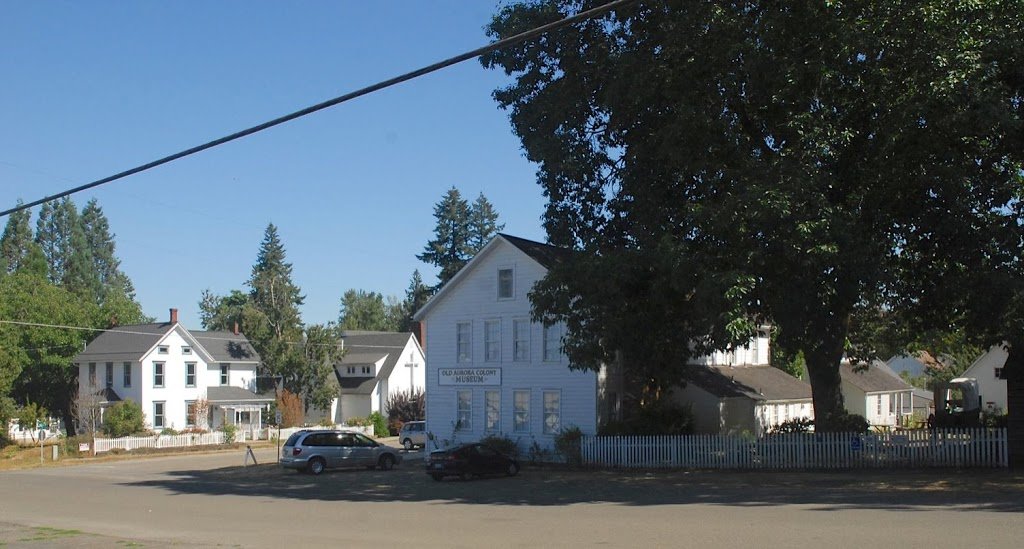 Aurora is one of the county's most visited historic sites, but for us, a recent visit was special. Gwen Carr, another Salem historian, was at the museum when we arrived. "What are YOU doing here?" we asked each other. She was continuing research for Oregon Northwest Black Pioneers. Tom and I were there to verify the following Aurora history with Pat Harris, Curator of the museum site:
Joel Palmer's 1847 wagon train brought numerous people who played instrumental roles in the development of Oregon and also later proved to be supporters of Keil's Christian Communal Society known as the Aurora Colony. Palmer's group included, among others, Henderson Luelling, who brought over 700 fruit starts, the source of fruit trees for many homestead orchards in the Oregon Territory. John Walker Grim purchased some of this nursery product and planted apple starts. William Whitney and Willard Hall Rees were in a group that traveled to the newly discovered gold mines in California.  While few struck it rich, many acquired enough gold to invest in Oregon farms that soon were providing much needed fruit and agricultural product to the California market.  
Whitney, Rees and O.H. Thomas invested their gold in the establishment of saw and gristmills in the previously almost impenetrable bottomlands of the Pudding River at the site that eventually became Aurora Mills.
In 1853 Wilhelm Keil sent ten scouts from Missouri to look for a new western site for his Christian communal society. Upon arrival at Fort Vancouver, the scouts were directed north into the Willapa Bay region. When Keil arrived there in 1855 with his first group of settlers he was bitterly disappointed by the terrain and the climate and he retreated with his people to Portland.
In 1856 Dr. Keil met Grim in Portland preparing his next shipment of apples to California.  "Where did those apples come from?" Keil inquired. 
After being told about the French Prairie, Keil asked whether any of that land was still available.  Grim told Keil that much land could be acquired and he invited Keil to travel to his land claim in French Prairie.  Grim then introduced Keil to other residents. Keil took advantage of the opportunity to purchase land along with the saw and gristmills owned by David Smith and George White.  He then named the new site Aurora Mills after his daughter. (In 1897 she married she married Henry Ehlen. His name was given Ehlen Road between Aurora and an intersection with Donald Road, west of that city.
Nearly 600 people, almost all German and Swiss emigrants, established and lived in the Aurora Colony from 1856 to 1883. Individuals of specific family groups, unlike other Christian colonies that practiced celibacy, carried out communal living in the Aurora Colony.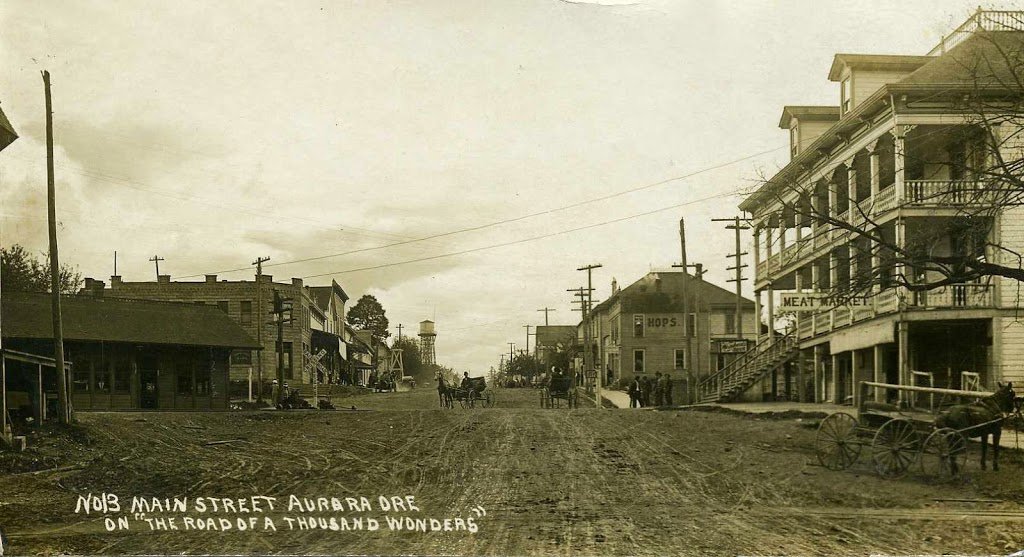 In 1893, ten years after the death of Keil and the dissolution of the Aurora Colony, the City of Aurora was incorporated. Many colony descendants continued to live in the area, and several colony buildings survived, although the Colony Church and the Gross Haus (Keil's home) were lost to fire. The classic, three-story Colony Hotel (see to the right),across the street from the railway depot, was demolished in the 1930s when Highway 99E and Main Street were reconfigured. In 1963, a group of descendants and other interested individuals formed the Aurora Colony Historical Society to preserve the buildings and artifacts of the Colony. In 1966, the Old Aurora Colony Museum was dedicated and in 1974 twenty sites in Aurora were placed on the National Register of Historical Places. It was the first historic district of its kind in the state.  (Excerpts from Jim Kopp, Oregon Encyclopedia)

Aurora City Hall
      Aurora, where the city's heritage is now its primary business, is appealing to almost any traveler in the northwest. Highway 99E wandering north is endlessly interesting as it parallels the busier I-5.  Our goal was City Hall, so Tom had driven north from Salem for about 25 miles and turned right at 4th street, driving one block to Main Street. The small white building is sheltered by the tall water tower and, across the street is the fire department/medical facility. We were warmly received by city staff and learned that Aurora is less than one-half square mile and is home to about 900 residents. A mayor and City Council govern Aurora with two commissions, Planning and Historic Review. The median household income is well above the national median. The city is proud to have recently renovated a park on Main Street. The one school facility, accommodated by buses, serves pre-K through high school. In addition to the historic homes in the center of town, new developments outside the historic district are adding a few homes each year. Yes, Aurora's quiet small town life-style, half-way between the bustle of Salem and Portland, is attractive for raising a family, but the parents often need to find employment in other localities.
Our next stop was in the cultural heart of the city. Tom turned east at 2nd Street and drove one block to Liberty. Here is the Old Aurora Colony Museum, a complex of structures in the heart of one of Oregon's outstanding National Historic Districts. We had a great time, exploring the museum's exhibits dedicated to the city's history. Since it was a beautiful fall day, we stepped out a rear door to enjoy peeking into buildings displaying necessary pioneer skills when industry was most often undertaken at home as a family enterprise.
     We discovered that site offers a variety of museum exhibitions throughout the year, encouraging us to return. When you visit, we recommend purchasing (for $3) the Aurora Colony Historical Society Walking Tour booklet. This is an item any visitor will need to use while in town and will be a valuable souvenir of the visit.
      Leaving the museum, we carefully crossed the highway (there is no traffic light, but the cars will courteously let you pass), entering the commercial side of the city. In the museum, Tom had been fascinated by the many pictures of the Colony Hotel, so we headed for that site. Adjacent to the now empty lot, we found the relocated train depot and other historic buildings transformed into antique shops. Even though, like us, you think you aren't in the market for antiques, or have enough at home already, you really must enter a few shops: their collections are amazing. (Yes, we did buy a small memento of our visit.) In this area of the city, we also picked up a commercial booklet entitled Historic Aurora Antiques, a map and guide for attractions, shoppers, "edibles", city services and hobby clubs. It lists dates of annual special events in the community including Aurora Quilts & Crafts, Annual Strawberry Festival, "Preserving the Aurora Colony: Fifty Years of Donations–1963-2013" and Aurora Colony Days. Other event dates can be found online.
In addition to Aurora Colony Historic District, there are four other National Historic Register properties in the Aurora area:
William Case House, 20755 Case Road NE (1903 ~ Queen Anne style)
Champoeg Cemetery on Champoeg Cemetery Road (1853)
William Riley Scheurer House (1890 ~ Queen Anne style), 23707 1st Street NE, is a link to days of steamboat traffic on the nearby Willamette River.
Frederick Bents House (1887 ~ Queen Anne style), 22776 Bents Road NE, belonged to the family until 1940.
There are several places for lunch, and each has its advantage. We have our favorite, the 1930s Colony Pub (for a pita roll-up BLT), but leave it to you find one best suited to your taste.

   Each Tuesday, after a city was featured in that Sunday's Statesman Journal, KMUZ broadcasted "Marion County 20". To learn more about Aurora, listen to the podcast listed on the station's website archives.