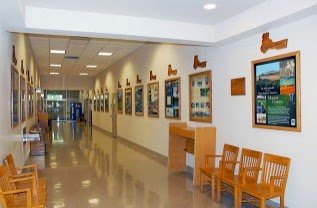 Community Hall
Marion County Courthouse
April 2012
Each of these twenty framed collections of photographs and memorabilia offers what that Marion County city considers significant to tell its story. The exhibits were constructed by local committees or by an individual volunteer. Above each exhibit is a wood carving representing the shape of Marion County with the locality of the city clearly distinguished.
This was all a revelation to me. Many names were only vaguely familiar and I had visited only a few even though the most distant was only an hour away. And, I realized, as I strolling along the exhibit, that each city had a unique history.
This was a challenge we could not resist.
After several years of Salem historical research, Tom and I prepared for the adventure of discovering Marion County. As the driver, he made detailed maps of byways though our handsome Marion County countryside. As official photographer, he shouldered the bag that carries his camera and iPad. I prepared questions to ask when we arrived at each city.
Before leaving on this odyssey, I learned that residents seek incorporation to establish an identity for their community. So we wanted to learn each locality's heritage, describe the city today, and discover the attractions it offers visitors. In several cities, local historians had collected the community's history in charming small museums.
Residents told us that a city's present economic success had little to do with my inquiries about employment, schools, ethnicity or even natural resources, but was defined in one word: Leadership. If the city had it, things were going well.
The last question on the list was, "How do you welcome visitors?" Since a historical society (if there is one) is usually maintained by volunteers, it was rare to find a personally guided city tour. However, a printed tour guide, or a simple map with markers for places of interest, can be all one needs ~ and is a great souvenir to bring home. If these can be on hand for distribution (in the City Hall, library or in a museum), they would allow visitors to stroll a few blocks or for drive in a wider area.
With or without these guides, it was a pleasure to explore places completely unknown, but so close to home!
We watched fishermen along the Santiam, ventured across yet another railroad track, wandered streets lined with homes that had sheltered families for over a hundred years,
visited old structures converted for new uses,
discovered artifacts that recalled our own memories,
chatted with new acquaintances and had lunch in local cafés.
Although it was great to return to our homes each night (Tom, also serving as photographer, had to edit his pictures and I had to settle down at my Mac to compile information and begin composing another text), we were tempted to look around to see if there was a welcoming B & B for future reference.
This is an introduction to a new series of Statesman Journal articles to be published in the first half of 2013, accompanied by this "Marion County 20" web blog offering links to additional information and albums of pictures. We may also be able to broadcast interviews on KMUZ.
I offer a sincere "Thank You" to Marion County Commissioner Brentano for his advice! And to Sara McDonald, Policy and Research Manager, Board of Commissioners Office for introducing us and this enterprise to the communities. She made our project so much easier, whether we were visiting a city where there were 124 residents or one with 150,000.
To test your knowledge of the cities' histories, we offer a short quiz, 20 Marion County Questions. The city profiles begin with the city we know best, our hometown, Salem.
As we visit other cities, our historical information is based public records or online resources available to anyone. The guidebooks we quote are sold at the sites. Our impressions of cities we visited were formed by a few hours' visit and conversations with people we met. My comments are personal observations.
We now encourage you to join us in enjoying Marion County's natural beauty and historic communities. You will receive a warm welcome from your neighbors when you, too, get out of town.
Virginia and Thomas N. Green, Jr.
The courthouse exhibits from each city can be seen here in Tom's
album of photographs
. Click an image for an enlarged view.
All historic photographs in this series are from the Oregon Historic Photograph Collections of our Salem Public Library.