In 1867, the imposing brick Waller Hall, facing State Street, joined the 1844 Oregon Institute as representing the Willamette University campus ~ the cultural beginning of Salem. To the north, between State and Court streets, the imposing classic Oregon State House was the center of the city's political life. Willson Park adjoined the capitol building on the west, as it does today. On the north side of Court, there arose the fine homes of Salem's earliest social leaders. Two of these matrons were women who come on the Lausanne as teachers in the mission community.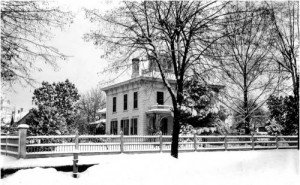 Local legend recalls that as 26 year-old Almira Phelps came down the gangplank, Joseph Holman, just arrived overland, commented, "That's the girl I'm going to marry!" And so he did a year later. Their first home was a cabin on the shores of Mill Creek (the Clements house at Chemeketa and 14th is there now) where he built the first bridge across that creek. She remained in missionary work for a few years after their marriage while he worked for the Methodist enterprises. Paid in stock, he was able to purchase enough land to become a flax grower and breeder of sheep. By 1857, his Holman Building at the corner of Ferry and Commercial, was a political and commercial center. He moved Almira to a Court Street residence (above) on his many-acres property. Their son George and daughter, Mary Holman Albert, had adjoining homes on the block between Cottage and Winter streets. Two other daughters died in young adulthood. 
Almira's 1871 obituary is typical of the time and place:
"She was married to her now bereaved husband, Mr. Joseph Holman, May 6th, 1841. Sister H., having the advantage of a liberal education, received at the Wilbarham Academy, in her native State, was not only qualified to teach the heathen, but also to take her place in the front ranks of Christian civilization, and in the growth and development of the country, may be seen on all sides monuments of Christian enterprise in which her hands have been busied in founding and supporting.
The M. E. Church in Salem, the Willamette University and the Orphans' Home have all shared in her liberality. In her religious views, she was a thorough Methodist, endorsing fully the doctrine of a higher life – the power of Christ to save now from all sin. She not only believed this doctrine, but professed to experience its power to save her.
Her death was occasioned by congestion of the brain, which so affected her mind that she could not converse intelligently much of the time. On one occasion, when consciousness had returned, in answer to the inquiry of her son if she did not think she would get better, she replied, 'Not until I get up to heaven.' To a friend who entered her room, she said, 'I am almost over.' At 9½ o'clock, on the evening of October 16th, she fell asleep in Jesus. Peace to her memory."
Her home was demolished for the Max Buren residence that, in turn, was demolished for the present buildings of the Presbyterian Church.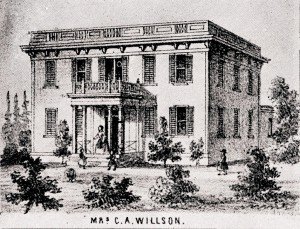 When the Lausanne missionary teachers arrived in Oregon, Chloe Clark was sent to a new mission station at Nisqually on Puget Sound where she learned enough of her students' language to communicate.  Chloe and William Willson became acquainted and were married a month later.   In the next spring, they were moved to another station at Willamette Falls (Oregon City).  These were discouraging times:  her failure to change the way of life she found among native children; William's health, which did not seem sturdy enough for the heavy carpentry work; the serious differences that arose among the missionaries and laymen.  By late spring of 1844, Chloe and William had been asked to move to the settlement at Chemeketa Plains where Chloe had been chosen to open the Oregon Institute in the former Indian Manual Labor School, becoming their first teacher and housemother.  The next three years brought many changes beginning with the school's decision to lay out a city on the school's land and sell lots.  By 1846 the town was being called Salem.  Adjacent claims included those of William, who would serve on the school board. William built for them on the riverfront – at the present Front, Ferry-Trade Streets.  In 1848, as Oregon was transformed into a Territory, Chloe became the mother of a daughter, Frances.  Chloe wrote: "My heavenly father has increased my responsibilities by committing to my charge a lovely daughter".  Somewhat later she added this prayer, "My dear Frances is beginning to require correction and wholesome discipline… I look to Thee for help, O my Father ".  Two other daughters, Laurabelle and Kate Augusta Lee, were born in 1851 and 1855.  Before the last daughter was born, William was building an Elizabethan-style cottage on the northeast corner of Court and Capitol streets (above), not far from the new Territorial Capitol building, itself built on land donated by the Willsons.  In 1856, William died of a heart attack.  Chloe was a widow after only 16 years of marriage.
Chloe returned to the east after his death and for some years opened her home to students.  She returned to Salem in 1863, serving in a position similar to dean of Women.  In a lecture given at Willamette University (former Oregon Institute) in the next year, she defined a "Sphere of Women" as "…not the Halls of Legislature, the Bar or the Pulpit – but the sweet Paradise of home – the refined social circle… to mold character"  She reminded the young women that "the training which you here receive is not to elevate you above your sphere, or to remove you from it, but to qualify you to move in it with ease, grace and dignity".
            By 1871 Chloe moved to the Portland home of her daughter and son-in-law, Frances and Joseph Gill, where she died three years later in the year of 1874. She was 56. Her home was sold to Willamette University where it became Lausanne Hall, a women's dormitory. It was demolished in 1921 for the present building of the same name. A auto service station now occupies the site of Chloe's home.