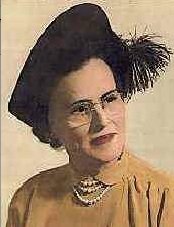 Isabela Varela was born in Spain, but her childhood was spent near Guadalajara, Mexico where her Spanish father, a teacher, became a local judge. At the age of fourteen she married Anselmo Herrera, a rancher, and by l925 had four children, the youngest being her daughter Maria (Mary), born in 1922 when Mexico was in a state of civil strife.  At the center of the controversy was Pancho Villa, known for his skirmishes along the Mexican and United States border.  According to Isabela, one afternoon thirsty troops arrived at her husband's ranch and asked if they could have water.  Senor Herrera obliged them and they proceeded on their way.  The following week different troops arrived at the ranch and asked if water had been given to the group of the prior week.  Anselmo said it had and offered them water as well.  But these two groups were enemies, and for these acts of kindness he was shot and died from the gunshot wound.
Determined to start a new life for herself and her young family, Isabela decided to leave Mexico for the United States.
In Idaho, where she believed her children would be safe, she found work as a cook in a boarding house for Mexican workers.
She taught herself English and moved to Albany, Oregon where she felt there would be more opportunities for herself and her children. There she met and married Benito Garnica, a laborer for the Southern Pacific Railroad Lines.
The youngest daughter, Mary, attended St. Mary's Catholic elementary school.
Mary later married Pablo Martinez, a native of Peru, moved to Salem, and had three children.
In the early l950s Isabella and Benito Garnica divorced and she moved to Salem to be near her daughter Mary and her family.
She married John A. Ott, a widower, who also worked for the Southern Pacific.
Isabela and John resided in a small bungalow on SE 21st Street.
John Ott was transferred to Portland but eventually returned to Salem where he retired.
Their last home was on University Street in South Salem.
Isabela had a strong work ethic and wanted her children and grandchildren
to have the same. She would take them out into the fields in the summers to pick beans, hops, and string beans.
She also worked in local canneries. She was proud to be an American citizen and considered it a privilege to be able to vote and would do so at every opportunity. She also respected the people and culture of Mexico and stayed in contact with her son Luis who lived with his wife and family in Guadalajara.
As the wife of a railway worker, she had access to a Southern Pacific pass that authorized her to travel free to Mexico.
These trips continued every other year until her last one in l97l at the age of seventy-six, twice taking her grandson David.
She made it very clear that the American family should never forget their Mexican relatives.
Isabela's family was one of only four Hispanic families in Salem, but she never felt
different or inferior.
Always outgoing, she was attractive, affectionate, humorous, and caring.
Her Salem neighbors enjoyed being with her.
She liked going to movies, listening to country western music, and attending professional wrestling matches which were a primary source of entertainment in Salem during the decades following World War II.
She also enjoyed dancing, attending the Crystal Garden dance hall.
And, athough her own education was limited, she encouraged her grandchldren to seek college education.
This biography supplied by Dr. David Martinez, her grandson.